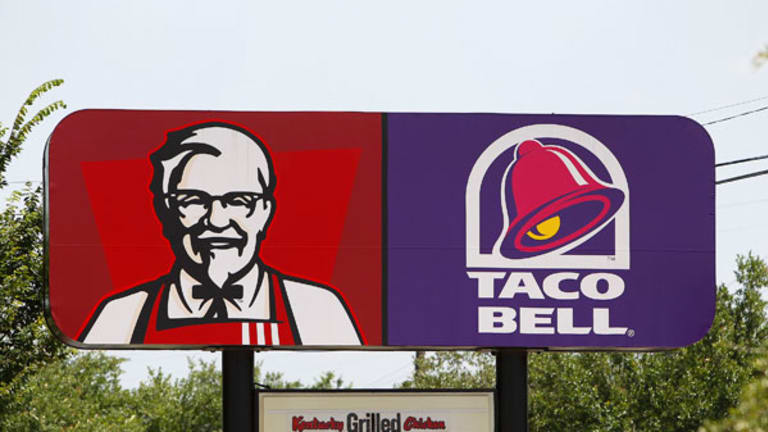 With U.S. Taco Co., Taco Bell Goes After Foodies -- and Chipotle
After Chipotle's impressive first quarter, Yum! Brands is ready to take on the fast casual market.
NEW YORK (TheStreet) -- Earlier this year, Yum! Brands (YUM) took on McDonald's (MCD) for a piece of the huge fast food breakfast market. Yum! stock was trading at $77.80 just before 4 p.m. on Monday.
Now, Yum! Brands unit Taco Bell is ambitiously trying to attract "foodies," who would normally not be caught dead in a fast food joint.
How? Taco Bell is launching a new taco concept. The U.S. Taco Co. and Urban Taproom restaurants will expand Taco Bell into the high-growth fast-casual market. The store will debut in Huntington Beach, Calif., over this summer.
U.S. Taco Co. will offer $4 premium tacos, with two for $7 and three for $10. U.S. Taco seeks to take "the best of American cuisine" and "put it in a taco." Interesting flavor combinations announced already are:
"Winner Winner": Southern style fried chicken with gravy,
"One Percenter": Lobster with cabbage slaw and pico de gallo, and
"Brotherly Love": A nod to the Philly cheesesteak.
The units will also sell steak fries with sauces and taco ingredients. Most locations will also serve alcohol concoctions and craft beers. For example, diners might order a "Mexican Car Bomb," which combines vanilla ice cream, tequila caramel sauce, chocolate flakes and Guinness beer.
Executives expect the average check at U.S. Taco Co. to be $11.50 to $12.00. This compares to a substantially lower $7.20 at Taco Bell.
The new fast-casual restaurant is aimed at people who wouldn't normally venture into a Taco Bell restaurant. There will be no burritos, beans, rice or tortilla chips. Customers will be able to order at a counter, but the Day-of-the-Dead-themed restaurants will be more upscale than a traditional Taco Bell.
Yum! Brands is starting with a few locations to test sales, but could begin expanding these new brands across the country. Executives already sound bullish. "I would love one day to see 1,000 of these. But let's not get that far ahead of ourselves," said Taco Bell's CEO, Greg Creed. "We're opening a restaurant and seeing what happens."
The move by Taco Bell follows up a "Cantina Bell" menu that directly challenged Chipotle Mexican Grill (CMG) . Taco Bell has been the lower end of Mexican-themed fast food since Chipotle took over the fast casual market. Chipotle continues to rack up impressive same-store sales at U.S. locations -- with 13.4% same-store sales growth in the first quarter.
Taco Bell has 6,000 locations and plans on adding another 2,000 by the year 2022. Yum! Brands also expects sales at Taco Bell to double by 2022 to $14 billion.
These taco-themed fast-casual restaurants are a great expansion by Yum! Brands. The company can continue to support and expand its fast food brands while also venturing into fast casual, where the high growth is for now. Yum! is also expanding its KFC brand into new fast casual brands Super Chix and KFCeleven.
Shares of Yum! Brands are trading near their 52-week high of $77.67. In 2014, shares are now up just over 3%. Chipotle stock, on the other hand, is sitting idle. Shares have declined 4% in 2014.
Yum! Brands is positioned well to rebound in China and the U.S. The new breakfast menu in the U.S. and the new fast-casual chains could be enough to get investors excited and warrant a higher stock premium.
At the time of publication, the author held no positions in any of the stocks mentioned.
This article represents the opinion of a contributor and not necessarily that of TheStreet or its editorial staff.