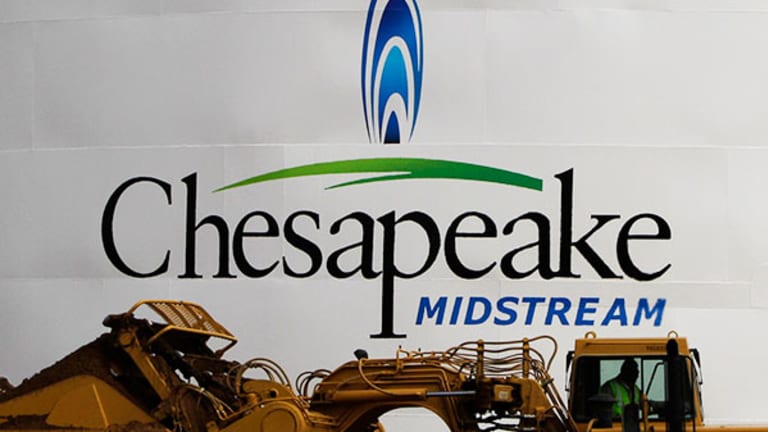 Publish date:
With Today's Gains, Is Chesapeake Energy Rebounding?
Chesapeake was up 16% in morning trading due to slightly better-than-expected earnings results. But that doesn't mean it's poised for a comeback.
Chesapeake was up 16% in morning trading due to slightly better-than-expected earnings results. But that doesn't mean it's poised for a comeback.
Chesapeake Energy (CHK) - Get Report just released fourth-quarter and full-year 2015 results. As expected, 2015 was a year of loss for the beleaguered oil and gas giant. But the stock actually ticked up as much as 16% in morning trading today. Is Chesapeake poised for a turnaround? Or will CHK continue to be a stressed-out and dangerous stock?
This stock is part of a group of distressed and "Stressed Out" stocks that TheStreet will be monitoring through these choppy markets.
data by
In 2015, Chesapeake wrote down the value of its oil and gas field, losing the company more than $14 billion. Plummeting prices for its products have made Chesapeake's fields simply not worth drilling. The average realized price for natural gas from Chesapeake fell 34% in the fourth-quarter year over year. And natural gas now makes up 74% of the company's total production, up from 70% in 2014.
Chesapeake posted a loss of $2.23 billion for the fourth quarter, whereas in the same quarter of 2014 it had reaped a $586 million profit. The company also announced a per-share loss of $3.36, versus an 81-cent-per-share loss in the fourth quarter last year.
But there were shreds of better-than-expected (rather than good) news from this toxic company -- enough to give the stock today's price boost. Analysts had expected a revenue drop of nearly 54%, from $5.69 billion to $2.63 billion. Instead, revenue fell only a hair over 53%, to $2.65 billion.
Chesapeake also announced that it had reduced its massive pile of debt from $11.8 billion in December 2014 to $9.7 billion. The company plans to continue chipping away at its debt this year, announcing in January that it is suspending its preferred-share dividends. Chesapeake expects this decision to save its business $170 million annually.

In a further bid to save money, the company is drastically cutting its average operated rig count. This was common practice among U.S. energy companies in 2015, according to energy consultancy IHS Herold. According to Herold, in the first half of the year alone, more than $59 billion in impairment charges were made, beating 2008's full-year record of $48.5 billion. Chesapeake was one of the biggest cutters, along with Anadarko Petroleum and Devon Energy.
In 2014, it operated an average of 67 rigs. In 2015, that number was slashed to 14. For 2016, Chesapeake plans to operate four-to-seven rigs. In total, Chesapeake plans to reduce its 2016 capital expenditure budget by 57% over last year, to $1.3-to-$1.8 billion.
The company, based in oil-rich Oklahoma, also announced that it plans to raise as much as $1 billion in cash in 2016 by selling off non-essential assets in a handful of small transactions. Since the end of 2015, the company has already closed or undersigned an additional $700 million in asset sales agreements.
Although the troubled Chesapeake has good intentions about paying off its debt and continuing to avoid bankruptcy, the amount is so large that it will require even more drastic measures -- or even more drastic increases in energy prices -- to make much of a difference. Despite occasional false dawns, this stock is among a group of doomed equities that are poised to collapse.
At this point, any investment in Chesapeake is a wager that oil and gas prices will rise in the near term. Even if energy prices improve in the long term, Chesapeake might not be around to benefit from it. With a massive amount of debt hanging over the company's head, despite cost-saving and cutting measures, the company could go belly up any day now.
For more articles on distressed stocks to avoid, read Real Money's "Stressed Out" stocks coverage. You can find more information on the index here.
As you can see, Chesapeake looks like a stock to avoid. However, if you want to see a list of the absolute worst stocks you can own right now, I urge you to take a look at this report called 29 Dangerous Stocks: Sell Now! Inside, you'll see a full list of the market's most overvalued stocks, and learn the process you can use to keep avoiding them in the future. Click here now for a copy.
This article is commentary by an independent contributor. At the time of publication, the author held no positions in the stocks mentioned.