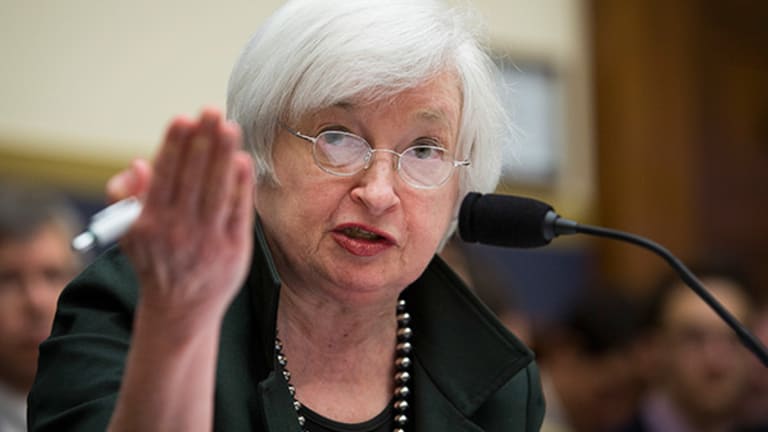 With the Fed Signaling Higher Rates Is It Time to Sell Dividend Stocks?
With rising interest rates looming just a month away, should you take action and sell your dividend stocks or hold steady?
The Federal Reserve just signalled that a rate hike is likely in December.
When interest rates rise, income-paying assets tend to see their values decline. In the stock market, utilities are the most susceptible because they offer little growth but (comparatively) high dividend yields.
All other things being equal, a stock yielding 4% is more attractive in an environment where savings accounts are offering yields of close to 0%, than when savings accounts are offering higher yields.
The higher the Federal Reserve hikes rates, the worse off income-paying securities will be.
What do rising rates mean for dividend stocks? Should you liquidate your dividend portfolio now before rising rates take effect?
We all want certainty, but the truth is it dependson the stock.
Stocks that have little in the way of growth prospects, but pay high yields (think utilities, some REITs, some MLPs) will likely see their prices decline when interest rates rise.
That is the only logical course of action for high income, low-growth securities.
There is a second type of income-producing security that will likely continue to do well when rates rise.
This investment class has trounced the market by an average of 2.7 percentage points a year over the last decade.
These income-producing securities are the Dividend Aristocrats. Click here to see all 52 Dividend Aristocrats.
The Dividend Aristocrats index is comprised only of S&P 500 companies with 25 or more consecutive years of dividend increases... These are "the best of the best" when it comes to dividend growth.
The word "growth" matters when it comes to rising rates. Investors don't own dividend growth stocks just for current income. These securities are held for income and income growth.
Rising interest rates aren't good for any real assets. The asset class that benefits most from rising interest rates is short-term cash holding because they generate higher income than when rates were lower.
With that said, asset classes that can deliver growth tend to do better than fixed income assets. For this reason, dividend growth stocks will hold up better than high yield, low growth stocks (like utilities).
The table below shows the performance of the Dividend Aristocrats Index, the S&P 500, and the Utilities SPDR (XLU) - Get Utilities Select Sector SPDR Fund Report in years when the 10 year T-Bond rose. The amount of percentage points the 10 Year T-Bond's yield increased is shown as well:
| | | | | |
| --- | --- | --- | --- | --- |
| Year | + In 10 Yr T-Bond | Dividend Aristocrats | S&P 500 | Utilities |
| 2013 | 0.95% | 32.3% | 32.4% | 11.0% |
| 2009 | 1.21% | 26.6% | 25.9% | 9.1% |
| 2006 | 0.34% | 17.3% | 15.6% | 18.6% |
| 2005 | 0.20% | 3.7% | 4.8% | 17.7% |
| 2004 | 0.07% | 15.5% | 10.7% | 23.9% |
| 2003 | 0.10% | 25.4% | 28.4% | 23.6% |
| 1999 | 1.94% | -5.4% | 20.9% | -2.8% |
| Average | 0.69% | 16.5% | 19.8% | 14.5% |
The stock market has performed well in years that interest rates have risen over the last 16 years. This is paradoxical, especially for utilities.
One potential explanation is that rising rates cause investors to reduce their holdings of bonds and increase their holdings of cash, thus resulting in increased demand and higher prices for stocks.
In any case, the relationship between rising rates and the stock market as a whole is weak. What matters more is the overall economic climate; whether we are in prosperous times or a recession.
The data above does show that the S&P 500 outperformed the Dividend Aristocrats Index and utilities during periods of rising rates. When rates fell, the S&P 500 substantially underperformed the other two indexes. Dividend Aristocrats outperformed utilities during periods of rising rates, as they are offer an interesting mix of growth and income.
Should You Sell Your Dividend Stocks?
Based on the data, the short answer is no.
The more prudent (and long-winded) answer is that rising rates are more damaging for long-term bonds than for stocks. Investors looking to prepare for the coming rate increase should seek to reduce their exposure to fixed income or shorten the duration of their fixed income holdings.
Either utilities or Dividend Aristocrats could be used as partial substitutes for fixed income investors looking for a mix of safety, income, and partial rising rate protection.
This article is commentary by an independent contributor. At the time of publication, the author held no positions in the stocks mentioned.