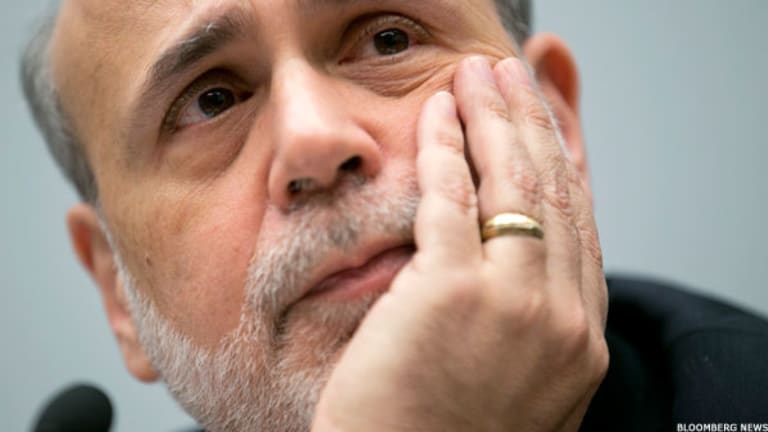 With S&P at Record High, Consider Dividend ETFs with International Exposure
Recent policy surprises from the Federal Reserve suggest these three ETFs are likely to perform well into 2014.
NEW YORK (TheStreet) -- This week's news that the Federal Reserve is not yet ready to cut back on stimulus programs has sent the S&P 500 to new record highs, and left many investors with the idea that it is too late to move into new positions in U.S. assets.
At the same time, we have seen pronounced weakness in many foreign markets as declining economic data have added an element of uncertainty and increased risk.
Read: 5 Stocks Under $10 Set to Soar
But for those with longer-term time horizons, there are examples of cheap dividend exchange-traded funds with international exposure that are designed to generate income and able to weather any near-term volatility that might be seen as the market adjusts to new central bank stimulus projections.
Momentum is supportive, as well. Dividend ETFs have posted strong reversals from the lows see last summer. Since the market is now positioning for a low interest rate environment that extends into 2015, income plays will trade at a premium. Economic data in Asia and the eurozone have shown evidence of stabilization, so it will be important for investors to consider moving into dividend products with international exposure into the final months of the year.
Of course, positions in this space are accompanied by added volatility in most cases. So the ETFs suggested below will be most appropriate for investors with a higher risk tolerance and broader time horizons.
Global ETFs With Yields Above 6%
First, we look at the
Global X Super Dividend Fund
(SDIV)
, which offers exposure to a weighted basket that includes 100 high-yielding global stocks. Roughly one-third of the fund is made up of U.S. companies but the remainder allows access to assets in Australia, Canada, Latin America, Asia and the eurozone.
Read: JPMorgan Whale Fines for Dummies: An Explainer
Sector allocation focuses on utilities, telecom, real estate and financial -- and annual fees are below 60 basis points. The fund is well-diversified and is designed to benefit from companies able of elevated high returns and sustainable yields. Weighting shows that no company makes up more than 1.6% of the fund (another example of strong diversification), and with 7% yields the fund is likely to attract attention in the months ahead.
Next, we look at the
Guggenheim S&P Global Dividend Opportunities Index ETF
(LVL)
, which tracks the
S&P Global Dividend Opportunities NR Index
. With this ETF, investors gain exposure to 103 large-cap stocks and ADRs that are accompanied by high dividend yields. One-fifth of the fund is devoted to U.S. assets, with most of the remainder offering exposure to securities in Australia and the eurozone.
From a sector basis, focus in placed on telecoms (which account for nearly 25% of the fund), energy stocks and financials. Annual fees are seen at 60 basis points, and yield for the ETF comes in at a strong 6.5%.
Read: Blackberry Fails at the 'Vision Thing'
Last, we look at the
SPDR S&P International Dividend ETF
(DWX)
, which tracks the performance of the
S&P International Dividend Opportunities Index
. Dividend yields for the fund are also seen at 6.5%. But one of the more attractive features here can be seen in its expense ratio, which relatively low at 45 basis points. The fund is composed of 125 international stocks with high yields, but diversification is more limited as its top 10 holdings make up nearly a third of the total fund.
Dividends ETFs are generally focused on telecoms, utilities and financials. The SPDR S&P International Dividend ETF doesn't look to break this mold, as more than half of its holdings are devoted to these areas. The fund shows a nearly 75% correlation with developed markets (encouraging, given the performances we have seen so far this year), and a 15% correlation with what is seen in emerging markets.
So, while international ETFs with a focus on dividends have met selling pressure this year, it is important to remember that strong alternatives are available. Given the recent policy surprises from the Federal Reserve, these three ETFs are likely to perform well as we move into next year.
At the time of publication the author had no position in any of the stocks mentioned.
This article was written by an independent contributor, separate from TheStreet's regular news coverage.
Richard Cox is based in China, and has lectured at several universities there on international trade and finance, focusing primarily on macroeconomics and price behavior in equity markets. His articles appear on a variety of Web sites, including MarketBulls.net, Seeking Alpha, FX Street and others. Investing strategies are based on technical and fundamental analysis of all the major asset classes (stock indices, currencies, and commodities). Trade ideas are generally based on time horizons of one to six months.