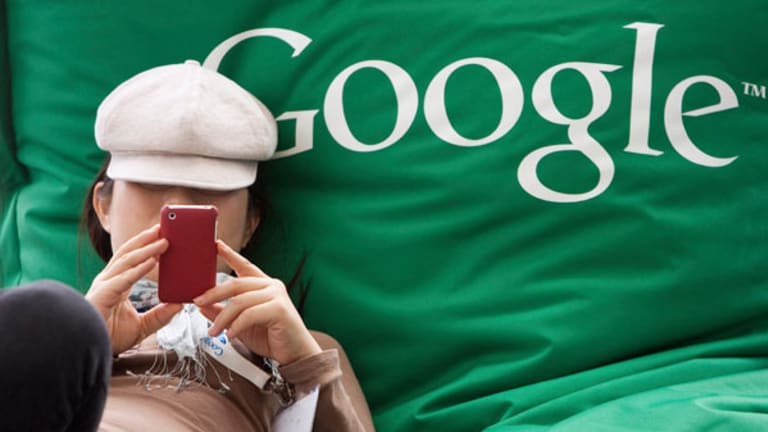 With or Without Apple, Google Will Crush Microsoft
Google's suite of productivity software and services continues to put the writing on Microsoft's wall.
**For an alternate, more bullish take on Microsoft see Chris Ciaccia's Why Microsoft Really Is Different This Time. 
NEW YORK (TheStreet) -- I saw a promo the other day for Google (GOOG) - Get Alphabet Inc. Class C Report Work. Sadly, I can't locate it or I would have inserted it here so you could see it for yourself.
However, it might be fitting that you can't see the promo. Because Google's assault on Microsoft (MSFT) - Get Microsoft Corporation (MSFT) Report continues to fly under the radar. For whatever reason, it's the most under covered story in tech ... in finance ... and for the sake of extraneous ellipses ... the world.
But it's real and it's happening. And Microsoft has no idea what to do in response. How could it possibly have a plan when it's up against a company with a core revenue stream so prolific it can afford to give everything its does beyond advertising away for free?
Google provides an entire suite of (very good) productivity applications -- that Microsoft makes people pay for -- for free or for, relatively speaking, a negligible fee.
It's curious that Apple (AAPL) - Get Apple Inc. (AAPL) Report hasn't been more aggressive in this area. It appeared as if it was prepared to join Google to wipe Microsoft out of the consumer and enterprise software business (just as it did the artist formerly known as RIM on smartphones).
That's where I thought Apple was headed last year when it made iWork free to iPhone and iPad buyers. I first floated the notion of Apple going after Microsoft's productivity software foothold in October 2012.
Clearly, Apple hasn't acted with nearly as much vigor (or rigor) as Google. And that's too bad. Because Pages, for instance, is every bit as good as MS Word or Google Docs for basic to mid-level tasks. With a few tweaks, the entire iWork portfolio could compete effectively, across the board, with anything out there.
Apple entering the game with a more serious effort would not only crush Microsoft's software business, it would further accelerate the PC industry's in-progress collapse.
But, ultimately, Google doesn't require an assist from Apple to crush Microsoft. And Microsoft certainly doesn't need Apple to collapse under the weight of its own visionless ineptitude. What's done is done. Even Microsoft's impressive-sounding new CEO can't undo the damage his predecessor inflicted on what was purportedly his pride and joy.
Talk about an abusive relationship.
Say what you will about the company, but Google's not playing around.
The little anecdotal things are starting to happen. Anecdote you know full well is taking place all over place as occurrences that are independent of one another.
Like my wife coming home from work at a charter school asking about Google Chromebooks because "the school's thinking about a more cost-effective solution" to the Macs they use. Or my daughter telling me about the Chromebook she worked on the other day, noting "we still have the MacBooks -- and I like them better -- but we do easy stuff on the Chromebooks and everybody gets their own."
And Google's stepped up promotion of what it can do for individuals, businesses and education institutions with its computing solutions.
I considered Google in this and broader respects early last year. And, even though I'm not a huge fan of their hardware or their hardware strategy ...
One of Google's few stumbling blocks? teaming with has-beens and never-will-bes such as Hewlett-Packard (HPQ) - Get HP Inc. (HPQ) Report to build hardware. But, for Google's sake, I hope it can execute better than Microsoft has.
... I absolutely have faith in Google's ability to extend an ecosystem that, with or without Apple, will render Microsoft as much of a "has been and never-will-be" as HP, the ultimate master of the dead cat bounce.
--Written by Rocco Pendola in Santa Monica, Calif.
Disclosure: TheStreet's editorial policy prohibits staff editors, reporters and analysts from holding positions in any individual stocks. Rocco Pendola is a columnist for
TheStreet
. Whenever possible, Pendola uses hockey, Springsteen or Southern California references in his work. He lives in Santa Monica.