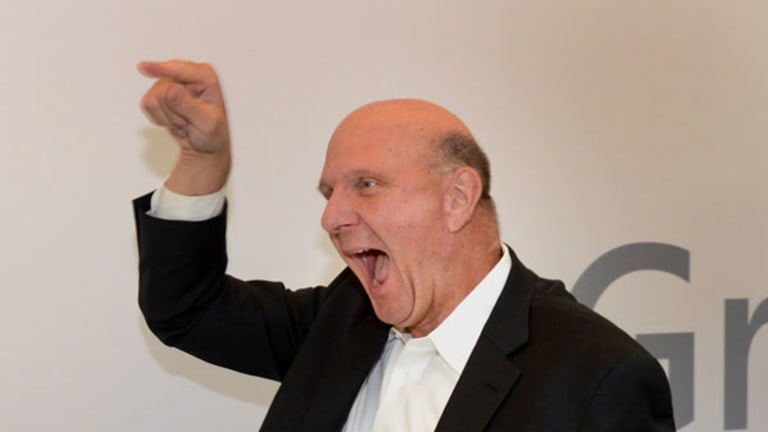 With Leadership Like This, Microsoft Is Doomed
Microsoft's VP of Communications confirms what Tim Cook said: The competition really is confused.
NEW YORK (TheStreet) -- I've been serious as cardiac arrest (not even a heart attack!) for more than a year now: Apple (AAPL) is poised to destroyMicrosoft (MSFT) much the same way it did BlackBerryundefined.
If you scroll through the comments' section of the above-linked article, your eyes will glaze over. It's stunning really to see people defend Microsoft like they did
the artist formerly known as RIM
on the way down.
Apple couldn't beat RIM because IT departments would never let iPhones and iPads permeate the workplace. Now, folks with a similar lack of foresight tell us Apple can't knock Microsoft off in the enterprise and "work-sumer" (I just made that up) markets because it's too costly and/or time-consuming for companies to switch out hardware and train employees on new software (as if it's really that difficult to figure out how to use Pages).
However, it shouldn't surprise us that the peanut gallery thinks such misguided and repressive thoughts when we consider the way Microsoft's brass conducts itself.
Of course, there's this painful blast from the past ...
You would think with Steve Ballmer's history of gaffes as Microsoft CEO and the inane commentary we've seen over the years from former RIM co-CEO James Balsillie, Microsoft would put a moratorium on its employees talking about Apple. And there should be a special
you can't speak publicly about anything
addendum for Frank Shaw, the company's Corporate Vice President of Communications, who riffed at
Wednesday morning:
I'm still over in Abu Dhabi, where the only thing hotter than the weather are the new Windows devices unveiled by Nokia (NOK) this week.
From there,
Shaw continues to follow in Ballmer's footsteps
, touting a Windows-based product he knows full well will fail, even if not as miserably as the Surface tablet has.
But it gets better -- not better meaning better, but better meaning worse:
Seems like the RDF (Reality Distortion Field) typically generated by an Apple event has extended beyond Cupertino.
So let me try to clear some things up.
But all Shaw does is proceed to insult our collective intelligence while proving he's delusional. And, if humanly and cognitively possible, more delusional than Ballmer:
(The Surface tablets) both include Office, the world's most popular, most powerful productivity software for free and are priced below both the iPad 2 and iPad Air respectively. Making Apple's decision to build the price of their less popular and less powerful iWork into their tablets not a very big (or very good) deal.
He got the most "popular" part right, but most powerful -- that's subjective. Consumers have spoken. They're not buying tablets, at least in a comparison between Microsoft and Apple, on the basis of price or a "deal."
After talking up a tablet his company had to take a $1 billion write down on, Shaw displays the sort of logic, in a run-on sentence that makes me look like Murakami, which illustrates why Apple has -- in hardware -- and will -- with software -- destroy Microsoft:
So, when I see Apple drop the price of their struggling, lightweight productivity apps, I don't see a shot across our bow, I see an attempt to play catch up.
If anybody can tell me exactly what Apple is catching up to, I would appreciate it.
Like Tim Cook said earlier this week, these guys are confused.
The competition is different...they are confused. They chased after netbooks. Now they are trying to make PCs into tablets and tablets into PCs. Who knows what they will do next?
--
Written by Rocco Pendola in Santa Monica, Calif.
Rocco Pendola is a columnist and
TheStreet's
Director of Social Media. Pendola makes frequent appearances on national television networks such as
CNN
and
CNBC
as well as
TheStreet TV
. Whenever possible, Pendola uses hockey, Springsteen or Southern California references in his work. He lives in Santa Monica.