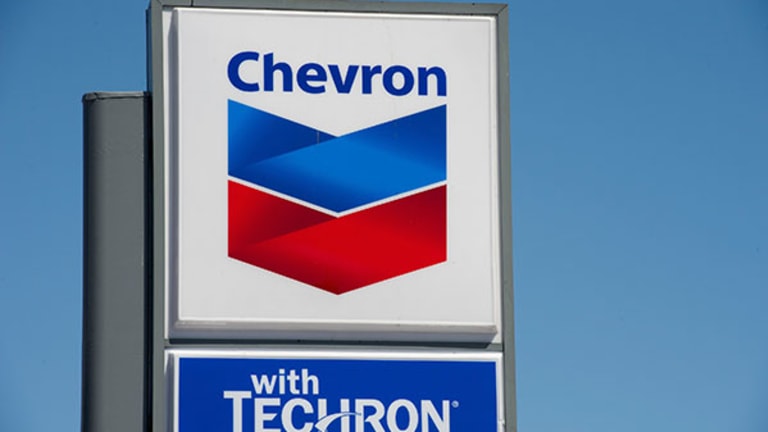 With Its Shares Down, Chevron Becomes More Compelling
Here's why the stock's decline since July may present a good buying opportunity.
NEW YORK (TheStreet) -- Since reaching a 52-week high of $135.10 on July 24, shares of Chevron (CVX) have fallen more than 10%, erasing their year-to-date gains.
But it's not time to overreact. Instead, investors should gas up on the energy giant now because of the stock's compelling valuation and the company's prospects for oil-production growth.
With shares trading at around $121 and with a price-to-earnings ratio of 11, Chevron is a relative bargain. The P/E ratio is two points lower than the industry average, according to Yahoo! Finance, and nine points lower the average P/E of companies in the Standard & Poor's 500 Index, according to CNN Money.
The shares also trade at a lower multiple than those of rivals BP (BP) and Exxon Mobil (XOM) , even though Chevron has higher profit margins.
Still, Bank of America analyst Doug Leggate has downgraded Chevron shares to underperform from neutral, saying that the company will struggle to maintain its operating cash flow because of lower oil prices than what Chevron assumes and will have to increase its debt.
The company's net debt position of $9 billion may be a concern. But for a company that had more than $37 billion in operating cash flow last year, the debt is manageable.
The debt is being invested in oil exploration all over the world, and Chevron expects to increase its production by 20% during the next three years to more than 3 million barrels of oil per day from the current level of 2.55 million barrels.
For investors who are waiting for that growth, it has paid to be patient as Chevron has bought back $2.5 billion of its shares and paid roughly $4 billion in dividends during the last six months.
At the time of publication, the author held no position in any of the stocks mentioned.
This article represents the opinion of a contributor and not necessarily that of TheStreet or its editorial staff.