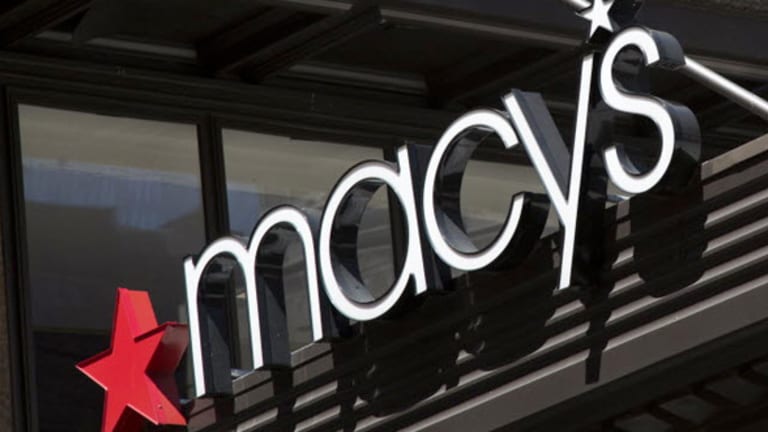 Publish date:
With Its New Business Plan, Could a Resurgent Macy's Edge Back to $70?
Don't count out this retailer just yet. The famous chain has revamped its retailing model and the stock has been on a tear. Has Macy's finally turned the corner?
Don't count out this retailer just yet. The famous chain has revamped its retailing model and the stock has been on a tear. Has Macy's finally turned the corner?
Since 1858, mid-range department store company Macy's (M) - Get Report has moved forward against periodic adversity, battling the odds and finding its feet time and again.
In fact, this is a company that has stared right into the face of abject bankruptcy -- and found ways for survival and resistance. The company's also expanded itself consistently, managing three acquisitions over the years.
History is no guarantee of the future, but we think Macy's might finally have found salvation and belongs in your long-term growth portfolio.
data by
The advent of e-commerce combined with swiftly changing consumer behaviors has compelled most offline store chains to perform or perish.
The wheels came off retailing's wagon in 2015. Macy's stock lost nearly half of its value that year. Bucking that negative experience, the stock year to date is up a fantastic 23.53%, making investors excited and anxious in equal parts.
And so what lies ahead for Macy's? Future glory or a dismal repeat of 2015? We get you the details:
Macy's management is actively invigorating its focus, looking to monetize real estate, pursuing the discount store model, and gradually developing the muscle to once again transform and add value to your retirement portfolio.
It's clear that Macy's is fast reacting to changes in the marketplace. The Omni-channel retailer has fast learned that its old stores may not be able to attract sales like before. And so, 40 stores are scheduled to be shut, accompanied with around 4,000 layoffs.
Macy's seems to be betting that turning its stores into discount outlets will help the company draw customers, boost sales and raise profitability. These discount outlets -- "Backstage" stores -- will sell Macy's brands at steeply discounted prices.
Rivals such as TJX Companies and Nordstrom have reaped rich rewards with this model. The idea is simple: Shoppers, particularly the younger demographic, are always looking for discounts. This bold step should forever change the company's retail landscape.
Macy's new strategy is five-fold:
1. Jewelry as a backbone for the wedding line (the company has tested a new approach to fine jewelry and the watch business in 2015).
2. More off-price (simplified pricing approach for clearance in apparel areas in the Macy's stores).
3. Top door strategy (accelerate and drive further growth in its top 150 locations).
4. Bluemercury focus (acquired asset that will help Macy's and Bloomingdale's strengthen digital offerings in the beauty space).
5. Mobile priority (sales on mobile devices more than doubled in 2015, fueled by traffic and conversion growth).
These factors could propel growth for the company in 2016 and beyond, which makes it suitable for your long-term wealth building strategy.
Even as it works on revamping its business model and strategy, Macy's real estate, we believe, is a virtual goldmine (worth over $20 billion). Prominent activist investor Jeffrey Smith of Starboard Value has outlined a plan that effectively makes Macy's real estate assets into a real estate investment trust (REIT).
Plus, by leveraging its assets, Macy's can reduce a large part of the nearly $8 billion debt.We've already seen how Sears Holdings raised billions by leveraging its stores and realty (not that Sears is a shining example of a company to emulate today). Starboard last year got Olive Garden parent Darden Restaurants to walk the REIT path, potentially unlocking value.
Macy's is actually undervalued at the current price of $42.85 and could easily top the $70 mark (near its 52 week high) once the REIT process gets under-way. No wonder top fund manager David Einhorn is buying into this story.
We also feel it's wrong to compare Macy's with peers like J.C. Penney because the latter is still a work in progress. And that's why it's important for investors to realize that at just about 10.1-times forward earnings and price-to-cash flow of 6.8-times, Macy's presents a highly appealing opportunity to create a solid cash-reservoir over the next 12-to-18 months.
Are you making the right investment moves for your retirement, or are you blowing it by making all-too-common money mistakes? There are crucial steps that you should be taking now, to build wealth over the long haul. To find out whether you'll have enough money in your later years, download our free report: Your Ultimate Retirement Guide.
This article is commentary by an independent contributor. At the time of publication, the author held no positions in the stocks mentioned.