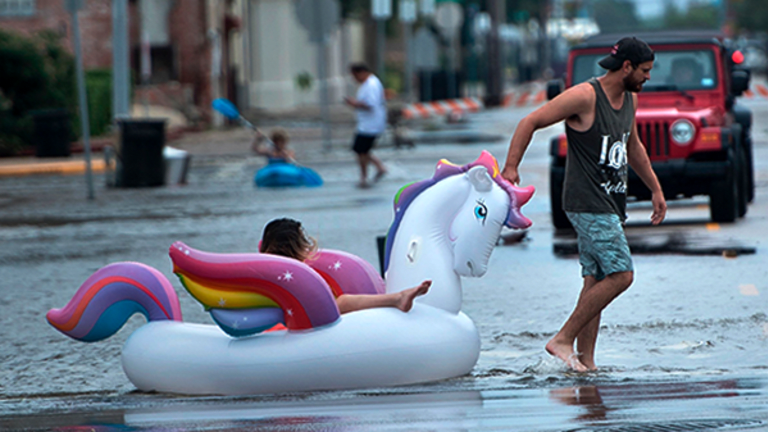 With Hurricane Harvey, We Are in the Crosshairs of Volatility: Market Recon
The nation's ability to refine oil has been reduced by almost 15%.
"To succeed it is necessary to accept the world as it is and rise above it." -- Michael Korda
Historic Devastation
I think it's safe to say that Hurricane (now Tropical Storm) Harvey has turned out to be even worse than expected. Houston is the nation's fourth largest city in terms of population. Think about that. Five deaths that we know of. Biblical rainfall totals. How many billions of dollars' worth of destruction, not to mention the emotional scarring that these folks chased from their lives will go through. I think we all need to take a minute, and think about what we can do to help. If what you do is pray, then pray. If you are in a position to donate, then donate.
The Wall Street Journal posted three charities on its website last night. I will re-post them here.
The United Way of Greater Houston: Visit unitedwayhouston.org/flood or text UWFLOOD to 41444.
American Red Cross: Visit redcross.org, call 1-800-RED-CROSS or text the word Harvey to 90999 to make a $10 donation.
Salvation Army: Visit helpsalvationarmy.org, call 1-800-SAL-ARMY or text STORM to 51555.
Market Impact
The Texas slice of the U.S. Gulf Coast handles just under 5.0 million barrels a day of refining capacity. This represents nearly 30% of the nation's overall capacity. Enough refineries have been shut down in the impacted areas to knock out at least two million of those barrels. Roughly speaking, the nation's ability to refine oil has been reduced by almost 15%.
This reduced ability to refine crude has WTI futures and RBOB Gasoline futures diverging in price this morning. We saw evidence of this now clear move late last week, as the storm threatened the Texas coast. Those gasoline futures peaked above 1.77 in Sunday night trading, while crude prices have retreated by nearly a full percent. The problem here is that now there will likely be a short-term fuel shortage that will impact the nation. The refining of WTI crude has been the main driver behind the action seen in the weekly EIA oil inventories print that has produced a headline draw in 18 of the last 20 weeks.
Hence, production in the region will be greatly reduced for a while. Imports will not flow through the port for a while. Supplies will not be drawn upon, as we have seen for these many months. This is placing pressure on WTI futures pricing. This happens as both the region and the nation will face short-term scarcity for gasoline and diesel. This will impact the American consumer in the coming days.
It seems cold to even think about how to make a buck at a time like this, but I recognize that this is why you read me every morning. That said, across the sector, ExxonMobil (XOM) , Royal Dutch Shell (RDS.A) , undefined , Phillips 66 (PSX) , Valero (VLO) , and LyondellBasell (LYB) are among those firms that have all had to cut back on operations, while Magellan Misdstream (MMP) , a pipeline operator servicing many states from the Houston area, has also had to take certain operations out of service. Then there's the insurance companies. Damage done in terms of dollar amounts will be epic.
I think the best way to look at this is from the perspective of rebuilding. This way, it becomes somewhat positive, if that's even possible at a time like this. Home Depot (HD) and Lowe's (LOW) come immediately to mind. That's obvious. Other names that an investor might find interesting this morning would be those that provide materials to builders, such as lumber -- Weyerhaeuser (WY) -- or insulation and roofing -- Owens-Corning (OC) -- just to name a couple.
4 Reasons Why Broad Equity Markets Will Reach New Highs.
Truth be told, I have taken some profits over the later part of the summer. If not completely abandoning my long positions, certainly taking some of my money out and leaving a greater percentage of "house money" in. It makes sense, to me at least. The original catalyst, in my original line of thought, was going to be the threats posed by Jackson Hole. That fear turned out to be no threat at all, as both Fed Chair Janet Yellen, and ECB President Mario Draghi went to great lengths to avoid commenting on monetary policy. The only thing that I think we actually learned last week from these two is that both of them truly fear the possibility that they might cause an undesirable market reaction by saying too much. The result? They both clearly tried to say nothing at all.
Where we are right now, is in the cross-hairs of volatility. On top of this storm that is hitting Texas, there are four major headwinds putting the brakes on U.S. equity markets at this time. All four could clear up to the point where the future becomes a little easier to see within the next six weeks or so.
The most pressing of these issues is the federal budget, and in an extremely related way, the debt ceiling. While the U.S. Senate expects to put in a whopping 17 days of hard work this September, the House of Representatives is only expected to spend 12 days in session; 12 days, gang. Let's lay this out for you. In order to avoid a shutdown, the government needs to increase its spending limit by mid-October. Prior to increasing that spending limit, a new budget must be passed. That must happen within the next month. These two items are separate, but highly intertwined. You need peanut butter and jelly to make a PBJ. There will be days that market participants fight off headline-driven volatility over this period. Try not to get shaken out of anything you believe in. September and October have always been rough on traders. So they will be in 2017.
Then, there's tax reform, which President trump had expected to start promoting this week, before this storm became what it became. That tax reform had been almost completely priced out of the marketplace, and any progress here would force certain issues such as lower corporate tax rates and potential repatriation of funds to be priced back in. Small-caps will rejoice. While markets wrestle with the prospect of pricing tax reform back in, they will also have to consider whether or not to completely price out a December rate hike. Fed speakers will be more closely followed than ever, particularly after highly focused-upon macro-economic events such as data regarding inflation, wages, retail sales, and productivity.
The bottom line, for me is, to quote our dear friend Arthur Cashin, "stay nimble", at least until October passes. Tough two months ahead that will throw these four headwinds directly at us. All four of which have the potential to provide positive catalysts to the marketplace going into year's end. Just a neighborhood kid's opinion.
Macro
08:30 - Goods Trade Balance (July):Expecting $-64.2 billion, June $-63.9 billion. Don't look now, but this outsized component of the trade balance has printed better than expectations for two straight months. In case you're new to this whole economic thing, this is the side of the coin that is usually so terribly negative that it forces the headline number well into deficit territory despite the fact that our nation regularly runs a surplus on the services side.
08:30 - Wholesale Inventories (July-adv):Expecting 0.3%, June 0.7% m/m. The headline event for this item is what is known as business inventories. We'll see that number on Sept. 15. Wholesale inventories is one of three components within that series. The other two are retail and manufacturing inventories. Monday's number is the advance report, sort of a "flash number", which will be revised on Sept. 8. That said, Monday's print is less than likely to move the market's needle on its own.
10:30 - Dallas Fed Manufacturing Index (August):Expecting 15.3, July 16.8. Dallas looks to print in expansion at least at the headline for the tenth consecutive month. Given that Hurricane Harvey hit the Texas coast late in August, these responses will not be impacted. However, I would expect next month's responses to turn sharply negative.
Sarge's Trading Levels
These are my levels to watch today for where I think that the S&P 500, and the Russell 2000 might either pause or turn.
SPX: 2463, 2454, 2446, 2439, 2431, 2420
RUT: 1392, 1386, 1380, 1370, 1362, 1352
Today's Earnings Highlights (Consensus EPS Expectations)
Before the Open: (SXI) ($1.39)
After the Close: (CTLT) ($0.57), (PRXL) ($0.93)
Get Morning Recon delivered directly to your inbox each market day. Click here to sign up for e-mail delivery of Stephen "Sarge" Guilfoyle's Morning Recon, Jim Cramer's Daily Booyah! or other great free newsletters from TheStreet.
More of What's Trending on TheStreet:
At the time of publication, Stephen Guilfoyle was long HD, although positions may change at any time.