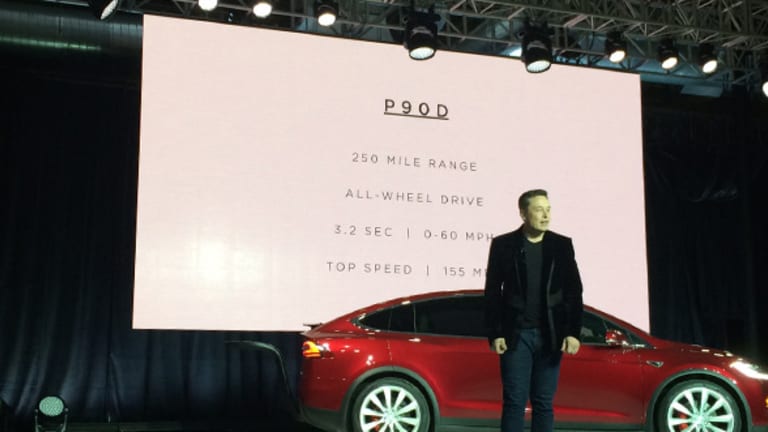 With Apple Falling, Is Tesla the Better Tech Stock Now?
Apple appears to be stumbling. Perhaps it's time to put your money in Tesla, a new breed of innovator that's ready for the technology spotlight.
It's not always the numbers that tell you what's really going on with a company.
Beneath that massive, record-smashing $18.4 billion quarterly profit that Apple  (AAPL) - Get Free Report just registered are some sobering facts: iPhone unit sales were flat, Mac unit sales fell 4% and iPad unit sales dropped 25%. Tim Cook has got his work cut out for him.
data by
On the other hand, if there's one company driving innovation and carving its own niche in the tech-space, it's Tesla  (TSLA) - Get Free Report . And that's why we think Tesla is the new Apple -- and a strong contender for space in your portfolio. Tesla is among a promising group of technology stocks that should outperform in 2016.
data by
While Tesla is certainly smaller in front of a far bigger and stronger Apple, the company is pushing the envelope with cars today -- akin to how Steve Jobs once changed the game for mobile phones.
To begin with, let's look at the buzz surrounding innovation and product launches at Apple. The iPhone 5se is one of the latest offerings from Apple -- an upgraded 4-inch iPhone 5s with a faster processor, and a host of other revitalized features -- heartening movements, but in all honesty, a little staid.
If you've already purchased an iPhone 6s, you'll know this isn't one of the most efficiently designed/styled handsets. Cook has come up with several incremental innovations, which is not a bad thing per se, but then everybody has bigger expectations from Apple.
As we wait for the iPhone 7, the impending Apple Watch is pegged as a boost to the company and its stock. Now until the product finds its natural space, all of this is mere excitable speculation and going by what we've seen so far on the innovation front, we are a little cagey about the true possibilities of this device.
What really worries us is the iPad. Now there's no denying the revolutionary nature of this product, but dwindling sales figures hint at Apple's inability to sell it at a premium over Android tablets from the stable of Samsung.
Keeping that premium intact wasn't a problem in the golden era of Apple. However, today customers are questioning the inherent value of an Apple device.
The 13%-plus stock price drop this year is an unequivocal indication of the growing discontent among investors. On the other hand, Apple's advocates will continue to talk about the huge moolah Apple brings in, its deep cash hoard and the invincibility of its brand.
Here's where we'd like to point out: a humongous cash vault doesn't hold together a giant tech business. And what matters for investors is finding game-changing tech companies with the best ideas and creativity.
Trading at 8.8-times forward earnings, Apple does look cheap -- but then Wall Street pays a premium for innovation alpha.
Now that we've covered Apple, let's look at what Tesla Motors is doing.
While the company is not the garage outfit it once was, CEO Elon Musk is talking about self-driving cars that could reach you in Los Angeles from New York at a single "tap" summons.
Already, Model S Tesla vehicles are testing a feature that allows cars to drive and change lanes in traffic without assistance from the driver.
Bear in mind, Tesla wasn't meant to be a self-driving car company -- just an electric car company; it just got there.
While the company has faced a degree of flak and some scrutiny for not being able to deliver as many Model X SUVs as Wall Street wants, it is, nonetheless, propelling the innovation component.
Indeed, its innovation matrix is truly bright: horsepower for days, huge batteries, super safety, supercharging, and more.
While Apple is pushing concerns by predicting a second-quarter sales drop (we think even the third quarter will suffer a similar fate), the only current challenge for Tesla is to make more cars and faster. We also don't believe that Faraday Future can challenge Tesla that easily. The little known company's concept car looked great but there's a big difference in promise and successfully delivering the vehicle commercially.
And finally, Apple, two-thirds of whose sales comes from outside of the U.S., has possibly hit a saturation point. Conversely, Tesla, hasn't even scratched the surface yet.
In terms of valuation, Apple (as mentioned earlier) is a bargain when compared to Tesla, which trades at about 75-times forward price-to-earnings. However, in terms of being a fast-rising and dynamic tech stock, Tesla is definitely a superior proposition.
As we've just explained, Tesla looks like a great technology stock right now. I've also found a small-cap tech stock that has the potential to surge 100% or more in the coming months. This is a growth story with major momentum, so it's important to learn the full details as soon as possible. The stock is trading at under $8 a share, and its long-term prospects have never been better, making it a great value. I expect this rocket could take off soon, so be sure to click here now and learn more.
You see Jim Cramer on TV. Now, see where he invests his money and why Apple stock is a core holding of his multi-million dollar portfolio. Want to be alerted before Jim Cramer buys or sells AAPL? Learn more now.

This article is commentary by an independent contributor. At the time of publication, the author held no positions in the stocks mentioned.