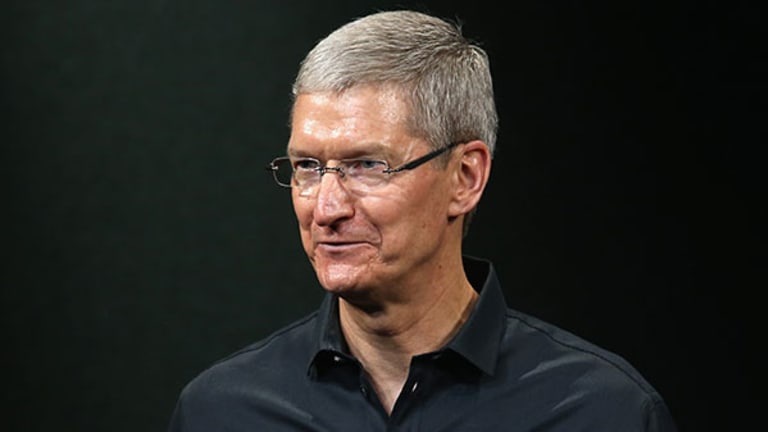 With 0.3% of Its Cash, Apple Could Have Some Serious Fun
A minimal investment to expand Apple's iTunes Festival would put the hurt on an unsuspecting Pandora.
NEW YORK (TheStreet) -- Apple (AAPL) - Get Apple Inc. (AAPL) Report cannot beat Pandora (P) simply by doing radio.
Over the last two years at TheStreet, I have outlined the reasons why, which range from the superiority of Pandora's Music Genome Project to Pandora's sole focus on disrupting and poaching advertising dollars from radio.
Redefining radio and chasing small advertising potatoes is not and should not be a priority at Apple. In fact, iTunes Radio should have nothing to do with revenue. At least not directly. It should be little more than a driver. And, if it can be fun and exciting in the process, more power to Apple and the people who get to work on the iTunes Radio project.
That much is obvious if you understand Apple for what it is -- a designer and producer of beautiful and premium quality, high-margin hardware. Plus, why would Apple want to mess too terribly with one of the App Stores longest standing and top performers?
That said, the cash Apple sees from Pandora as a top grossing feature in the App Store is just as insignificant as the revenue Apple would receive if it went balls to the wall and maxed out the radio experiment. So, while I don't think Apple wants to jettison Pandora from its ecosystem (many iPhone and iPad users would be lost, confused and outraged without Pandora on iOS), it can strategically ding Pandora to further iTunes Radio. That's just one way to gain some traction for iTunes Radio and, in the spirit of hobbies at Apple, have some fun.
That's the line I started reeling Wednesday in Apple's Pandora Killer Arrives Next Month. We should keep an eye on what, if anything, comes of Apple's decision to show up at next month's South by Southwest (SXSW) powwow in Austin with a week's worth of iTunes Festival shows.
These concerts counter Pandora's Discovery Den, which has become something like a SXSW staple. Here's a shot of the stage from 2013's iteration where the headliner was Third Eye Blind, if my memory serves me:
Apple's bringing out huge names. Names Pandora has troubling securing because, right or wrong, the music industry hates Pandora more than it hates Apple. Though it should have no love for Apple.
Anyhow, Wednesday's thoughts on where Apple could go with this warrant further exploration.

Apple could, with the greatest of ease, decide to make weekly iTunes Radio-sponsored concert events across the country a hobby. It could put them on in cities throughout the United States (or the world) consistently. It could live stream them. To do 50-100 of these shows annually -- some grand scale with big names, some with indie and unsigned acts at smallish venues -- would cost Apple nothing.
There's nil to lose and a considerable bit to gain in terms of image, keeping the ecosystem fresh, vibrant and sticky and, as such, generating continued hardware sales. And, damn it all, it would be fun. We don't talk enough about having fun within tech and within the organizations that cover it. That needs to become a recurring theme.
Fun!
What's the point of having $160 billion in cash if you're not going to a) have fun and b) spread the wealth beyond what an iPhone, iPad or Macbook brings to somebody's life?
What a blast it would be for Apple employees -- at all levels -- and for the rest of us if Apple took up a presence on the streets of places such as Hollywood's Sunset Strip and Downtown Austin and Nashville. It's exactly what Pandora should have spent the last couple of years doing. It should have been building up the type of presence Apple can establish with the stroke of a pen and a press release.
Let's say Apple invested $500 million in my idea (which is way too much money). That's like 0.3% of its cash hoard. It's also equivalent to roughly (being generous again) six months worth of revenue at Pandora.
Money. It's truly no object at Apple.
Hire 100 people to run this thing, at the executive level and on the ground, at an average salary of $100,000 a year. For goodness sake, you've paid your staff and you've barely made a dent in the half billion.
But you have taken control of an area that can help do all of the above (build/maintain image, keep ecosystem fresh, help hardware sales) and generate awareness for and use of iTunes Radio that's not going to happen if you merely go head-to-head with Pandora on the merits of the respective services. Because, again, Pandora wins in that regard. Hands down.
However, thanks to a mix of a lack of resources and a lack of will, Pandora has not competed effectively in areas that can a) drive its core business to new heights, b) improve its positioning in the royalty fight and c) open up new and potentially lucrative (relative to its size) lines of revenue.
Granted, I'm speculating. And, quite possibly, making too much of Apple's decision to expand its iTunes Festival at this year's SXSW. But if Apple's going to take action with respect to my reporting on a smell at its Santa Monica store, it sure as heck should spend some time thinking on something way more pleasant and positive.
Apple could bring together Internet radio, the live experience and online concert streaming before somebody else, like maybeYahoo! (YHOO) , does. The beauty of my idea is that it's not some pie-in-the-sky horribly risky, relatively large investment on a lark such as buying Tesla Motors (TSLA) - Get Tesla Inc Report. What I propose contains virtually zero downside, but considerable upside in several aforementioned areas.
And, to be perfectly frank about all of this, Apple would be delivering a wakeup call to Pandora. I get the sense the company is at the height of what I can best describe as stubborn arrogance. Pandora refuses to move meaningfully in areas such as data and the concert space (as others take the lead) because, as I see it, its hyper focus on doing radio and doing it well has become an unhealthy obsession.
Pandora cannot continue to view its business with tunnel vision. It needs to understand that prolific and aggressive action vis-a-vis concerts and data isn't a luxury, something to make a priority someday ... it needs to become as important a part of its business model as advertising is. That's not called losing focus. It's called following the Amazon.com (AMZN) - Get Amazon.com, Inc. Report way for real and leaving no opportunity un-seized.
Because if Pandora leaves the opportunity it, ironically, created for itself on the table, Apple -- or somebody else -- will happily make it a hobby that could turn into a business Pandora will envy. And they'll do it with very little, if any risk.
--Written by Rocco Pendola in Santa Monica, Calif.
Disclosure: TheStreet's editorial policy prohibits staff editors, reporters and analysts from holding positions in any individual stocks. Rocco Pendola is a columnist for
TheStreet
. Whenever possible, Pendola uses hockey, Springsteen or Southern California references in his work. He lives in Santa Monica.