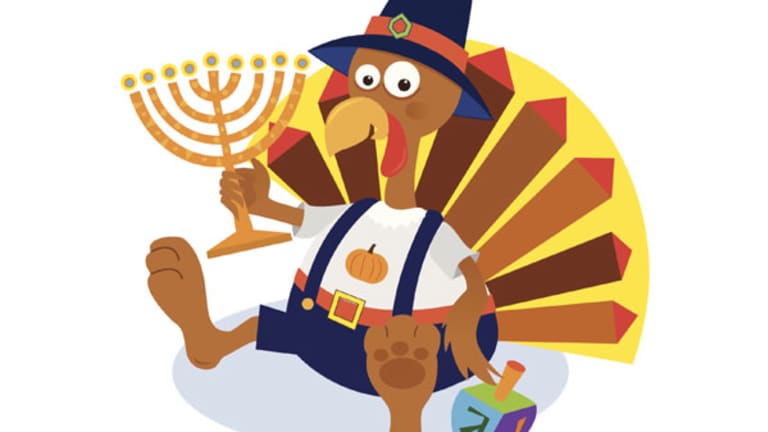 Publish date:
Wish List for Thanksgiving
Shorter receipts from CVS, real sugar cane in Coke, and others.
Shorter receipts from CVS, real sugar cane in Coke, and others.
NEW YORK (TheStreet) -- There's a great deal to be thankful for this year -- health, family and friends at the top of the list.
Despite some very worrisome developments, we still live in the greatest country, and will ultimately navigate our way through a still bad economy, and other difficulties, many of which have been perpetrated by those we have elected.
Still, I have a wish list for next year of some much-needed changes I'd like to see. Some are tongue in cheek, and not very important; others more serious. You be the judge.
CVS Corp. (CVS) - Get Report. Enough with the "Extra Bucks' rewards program. I like discounts as much as the next guy, but do you really need to run a rewards program that generates three feet of register tape coupons upon each checkout, most of which end up in the garbage anyway? C'mon, I may not be the most technically savvy guy, but this is 2013! Stop killing trees. Coca-Cola (KO) - Get Report. Bring back cane sugar and glass bottles (the bottles not just during the holidays)! I know sugar is more expensive than corn syrup, but believe it or not, it's worth it. It tastes much better, and depending on whom you believe, it may also be better for you. Coke purists are more than willing to shell out 18 bucks for a case of Mexican Coca Cola, made with sugar and in glass bottles, available at Costco (COST) - Get Report. There's nothing better than a cold glass bottle of Coke made with sugar. During Passover season, Coca Cola does release limited quantities of the sugared version in two-liter bottles in certain areas of the country. If you live in my area, I'm the gentile who happily relieves local stores of their limited supplies. Wal-Mart (WMT) - Get Report, Target (TGT) - Get Report, Kohl's (KSS) - Get Report, J.C. Penney (JCP) - Get Report, Macy's (M) - Get Report and other retailes. My hope is that being open Thanksgiving Day this year is a complete bust, and that you remain closed next year. Now, I am as big a free market capitalist as anyone, but give it a rest. Let everyone, employees, and consumers enjoy a day off. There's enough busyness during the next month; one day closed will not make or break your season. When I was growing up, my dad had to work on Christmas or Thanksgiving from time to time, but he was an air-traffic controller and so it came with the territory. Retailers don't need to be open on Thanksgiving. Bring back Red Hot Dollars! The little red, round candies with the "$" sign on the front, were introduced by Heide in the mid 1920s. They've been a favorite of mine since childhood. Hershey's (HSY) - Get Report bought the brand in the 1990s, and then later sold it to Farley & Sathers, which discontinued the candy last year due to production costs. I miss those little buggers. But, don't bring them back just for me, do it for the dentists who've had to replace many a filling, and fill many a cavity over the years due to these wonderful confections.
Apple . Do we really need new versions of the iPad, iPod, iPhone, iWhatever seemingly every year? Can you let consumers catch their breath, and not feel compelled to have to buy the latest and greatest to keep up? My first generation, 512MB, 2005 era first generation iPod Shuffle still works fine, thank you very much. It holds 128 songs!
Have a wonderful Thanksgiving!
At the time of publication, the author held no positions in any of the stocks mentioned.
This article is commentary by an independent contributor, separate from TheStreet's regular news coverage.
At the time of publication, Heller was long XXXX.
Jonathan Heller, CFA, is president of KEJ Financial Advisors, his fee-only financial planning company. Jon spent 17 years at Bloomberg Financial Markets in various roles, from 1989 until 2005. He ran Bloomberg's Equity Fundamental Research Department from 1994 until 1998, when he assumed responsibility for Bloomberg's Equity Data Research Department. In 2001, he joined Bloomberg's Publishing group as senior markets editor and writer for Bloomberg Personal Finance Magazine, and an associate editor and contributor for Bloomberg Markets Magazine. In 2005, he joined SEI Investments as director of investment communications within SEI's Investment Management Unit.
Jon is also the founder of the
, a site dedicated to deep-value investing. He has an undergraduate degree from Grove City College and an MBA from Rider University, where he has also served on the adjunct faculty; he is also a CFA charter holder.