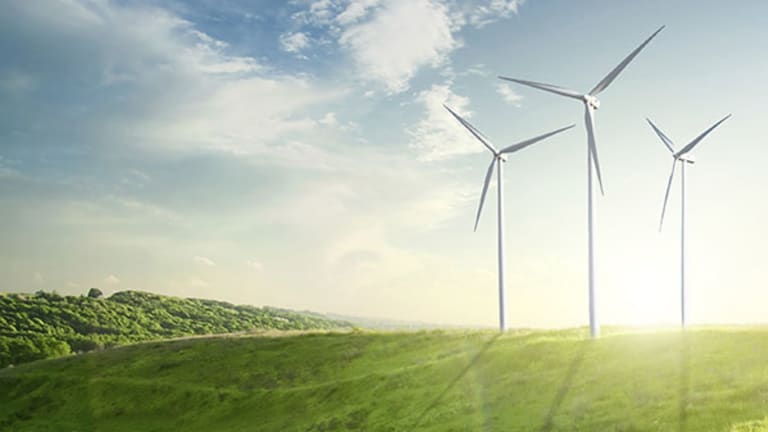 Wind Power Prospects Could Be Doomed If New Legislation Is Passed in D.C.
Wind power stocks have benefitted handsomely from subsidies, but the spigot could be closing making the business unprofitable
NEW YORK (TheStreet) -- A new piece of legislation on the docket could alter the financial dynamics of the nascent wind power industry -- and affect the results at other blue-chip companies like Google (GOOGL) and Microsoft (MSFT) , too. 
Rep. Kenny Marchant (R-Texas) has just introduced legislation known as The PTC Elimination Act, striking the statutory language for the primary federal handout for the wind industry from the U.S. tax code and provides that the PTC should expire as of December 31, 2014 and not be extended in the future or retroactively. What that means is that wind power companies will stop receiving as much tax relief as they currently enjoy.
As background, wind energy companies have heavily relied upon a government construct known as the "Production Tax Credit" (PTC) to support their bottom lines. For confirmation, we have to look no further than Sempra Energy's (SRE) 2014 annual report in which we find the following statement, "For each of the years ended December 31, 2014, 2013 and 2012, PTCs represented a large portion of our wind farm earnings, often exceeding earnings from operations."
Under the PTC, a clean technology facility receives a tax credit for 10 years after the date the facility is placed in service, with the tax credit amount ranging from $0.23 per kilowatt-hour (kWh) for wind to $0.011 per kWh for qualified hydroelectric. On its face, that may seem reasonable, but looking at the International Journal of Sustainable Manufacturing, researchers concluded that "in terms of cumulative energy payback, or the time to produce the amount of energy required of production and installation, a wind turbine with a working life of 20 years will offer a net benefit within five to eight months of being brought online." In other words, according to the report, the supportive subsidy is paid far, far longer than is necessary.
This new legislation includes a number of additional measures that reduce the subsidy for current beneficiaries, including tightening eligibility definitions and repealing the inflation adjustment for current PTC recipients. These changes will reduce the amount that American taxpayers subsidize wind companies by approximately 35%.
As Marchant points out, "...because the credit pays claimants for 10 years of energy produced, Americans are currently on the hook for a minimum of $6.4 billion over the next decade." According to data from the Mercatus Center, wind energy has received 42% of renewable energy subsidies (a portion of which go to coal and other kinds of energy suppliers), nearly $30 billion over the last 35 years, but it's only been responsible for roughly 2% of electricity generated in the U.S. That hardly seems like a reasonable return on taxpayer dollars.
Those same payments have clearly benefited energy companies that have ventured into wind power like the aforementioned Sempra Energy as well as NextEra Energy (NEE) , Duke Energy (DUK) , Xcel (XEL) and others. If the Marchant sponsored legislation is passed, it would shift the investing question from "Which companies benefit from the PTC?" to "Which companies could see negative earnings revisions as the PTC subsidy falls by the way side?" How things change when a tailwind turns into a headwind.
There is another aspect to consider as well. Berkshire Hathaway (BRK.A) (BRK.B) CEO Warren Buffet has been quoted as saying that he would do anything under the law to reduce Berkshire's tax rate, and one of those strategies has been wind farms. Buffet went on to say the tax credit was the only reason to build wind farms. If that tax shield is removed as well, equity analysts would have to re-think tax rate assumptions at Berkshire and other companies that have invested in wind farms. Companies on that short list include Google and Microsoft.
This article is commentary by an independent contributor. At the time of publication, the author held no positions in the stocks mentioned.
Follow Chris Versace on Twitter and Facebook.