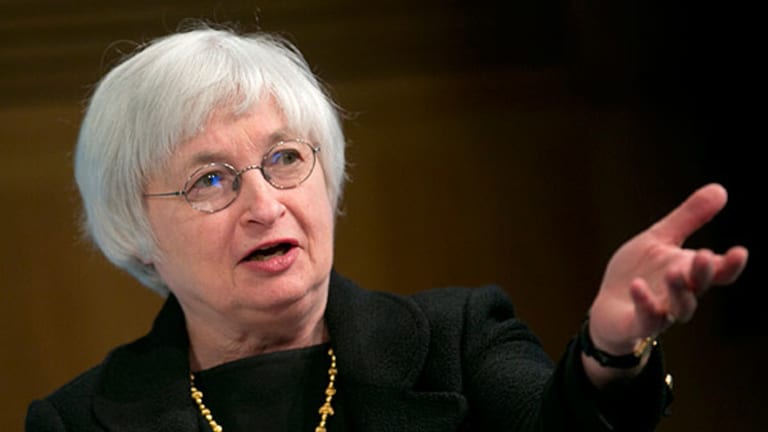 Will Yellen Change Her 'Considerable Time' Position This Week?
Janet Yellen has a chance to clarify her policy stance at the Fed's meeting Tuesday.
NEW YORK (TheStreet) -- Will she or won't she?
Federal Reserve Chairman Janet Yellen has a chance to clarify her position on interest rate hikes this week when the central bank's Open Market Committee meets from Tuesday to Wednesday. The Fed chief will likely announce a further $10 billion reduction of monthly bond purchases.
The real story, however, will be clues in Yellen's statement on Wednesday as to when interest rates will be increased.
In March, the Fed changed of its original plan to keep the borrowing costs low until unemployment fell below 6.5%. The unemployment rate stood at 6.7% at the time. Yellen has changed that stance -- instead of the labor market benchmark, she said rates would stay low for "a considerable time" after the Fed's bond-buying program ends later this year.
The transition in policy led to a decline in stocks as a wave of uncertainty fell over the market. Yellen was unclear herself on what exactly "a considerable time" meant, but she has a chance to clarify her view at this month's meeting. Her comments come as both U.S. growth and employment figures will be released this week as well.
The U.S. growth figure will be released on Wednesday and will likely show an advance of 1.6% annualized. Cold weather has weighed on retail sales and the housing market in the first quarter, but economists believe a warm spring will lead to a rebound in growth of around 4% in the second quarter of this year.
The more anticipated number this week will most likely be the employment figure Friday.
Again, bad weather has been a drag on economic activity earlier in the year, disrupting employment data in both December and January. As spring approaches, however, we are likely to get better numbers that are more representative of the labor market's health.
Some analysts see payrolls accelerating with over 200,000 jobs added in April, which would be a great indication that the U.S. economy is on a strong path to recovery.
The abundance of both economic data and insight into U.S. monetary policy should keep equity and bonds markets very active this week. Expect periods of consolidation leading into events, and explosive moves either higher or lower once the market has fully processed the news at hand.
data by
Follow @macroinsights
This article represents the opinion of a contributor and not necessarily that of TheStreet or its editorial staff.