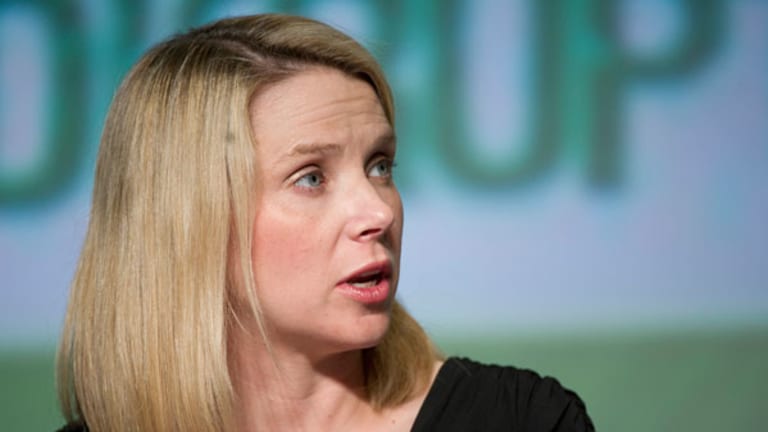 NEW YORK (TheStreet) -- I want my Twitter account to be as interactive as possible.
Over the last several weeks, the back and forth with fellow Tweeters has increased considerably. As much as I use Twitter to promote my and
TheStreet's
content, I aim to use it primarily to engage readers. If you can bring sane and logical takes (which, to some, might not appear all that sane and logical), I will publicize them on Twitter and here on
TheStreet
.
You can follow me on Twitter
.
You can also follow
Yahoo!
(YHOO)
CEO Marissa Mayer
.
While I probably will not do much to write home about in 2013 (other than help
TheStreet
take over Wall Street and Main Street), Marissa Mayer will, so if you don't follow me, follow her. She's in the running for next year's best CEO.
Earlier this week, Twitter follower,
, Tweeted me this hot stock opinion:
While I will not wholly endorse the notion of a Twitter/Yahoo! partnership, the thought belongs in the conversation.
As I riffed Wednesday in
Marissa Mayer Flickrs Apple, Apple Fleeces Walmart
:
You can't tell me that when she was joining Yahoo! Mayer hadn't heard rumblings of something happening in this whole Facebook/Twitter/Instagram ménage à trois. Maybe she did not know specifics, but her ear scrapes the ground in a big way. She made Flickr a top and immediate priority at Yahoo! for a reason. And now she's snapping a picture using the platform in the middle of the world's greatest city at the flagship store of the world's greatest company ...
Continuing that thought . . . taking pictures at an
Apple
(AAPL) - Get Apple Inc. (AAPL) Report
Store during the period when
the Facebook (FB) - Get Facebook, Inc. Class A Report/Instagram integration isn't running so smoothly
.
In fact, Facebook might actually be setting Instagram up to fail. Dissing Twitter and messing with users on privacy-related issues -- not smart. Facebook can get away with that type of thing, Instagram absolutely cannot.
For me, it comes down to one fundamental question: How social can Marissa Mayer make Yahoo!? And, is it even smart to make it too social in the Twitter or Facebook sense? Is it possible? Tough waters to navigate.
The "easy" way out, assuming Twitter would have it, is for Mayer to pitch Dick Costolo on the notion of Flickr powering Twitter's photo-filtering thingamajig.
Listen, I love Twitter. Probably too much. In fact if I could I would rub Dick Costolo (and Jeff Bezos's) bald heads each morning for good luck. As far as CEOs go, you have cats like Costolo and Bezos followed closely by the new breed Mayer leads. But, Twitter has to rush photo filtering out and, while it will get better, it's not that good.
Costolo and Mayer obviously know one another from their days together at
Google
(GOOG) - Get Alphabet Inc. Class C Report
. And Twitter is probably a better long-term partner for Yahoo! anyway.
Ultimately, they can help one another out during times of need. Mayer has kicked things off nicely, but she needs a strong platform -- outside of Yahoo! -- to push Flickr forward. And Flickr can pick up exactly where Instagram left off . . . and more.
So maybe I do endorse the idea after all.
--Written by Rocco Pendola in Santa Monica, Calif.
Rocco Pendola is
TheStreet's
Director of Social Media. Pendola's daily contributions to
TheStreet
frequently appear on
CNBC
and at various top online properties, such as
Forbes
.