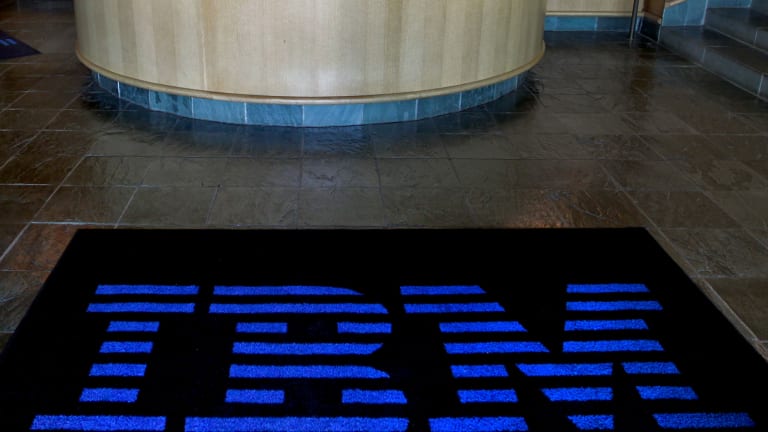 Will Warren Buffett's Love for IBM Pay Off?
Whether IBM is a good bet depends on your time horizon and need for income. Here's a look at the pros and cons of Buffett's continued devotion to Big Blue.
Once formidable American tech giant IBM (IBM) - Get International Business Machines Corporation Report , has been dragging its feet. "Big Blue" can't seem to keep up with the disruptive innovation that's stretching the limits of the global digital universe.
Yet, the stock finds persistent favor with the wisest oracle in the stock market, Warren Buffett.
Does Buffett still see something in the stock that others are missing? Or is he in plain-and-simple denial that the company (of which he is the biggest shareholder, owning 8%), could have actually been a bad call?
IBM had a poor quarter, yet again. The company seems to be caught in a rut, with revenues declining for the 14th straight time.
Not only was the $19.28 billion revenue down by a drastic 14% from year ago figures (vis-à-vis 4% last year), it also missed the largely pessimistic revenue estimation of $19.292 billion. Earnings-per-share came in at $3.34 against estimates of $3.30, continuing its 10% yearly plunge -- it decreased the same the year before.
IBM blamed a strong dollar and a sluggish global economy hampering its global business as the principal reasons for its lacklustre performance.
The fact remains that IBM has failed to make strides in contemporary growth areas such as Cloud Services (where Amazon's Web services is ruling the roost), security and big data. IBM's cloud revenues grew by 45% year-to-date, compared to more 50% growth last year at the same time.
What's even worse, is that as of now, there seems to be no light at the end of the tunnel.
The company changed its 2015 adjusted earnings guidance to $14.75-to-$15.75 per share, against Wall Street's expectations of $15.68, attributed to currency and divestment impacts.
So why is IBM still the darling of Buffett? Two words Buffet Loves: dividends and buybacks.
At a current dividend yield of 3.8%, this year marks a century of consecutive dividends announced by the tech giant.
IBM also has a reputation of regularly buying back its stock, which ultimately translates into a higher earnings-per-share, and thereby, higher value for its shareholders.
From 1.65 billion shares in Dec. 2004, the company has swallowed 40% of its shares to leave only 980 million shares with shareholders in mid-2015. It is no surprise then that while IBM's share price is down 22% in the past three years, earnings-per-share has actually expanded 8% from 2012 to 2014.
But should investors sacrifice value from ground level operational development for the sheer comfort of hard cash? It's doubtful.
How sustainable is IBM's pocket-dipping strategy? Not much, if the very operations which drive profitability come under a shadow.
IBM has said that its "strategic imperatives" ventures which represent cloud, analytics and engagement grew 30% in the first six months of the year, but overall growth reduced to 20% year-to-date and 17% for third quarter year-over-year.
However, the segment which contributed 10% to the revenue pie in 2010, made up 27% in 2014. There is growth, no doubt, but it isn't fast enough in this highly competitive segment, where industry leaders such as Amazon and Oracle are eating IBM's lunch.
IBM also claims that over the last decade, the company has concentrated more on reinvesting in its businesses than giving back to shareholders. However, the fear that looms is that this approach might just be a case of too little too late as nimbler players threaten to usurp IBM's remaining customer base.
Buffett's love for IBM, on the other hand, is understandable. Despite Berkshire's cost basis of $170 against a current share price of roughly $140, with his 8% investment in IBM, Buffett stands to make $413 million in dividends, at Big Blue's current annual dividend of $5.20 per share.
So while IBM may not be a bad idea for someone with Buffet's capacity and investment horizon, smaller investors should look to other promising tech stocks to bolster their portfolio.
This article is commentary by an independent contributor. At the time of publication, the author held no positions in the stocks mentioned.