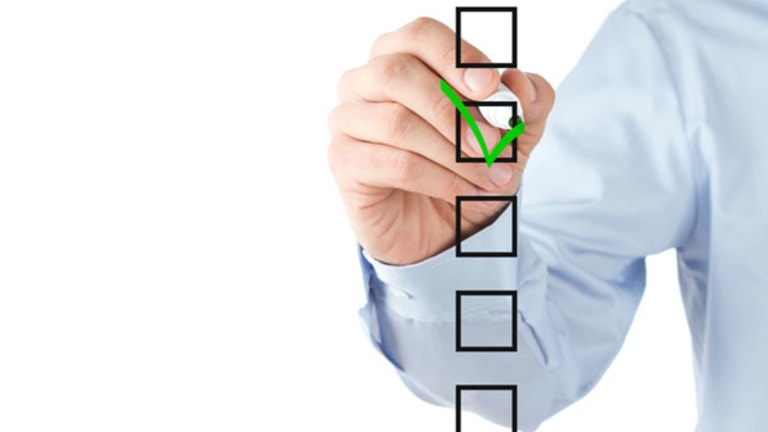 Will Warren Buffett Offer a Dividend, After 49 Years?
The market is chattering about a dividend from Warren Buffett and Berkshire Hathaway, but after 49 years, is Buffett really about to change his ways?
NEW YORK (
) -- The financial press was, as usual, busy on Monday planning the future of
Berkshire Hathaway
(BRK.B) - Get Berkshire Hathaway Inc. Report
without any input from Buffett himself.
Barron's
ran an article speculating that Berkshire Hathaway will add a dividend sometime in the next year to two years, in the range of 2%, without a comment from Buffett; without a comment from anyone actually. It was just the logical speculation born out of the fact that Buffett and Berkshire Hathaway are sitting on a mountain of cash, possibly $50 billion in the company's insurance business alone. Maybe Barron's had Buffett on background, in the classic wink and nod between journalist and source where the source spills the beans while declining to comment for the record, though that's not Buffett's typical way of dealing with the press. Maybe it was a hedge fund manager and long-time Berkshire Hathaway investor speculating on a dividend and telling
Barron's
it's a done deal. However, there are plenty of Berkshire Hathaway experts who doubt a dividend is coming.
Berkshire Hathaway could use a nice trigger to move its shares higher, for one thing, since the stock hasn't budged much higher than the $80 mark in a year. Berkshire Hathaway shares popped by 3% on Monday, on twice its average daily trading volume based on the dividend speculation. There's no event on the horizon like the S&P 500 inclusion that occurred last year to spur Berkshire Hathaway shares much higher in the short-term. Yet it would be misguided to think that Buffett would make a decision as fundamental as a dividend policy to move shares of Berkshire higher; in fact, Buffett would probably be the first to call for his removal as CEO if he ever acted on this market massaging impulse.
Warren Buffett, CEO of Berkshire Hathaway, which hasn't paid a dividend since 1962.
Barron's also speculates that a dividend would take some of the pressure off any successors to the top posts at Berkshire Hathaway when Buffett retires, so they wouldn't be faced with the need to find acquisitions for all the cash. Yet wouldn't Buffett choose successors based on his comfort level with them continuing the long-held Berkshire Hathaway investment philosophy, including being able to find the best uses for cash? Wouldn't it seem very un-Buffett-esque to make a decision over a dividend policy based on fear, and namely the fear that he was putting too much pressure on his successors to execute on acquisitions. If Buffett picks the right people to replace him after a multi-year planning process, the net impact of this decision shouldn't be worrying about whether his successors are up to the task.
Additionally, it's far from a fact that a dividend would be in the best interest of Berkshire Hathaway shareholders, and it's also hard to understand why a dividend would more likely be a use for Berkshire Hathaway excess cash versus, say, a share-repurchase program.
>>Berkshire Dividend in the Works: Barron's
Indeed,
Barron's
described the Berkshire Hathaway dividend as "likely," without providing any attribution. While Warren Buffett wasn't speaking to
Barron's
for the record, he's spoken plenty in the past -- through his annual letter to shareholders -- about the issue of hoarding cash, and about the dividend and share-repurchase options. One thing is clear from Buffett's previous comments: there's a reason why Berkshire Hathaway hasn't paid a dividend since 1962, and the fact that the company is sitting on a mountain of cash alone is no reason to finally break with a 49-year philosophy and implement a dividend payment.
Here's Buffet in his 1984 annual letter writing on dividends:
"As long as prospective returns are above the rate required to produce a dollar of market value per dollar retained, we will continue to retain all earnings. Should our estimate of future returns fall below that point, we will distribute all unrestricted earnings that we believe can not be effectively used. In making that judgment, we will look at both our historical record and our prospects. Because our year-to-year results are inherently volatile, we believe a five-year rolling average to be appropriate for judging the historical record."
In light of this statement, saying "huge cash balance = looming dividend" doesn't seem to be an iron-clad formula, nor necessarily a financial carrot that would be in the best interest of Berkshire Hathaway shareholders. Buffett himself has said that it gets harder to find the type of deals that culminated in last year's Burlington Northern purchase, and the financial meltdown sweetheart investments in GE and Goldman Sachs are probably one-time events, too. Yet it's a leap of faith from these facts to thinking that Buffett doesn't think there are going to be good acquisition opportunities in the foreseeable future.
Paul Howard, a long-time Berkshire Hathaway analyst who recently formed his own independent research shop, Solstice Investment Research, said, "I don't think a dividend is likely ... it creates an immediate taxable event, which Buffett has frowned upon many times in the past. He is patient and, like he's been doing for many decades, will wait for another opportunity to present itself."
Howard noted that cash is a buffer for Buffett's property and casualty business; it allows him to invest in rising interest rate environments; and allows Buffett to pay for acquisitions without having to raise debt or dilute Berkshire Hathaway shares.
"I think having a lot of cash on hand has allowed him to sleep well at night. I don't see this changing as he gets into his 80s," Howard wrote in an email to
TheStreet
.
>>And Warren Buffett's Successor is...?
Paul Lountzis of Lountzis Asset Management, a long-time Berkshire Hathaway shareholder, said investing cash becomes more difficult the more cash that is generated and the smaller the universe of potential investments. However, he believes investment opportunities abound around the world for Berkshire to invest in.
Lountzis pointed to the utility industry as one that requires large amounts of capital and is global. The long-time Berkshire investor conjectured about a variable dividend to be be paid from time to time, rather than Buffett committing to a specific annual dividend. "That would be far more in line with Mr. Buffett's thinking as flexibility is a key factor for Berkshire Hathaway," Lountzis said.
The Berkshire Hathaway shareholder also noted that there is no shortage of private family-run businesses with succession issues that fit Buffett's acquisition bill, the most prominent of which is
Mars
, which has reportedly long been on the list of Buffett prized acquisitions, and to which Buffett provided loan financing for its acquisition of
Wm. Wrigley Junior
in 2008.
Meyer Shields, analyst at Stifel Nicolaus, seemed to agree, writing to
TheStreet
, "I don't know whether Buffett's more likely to approve of a dividend, but I'd bet against it, because it demystifies the stock a little, and it would also raise the question of why he's not using the cash to buy more shares of his favorite stocks. I also think he'd be happy to wait until an appropriate business comes along, even if he needs to hold lots and lots of cash for a couple of years," the analyst wrote.
Speaking to flexibility, the Stifel analyst noted, "My guess would be share repurchases if anything. That way, it's voluntary from the shareholders' perspective, and there are fewer expectations. If they pay a dividend, shareholders get a dividend that they may not want. With repurchases, only those shareholders looking to sell have to participate. Shareholders looking for a (say) 2% dividend can just sell 2% of their shares every year."
Buffett has had plenty to say about share repurchases in the past, too, and some of his favorite stocks are serial share repurchasers.
Writing in his 1999 annual letter to Berkshire Hathaway shareholders, Buffett noted, "Rationally, a company's decision to repurchase shares or to issue them should stand on its own feet. Just because stock has been issued to satisfy options -- or for any other reason -- does not mean that stock should be repurchased at a price above intrinsic value. Correspondingly, a stock that sells well below intrinsic value should be repurchased whether or not stock has previously been issued (or may be because of outstanding options). We will not repurchase shares unless we believe Berkshire stock is selling well below intrinsic value, conservatively calculated."
>>12 Most Big-Hearted Billionaires
Buffett continued, "You should be aware that, at certain times in the past, I have erred in not making repurchases. My appraisal of Berkshire's value was then too conservative or I was too enthused about some alternative use of funds. We have therefore missed some opportunities -- though Berkshire's trading volume at these points was too light for us to have done much buying, which means that the gain in our per-share value would have been minimal."
With the major expansion of the Berkshire Hathaway B shares to fund the Burlington Northern acquisition last year, that liquidity issue is no longer a potential roadblock for a share repurchase program. Yet again, the more important point is that Buffett has made it clear in writing that any such decision would be driven by considerations that don't begin and end with the mere fact that cash on hand is at a historic high.
In the least, Berkshire Hathaway is a very different company today than it has been throughout its history and so, things change, and some of the companies that featured prominently in the portfolio fit the bill of dividend-like investments: MidAmerican Energy and Burlington Northern as examples. Even if there has been near a five-decade lull between Berkshire Hathaway dividend payments, the speculation isn't without logic, and this week isn't the first time that it's surfaced either.
Indeed, the latest speculation about Berkshire Hathaway and its future raises the question,
Should Warren Buffett do something about all that cash and break with long-standing Berkshire Hathaway tradition?
Take our poll below, to learn what
TheStreet
thinks....
-- Written by Eric Rosenbaum from New York.
RELATED STORIES:
>>Berkshire Dividend in the Works: Barron's
>>And Warren Buffett's Successor is...?
>>12 Most Big-Hearted Billionaires
>To contact the writer of this article, click here:
Eric Rosenbaum
.
>To follow the writer on Twitter, go to
.
>To submit a news tip, send an email to:
.