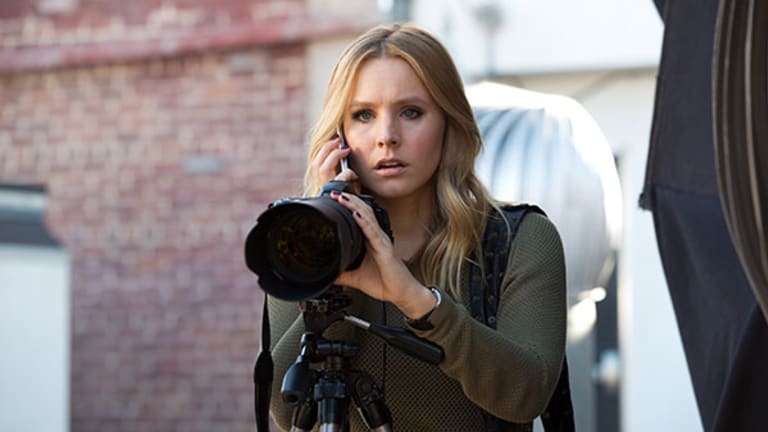 Will 'Veronica Mars' Change the Movie Industry?
Veronica Mars, scheduled for release on March 14, may forever change the movie industry, providing producers a new model for how to fund and distribute their films.
Veronica Mars is scheduled for release later this week both online and in theatres, and the film could forever change how studio executives and producers fund, distribute and release their films.
Might we be at an historic crossroads whereby the Dual-Distribution Movie method proves that the old studio-centric model of theatrical first is dead and gone? Might this be the movie industry's iPod moment when the music business was turned upside-down?
Here's the lowdown on Veronica Mars movie:
Show creator and now movie producer/director, Rob Thomas, asked fans to contribute money via Kickstarter to produce the film, Veronica Mars.
The Kickstarter crowdfund raised over $5.7 million from over 91,000 contributors.
The tv series on which the film is based, went off the air about seven years ago.
Kristen Bell, star of Showtime's House of Lies, is the lead in Veronica Mars.
Warner Bros.'s Time Warner (TWX) is distributing the film.
Veronica Mars premiered at SXSW on March 8.
Warner Bros. rented screens from AMC Entertainment (AMCX) - Get AMC Networks Inc. Report so they could carry out the dual release  --  releasing the film in both theatres and on demand via Amazon and iTunes on the release date.
In renting out the AMC screens, Warner Bros. will take in all the box office sales, replacing the usual way of theatres and studios splitting revenues from movie ticket sales.
Movie theatres commonly have a 90-day or 3-month release window to stay clear of on-demand release of the same film so as not to take away from the theatre's revenues.
Veronica Mars is set to release on March 14, 2014 in approximately 270 AMC theatres across the U.S. and a handful of independent theatres. 
It used to be an absolute rule not releasing a movie for at-home-viewing - certainly not ever the same day --- but atleast 90 days after it showed in theatres. That has changed though, because of modern practices such as crowdfunding, social media use, Indy movie increased appreciation, and consumer demand to choose what they view, so that Veronica Mars and other movies are pushing that boundary further and further. If Veronica Mars doesn't break the dam, meaning change the way movies are distributed, some future movie likely will.
What stocks are potential winners if Veronica Mars does really well? AMC Entertainment (AMCX) - Get AMC Networks Inc. Report, Time Warner's (TWX)  namesake studio, Amazon (AMZN) - Get Amazon.com Inc. Report, Apple's (AAPL) - Get Apple Inc. Report iTunes. 
What companies will be watching with binoculars from the sidelines to see how Veronica Mars does? 
AMC's major competitors, such as Regal Entertainment (RGC) , Cinemark Theatres (CNK) - Get Cinemark Holdings Inc Inc. Report, Carmike Cinemas, CKEC Cineplex. 
Warner Bros. competitors, such as Universal Pictures, a unit of Comcast (CMCSA) - Get Comcast Corporation Class A Common Stock Report, Sony/Columbia Pictures (SNE) - Get Sony Corp. Report, Paramount, a unit of Viacom (VIA) - Get Via Renewables Inc. Report, Buena Vista, part of Disney, (DIS) - Get The Walt Disney Company Report, 20th Century Fox (FOXA) - Get Fox Corporation Report, Lionsgate (LGF) . 
Amazon's and iTune's streaming video competitor Netflix (NFLX) - Get Netflix Inc. Report. 
News sites are reporting that Veronica Mars fan events are selling out quickly and a movie review hot from SXSW reported that the film is well done. With Warner Bros just coming off its Lego Movie high, it seems all signs point to a great showing for Veronica Mars.
Other fundamental analysis of Warner Bros. shows that Time Warner has a P/E ratio of 17.45, so it's not overvalued. Its net income has been increasing steadily for the past three years going from $2,886,000 in 2011 to $2,925,000 in 2012 to $3,691,000 in 2013.
If I were playing time Warner based on technical analysis, I would go short but only for the next three to five days, before March 14th when Veronica Mars releases. Then I'd get ready for a rise in the stock price based on the potential success and buzz of the film.
I'm starting to see the formation of a triple top. With a bearish engulfing candle from last Friday's trading session, it seems like a pullback is underway. For full confirmation, I'd wait to short Time Warner until it's completely clear that it'll hit a little closer to the $70 level then bounce down & away. It's clear that $70 is a key resistance level, having touched that level twice before and having not broken through. 
RSI for Time Warner has just rounded the top curve and seems to be already on the way down. OBV is showing a divergence. The volume has been getting weaker but the price action doesn't seem to be weakening quite as much. Stochastics indicate that Time Warneris highly overbought, currently around the level 90.70.
Since I never give stock tips and I do NOT want you to follow advice unless you do your own research, I recommend that you perform your own analysis and decide how you think Veronica Mars will do with its dual release. Based on your findings, invest or trade accordingly.
It will be interesting to see how this movie does in both theatres and on Video On Demand (VOD). It will also be cool to learn the answer to the question, Will Veronica Mars change the movie industry for good? We shall soon see. 
Are you going to see Veronica Mars on March 14, 2014, or are you going to trade or invest in any of these movie studio or media stocks? If so, I wish you
Many Happy Returns,
Rachel

Disclaimer:  I do not currently own a position in any of the stocks listed in this blog. I may enter into a position in Time Warner within the next 72 hours but do not know at this time what that position will be.
For more on investing and trading from Rachel Fox, visit