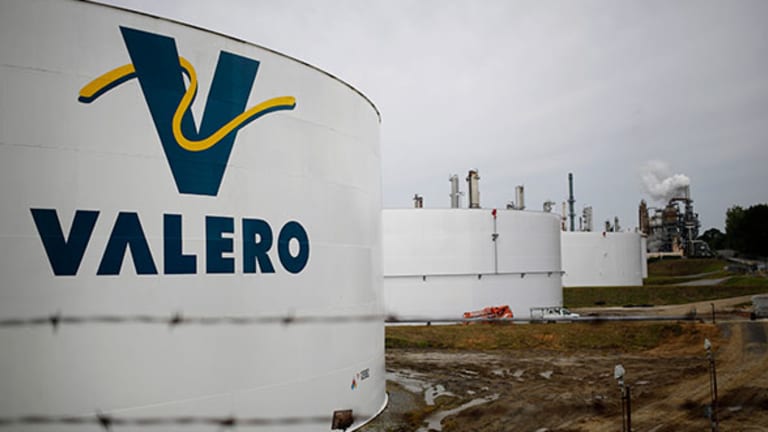 Will Valero Report Improving Global Gasoline Demand Tuesday?
The company is among the largest petroleum product exporters in the U.S., and industry followers await its outlook on the world's demand, especially Latin America.
Valero Energy (VLO) - Get Valero Energy Corporation Report is set to kick off second quarter earnings season for U.S. independent oil and gas refiners Tuesday morning, and few expect the near-term outlook to be overly positive. 
Refining margins have only moderately recovered from a two-and-a-half-year low reached in the first quarter, according to Barclays analyst Paul Cheng, and as such, the firm predicts refiners across the board will come in below consensus expectations.
Moreover, Barlcays expects industry followers to revise third quarter estimates downward as a result, due to the current margin outlook, which has been largely driven down by a glut in gasoline inventories. 
Thomson Reuters reports that the consensus analyst estimate for Valero is $1.03 per share on $16.79 billion in revenues. 
If Valero's numbers come in as expected, it would represent a 72% increase over the 60 cents earnings per share it recorded in the first quarter, but a 63% decline from the same period a year ago. 
RBC Capital Markets analysts cite a weak macroeconomic environment and declining capture rates as the main causes of a relatively poor refining period for VLO in the second frame. As a silver lining, though, RBC expects Valero's ethanol production to see a "nice sequential rebound." 
But since industry followers are not expecting to be wowed by the numbers Tuesday, they'll look to Valero's conference call at 11 a.m. EDT for further guidance on the sector's second half outlook. 
Valero is widely considered to have some of the best visibility into global refined products demand as it is one of the nation's largest petroleum product exporters. Data have emerged recently supporting concern over a refined products glut and indicating an extremely warm 2015 winter has hampered the gasoline market with excess inventories.
Therefore, industry followers are as anxious as ever to hear some sort of optimism on the global markets from VLO. And you can be certain as the first major U.S. refiner to report, Valero's results, as well as its outlook, will affect investors' opinion on the stocks of peers Phillips 66 (PSX) - Get Phillips 66 Report, Marathon Petroleum (MPC) - Get Marathon Petroleum Corporation (MPC) Report and Tesoro (TSO) . 
RBC analysts said they'll be focusing on the Latin American market when listening to the call. Since Latin American production had fallen off a cliff, particulalrly in market giant Venezuela, any regional demand increase could signal opportunities for Valero and others in the back-half of 2016 and beyond. 
RBC is also watching for comments regarding refinery M&A activity, as it became a substantial topic of conversation on Valero's first quarter conference call.
They'll also be keen for an update on the progress of Parkway Pipeline LLC, a 141-mile pipeline with 110,000 barrels per day of capacity that currently transports refined petroleum products from Valero's 305,000 barrel per day St. Charles refinery in Norco, La., to Collins, Miss., from a unit of midstream energy giant Kinder Morgan (KMI) - Get Kinder Morgan Inc (KMI) Report. Valero acquired the 50% of Parkway it did not own, earlier this year.
"While we do not think that the company is pursuing M&A as a top destination for capital," RBC's Brad Heffern wrote in a recent research note, "we will look to see if VLO is seeing any attractive opportunities in the market."
Still, company followers continue to temper their expectations of an improving space near-term, as U.S. and global refining margins failed to impress the market during the second quarter, according to Barclays' Cheng.
On the bright side, however, refiners' valuations have reached an attractive level, Cheng wrote in a recent note, with Valero and San Antonio competitor Tesoro being the firm's top picks. 
And Barclays sees 2016 as the low point for U.S. refining margins, implying that investors can expect to start seeing better quarterly reports in the not-so-distant future, as profits will start to recover over the next several years. 
"Accordingly, despite the near-term negative margin environment (too much gasoline inventories)," he wrote, "we believe the large cap refiners could yield solid positive returns over the next 12-18 months."