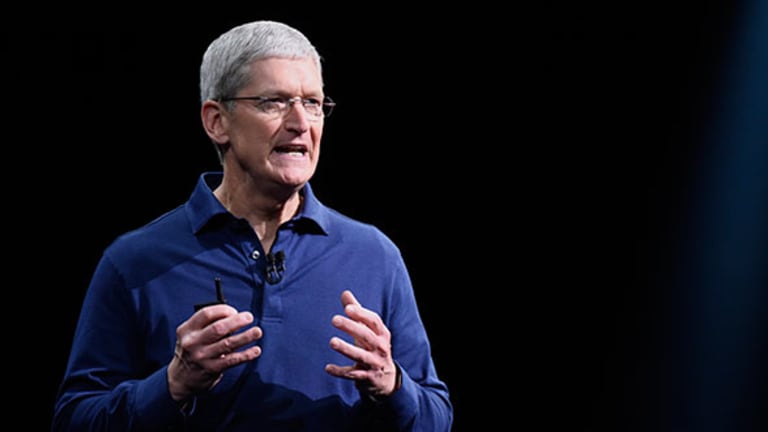 Apple (AAPL) - Get Apple Inc. (AAPL) Report CEO Tim Cook is convening with the stewards of the world's second-largest economy, after China recently shut down sales for two of the technology giant's digital products.
The chief executive for the Cupertino, Calif.-based behemoth is in China now where he is meeting with high-level government officials.
in April, China shut down the sale of iBooks and iTunes Movies. Apple reported a slowdown in net sales in greater China, which includes Hong Kong and Taiwan, when it announced second-quarter earnings last month. Its net sales there fell 26% to $12.5 billion from $16.8 billion the same time last year.
"Tim spent a lot of time with the [Chinese] government to try to make things right -- a charm offensive, also putting money with [ride-hailing company] Didi [Chuxing]," said Jim Cramer, manager of the Action Alerts PLUS portfolio, which owns Apple. 
The iPhone maker has reportedly invested $1 billion in Beijing-based Didi, which according to CrunchBase, a platform that chronicles investments in tech companies, has already raised $4.42 billion in seven rounds of funding.
"We remain very optimistic about the China market over the long term, and we are committed to investing there for the long run," Cook said on a conference call with analysts in April.
"I think that what matters about Tim Cook," Cramer said, "is that he's saying, 'We are putting a lot of people to work, we just don't crow about it.' Seven billion [dollars] in App Store gains for people who work there, three net billion [dollars] in the last year."
"Remember this is a continual theme about the service economy," Cramer continued, "and how people in China benefitted from it, too, hoping the government realizes that Apple is not a pernicious force but a force of good."
Shares of Apple stock hit a two-year low last week, but were rebounding 3.5% to $93.68 in early afternoon trading on Monday.