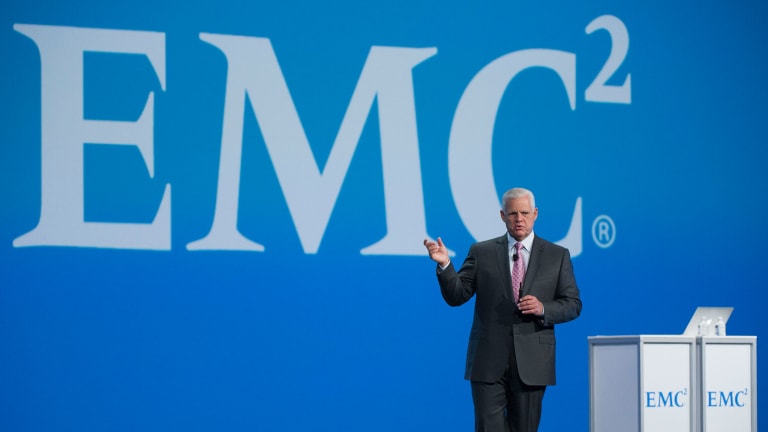 Will There Be More Tech Mega Deals?
The daunting challenges of tech megadeals and a dwindling supply of potential participants presages an emerging new deal form: industrial mash-ups.
Is the pending Dell Inc.-EMC Corporation (EMC) mega deal a sign of many more technology M&A record-setters to come?
Public technology company valuations are near their historical peaks, and this already is the second time in 2015 that an announced deal has set a new all-time dollar-value record for the tech industry. Plus, the combination addresses the ongoing imperative to transform from "Stack to solution (S2S)" while being private enables more nimble response to related disruptive trends.
That said, Dell-EMC is likely the peak of tech mega deals, at least for the foreseeable future. There are two main reasons -- which ultimately lead to an emerging new deal form:
Not every potential acquirer seeking competitive breadth can manage the nuts and bolts of getting there. True, scale has always been a distinct competitive advantage in the enterprise technology market. We can point to several incumbents that have built significant value by expanding horizontally from their initial beachheads. But in this era of the cloud, mobility and massive analytic power, agility and focus may be both rewarded and required. The many areas covered by integrated incumbents create advantages in pricing, sales and marketing, research and development and shared services; however, the penalties for unsuccessful integrations may be too harsh for less fortunate management teams. Boards may be leery of going "all in."
The potential buyer and seller combinations of mega-deal participants are dwindling. We may be witnessing the end of an era when it comes to these super-sized deals because there are a limited number of very large cap dance partners. Many of the remaining candidates lack combined synergies -- leaving those experiencing slower growth to activist and private equity appetites. Smaller, faster-growing innovators may not move the needle for potential buyers, given their higher valuations. And some other dream combos are -- at the moment -- simply too large to contemplate from an operational or financial perspective. So while we expect overall global tech M&A deal volume to continue rising -- and can think of one or two more potential mega deals -- we expect the top of the deal-size range to stay between $5 billion and $20 billion.
But a decrease in M&A mega deals does not imply a de-emphasis on mega deal-making. Instead, strategy and corporate development will increasingly focus on a more intense form of partnering -- to a point just short of pure inorganic acquisition -- in a format we call "industrial mash-ups." Why will prioritizing these 2.0 versions of corporate collaboration be so important? Many of the very reasons we've discussed (including deals too large and too small to be valuable in a captive M&A outcome) appear to be driving these transactions.
If you think back to Apple's iconic "1984" Super Bowl commercial, who would have imagined that thirty years later a picture of their CEOs would highlight articles announcing an Apple-IBM partnership? But industrial mash-ups are about much more than finding ways to work together when pure acquisitions would be too big to scale. Like social mash-ups, industrial mash-ups provide valuable flexibility for the partners, allowing them to bring specific assets (or portions of their broader value proposition) to the table, and narrowly defining acceptable fields of play, while insulating other areas.
Industrial mash-ups will be fundamental to participating in rapidly developing global internet of things (IoT) opportunities. Individual players can't deliver all IoT solutions to end customers by accumulating assets through M&A. To exploit the IoT opportunity in most industries will require domain expertise, data, customer relationships, software, cloud capabilities, security and services to all come together seamlessly. Yet, in those same industries, no incumbent likely encompasses all these resources, and it might be unrealistic to consider acquiring them all outright. Doing so could even harm the strategic positioning from which an incumbent historically became incumbent.
Industrial mash-ups will allow virtual IoT solutions providers to emerge from a consortium of industry participants, each bringing a subset of optimal capabilities or assets to the table. Individual partners should see value creation from their participation.
But real deal-making will remain at the core of industrial mash-up formation: governance, financial structure and reporting alone will trigger lots of negotiation, not to mention financing and monetization options. And, over time, we may see industrial mash-ups replace the historic precedents set by this year's tech M&A mega deals.
The views reflected in this article are the views of the author and do not necessarily reflect the views of the global EY organization or its member firms.

Questions? Please contact me at globaltechnologysector@ey.com.