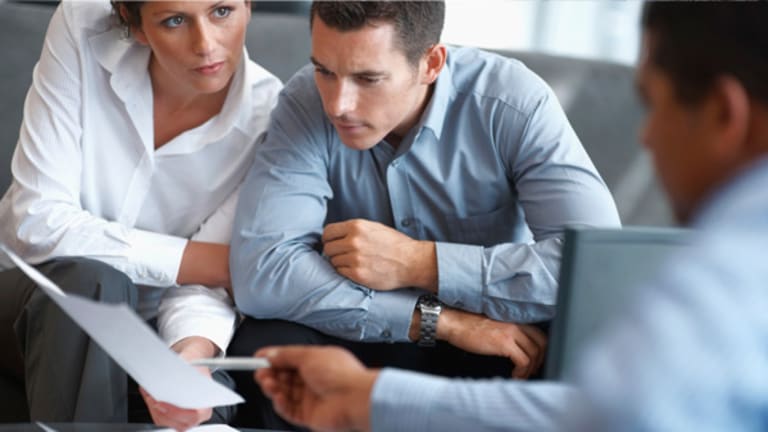 Will the Real Warren Buffett Please Stand Up?
Was this the worst week in Berkshire Hathaway -- and Warren Buffett -- history? We offer a recap of the week of woe.
(Warren Buffett, David Sokol story, updated for news developments, past court cases involving Sokol, Berkshire subsidiaries)
NEW YORK (TheStreet) -- David Sokol's resignation as one of Warren Buffett's top lieutenants at Berkshire Hathaway (BRK.B) - Get Berkshire Hathaway Inc. Class B Report included his statement that he wasn't looking to be the next Warren Buffett. In the wake of the disclosure of trades made by Sokol in Lubrizol stock, a company he recommended to Buffett as an acquisition target, some people are asking, Who is the real Warren Buffett, and the real Berkshire Hathaway, anyway?

Many have already answered these questions for themselves, and not for the first time, either. The usual Warren Buffett-watching tropes were trotted out in the wake of the Sokol trade disclosures. Who is the real Warren Buffett? Take your pick: we've been here and done this before....
Buffett the Apologist
Whether it's Goldman Sachs, General Re or Salomon Brothers, Buffett has always been an apologist for the questionable actions of the financial services industry, when he has an investment to protect, that is.
Buffett the Hypocrite
Derivatives are weapons of mass destruction, Buffett and his right hand man Charlie Munger have missed no opportunity to inform us, and yet Buffett has a huge portfolio of derivatives, and not a chink in the Buffett armor is made without the derivatives issue being brought back into play.
Buffett the Smooth Talker
If it's words versus deeds, with Buffett it's all words in his folksy, smooth-talking way, like a financial equivalent of Bill Clinton, he's the Teflon CEO of America. Nothing sticks even if Buffett the Hypocrite and Buffett the Apologist are cast as extras for a few days.
Then there is the media, which tends to spontaneously combust every time there's a Buffett issue that doesn't revolve around typical Monday morning worship of the Oracle. It's as if there were a cuckoo clock that's in the attic and every time a Buffett alarm bell is rung, a Greek chorus of cuckoos emerges. Among the strains that can be heard within that chorus are the voices of....
The Long-Time Berkshire Hathaway Shareholders
"Buy on the dip," the professional money manager acolytes of Buffett say on
CNBC
. There's a hint of nervous laughter, though, even if all is well within the House that Warren built, and the flock remains faithful, grazing on Omaha grass and shrugging off the media circus, sure that the headlines will simply fade away.
The Friends of Buffett
"You just don't know 'Dave' the way I do. He's a good man," is a comment that more than one reader has sent to
TheStreet
with a heavy dose of disgust at the press coverage. The Omaha native who has seen Sokol writing the big charity checks for the community is at least half-blind to the implications of his trades, yet there is the man and then there is the market, media and public coverage, and who can say at this point which is the mask and which the real person.
The Dirt Diggers
The dirt diggers can say. "Man is conceived in sin and born in corruption and he passeth from the stink of the diddy to the stench of the shroud. There is always something," wrote Robert Penn Warren in "All the King's Men."
The dirt diggers can't say it better than Robert Penn Warren, but they can say it more specifically as it relates to Sokol now that he is fair game. And the dirt diggers have already begun their digging, and it's quickly worked its way up the journalistic food chain. An article on
AOL Money & Finance
last Friday dug up a past court case which cast a negative light on MidAmerican Energy, Sokol's Berkshire baby, and
AOL Finance
passed judgment on Sokol summarily, calling Sokol, "Buffett's blind spot."
By Monday night,
The New York Times
web site had noted this same lawsuit in an article to appear in Tuesday's print edition, and added to this revelation a legal "witch hunt" that Sokol had been on against a writer who published information from NetJets internal emails. NetJets had filed suit against the writer, Alice Schroeder, author of the Buffett biography "Snowball," to force her to reveal her sources for the NetJets internal emails. This lawsuit was dropped on Monday,
The New York Times
reports, and NetJets declined to provide a reason.
When it hasn't been a judge calling out Sokol in a damning decision specifically, the "tough" management style of the former Buffett "successor" is apparently enough to condemn him. No longer a badge of honor, it's now a sign of a man always out for number one. Of course, the court case involving MidAmerican Energy, and Sokol specifically, which sought to cut out minority investors from profits, was a long time ago written about by local Omaha press -- and even press in the Philippines, where the project under court review was based. Schroeder has noted in previous columns the suit brought by NetJets, and in recent years had even written on her blog that she felt sympathy for Sokol because he had to run the floundering NetJets, and that being a turnaround CEO often meant being perceived as beyond "tough," and not in a good way.
>>Should Sokol Drama Linger for Berkshire Hathaway Shares?(Part 1)
If one wants to start digging in the Berkshire Hathaway dirt and going through court records, one may as well throw in a case filed last spring against Berkshire subsidiary Forest River -- especially if one is interested in any and all allegations of Berkshire subsidiary managers being given too much room by Buffett's lax corporate culture, and committing acts that might be unethical if not also illegal.
Last April, Brad Mart, a former executive of the RV company, Forest River, filed a lawsuit against Berkshire Hathaway alleging that Forest River CEO Peter Liegl stole cash from factory vending machines and deposited the money in his personal bank account. Mart also alleged that Forest River CEO Liegl kept employees on the payroll long after they had retired, and also required Forest River to buy parts from a supplier that Liegl owned, at inflated prices, "pouring millions of dollars into Liegl's pockets over a period of years," according to the complaint.
Mart said in the complaint that he spoke with Buffett six times in 2008 about the alleged frauds committed by Liegl, but the Berkshire chairman said through an assistant that, "he just can't get involved in issues like this at subsidiaries."
In light of the scrutiny of Berkshire Hathaway corporate governance now underway, a suit like the Forest River one, which could simply be the venting of a frustrated former employee who feels like he was passed over for the CEO spot, could now see new light of day in the court of public opinion. In comments provided to
Bloomberg
last spring when the suit was filed, a Berkshire executive dismissed the Mart complaint. Berkshire Secretary Forrest Krutter told
Bloomberg
, "My investigation did not identify any fraudulent, unethical or illegal activities," and that, "Mr. Mart did not alert Mr. Buffett to any unethical, fraudulent or illegal activities."
The Forest River case is still pending in the United States District Courtfor the Northern District of Northern Indiana (South Bend). A clerk of the court told
TheStreet
on Tuesday that the defendant, Berkshire Hathaway, has filed a motion for summary judgment, but the judge is still waiting on responses from the parties.
The Schadenfreude Crowd
Deriving pleasure from the misfortune of others results in an intense form of glee when it's the sacred cow being led to the slaughterhouse. And for these member of the chorus -- brokering no room for nuance or human error -- Sokol has revealed the sham of Berkshire Hathaway, and thank god, finally it's about time that the false god has been revealed.
A typical Schadenfreude reaction? Here's one: in response to the suggestion that Sokol could have made an error of judgment, one analyst said this week, "Why did John Edwards sleep with his intern?"
Translation: Sokol has been already consigned to the role of the lustful, the greedy, and whether it's capitalist or carnal lust makes little difference.
The Insider Trading Experts
Invariably, if there's a new insider trading case in the headlines, there will be a slew of insider trading expert commentary, and most will lead with, "The SEC will have a hard time proving..." And you don't need to know any more than that. Indeed, the fact that 9 out of 10 times when there is a new insider trading inquiry, the experts lead with "how tough it will be for regulators" is enough to make one want to try insider trading just to see!
The Corporate Governance Gurus (and you can toss in here the PR expert who can tell us how Buffett botched the massaging of the Sokol news)
These experts knee-jerk their way into action -- and, for them, it's time for wholesale cultural change at Berkshire Hathaway, a top-to-bottom overhaul of the lax culture that pervades Warren Buffett's glass house.
Yet, if one stops for a moment to consider how vast and complex the operations of Berkshire Hathaway are, and how many individual operating subsidiaries exist within the culture, and compares it to the specifics of the Sokol situation, it's can also seem a stretch to sign Buffett up for a copy of the
Harvard Business Review
just yet.
>> Berkshire Hathaway CEO Search Quiz: Test Your Warren Buffett IQ
Indeed, Sokol was not just one more manager in a flawed culture, but played an anomalous role within Berkshire Hathaway -- for example, serving as Buffett's emissary to Capitol Hill during the lobbying over derivatives (see Buffett the Hypocrite), and serving in a special capacity reviewing potential mergers and acquisitions candidates. If he was being groomed for the CEO role through these duties, his lapses in the case of the M&A role and the Lubrizol trades don't suggest that it's time to replace the Berkshire Hathaway foundation. A few strict rules related to M&A and insider trading should do -- at least until a more pervasive culture of dubious gains or Wild West gun-slinging managers is uncovered at Berkshire.
As far as Sokol's "tough" nature and the court case which shows him to be "out for himself," it's hard to say at this point whether it's a complete, or simply timely, portrait of the man, and even if revealing a true, unflattering nature, whether the root problem is lax corporate governance at decentralized Berkshire Hathaway.
Moody's has assigned a "credit negative" event to Berkshire Hathaway due to the Sokol situation, writing that the exit of "a senior officer with the appearance of a conflict of interest, may give rise to burdensome regulatory/legal investigations, and raise questions regarding Berkshire's risk controls." Moody's also noted that the Sokol situation "underscore governance challenges at Berkshire that could impact credit quality."
Maybe Moody's is enjoying its own moment of Buffett Schadenfreude, as the Oracle of Omaha has done nothing but sell Moody's shares in recent years, and in testimony before the Financial Crisis Inquiry Commission, sitting next to Moody's executives (Buffett was forced by federal subpoena to appear), stated that he would have taken a meat cleaver to Moody's senior management based on the ratings agency fiasco that typified the subprime mortgage market meltdown.
>>Should Sokol Drama Linger for Berkshire Hathaway Shares?(Part 2)
Finally, despite all these many voices now crying that the House of Buffett has fallen into disgrace, the one voice we have heard too little of (aside from Buffett's) is the voice of reason -- the voice that allows room for type of nuance that often underlies human error and lack of judgment. The voice that allows that it just might be possible that Sokol, who has said that he has wanted for years to run his own "mini-Berkshire," was simply wearing too many hats at once.
Is it possible that Sokol was trying to have the best of both worlds, satisfying his duties to Berkshire while also following his professional goal of setting up his own shop, and the two hat-wearing heads collided once too often and with serious consequences? Sokol's comment, the only one that came close to an admission of error, was that if he had it all to do over again, he wouldn't have told Warren about Lubrizol.
>>Berkshire Hathaway Shares Dip as SEC Weighs Investigation
Critics have latched onto this comment as the damning proof that Sokol was just out for himself, and to hell with Berkshire. But is it not possible that Sokol's comment, in fact, demonstrates the tension that existed in Sokol's world between wanting to run his own company and wanting to be loyal to Buffett, and that the mistake he made wasn't in tellling Buffett about Lubrizol but in not leaving Berkshire a long time ago?
Is it possible that seeing Matthew Rose come on board after the Burlington Northern acquisition and be praised by Buffett was one more sign that Sokol might not get the CEO post everyone thought was his to take? It's something that Buffett blogger Schroeder wrote about well before the Sokol scandal broke, speculating that Sokol might not be in the position that the world thought in regards to Buffett's succession plan and may not have been happy about it, either.
Over the weekend, the
Wall Street Journal
quoted bankers at Citigroup as saying they were surprised to learn that Sokol was meeting with them to discuss chemicals companies like Lubrizol for his own investment interests, assuming it was purely in the role as M&A emissary of Buffett.
So will the real Warren Buffett please stand up and tell us what is going on here? Is it the man who indirectly defended the actions of "Fabulous" Fabrice Tourre (pictured here) of
Goldman Sachs
(GS) - Get Goldman Sachs Group, Inc. (GS) Report
in one of Buffett's more spirited and public defenses of Wall Street in recent memory?
Is it the paragon of American capitalism, the squeaky clean Oracle of Omaha who this year received the Presidential Medal of Freedom, and who has used his bully pulpit as the world's third-richest man to chastise the excesses of Wall Street while praising billionaire philanthropy?
Clearly, part of the problem is the extent to which Buffett has cultivated an image for himself and the company of being a cut above the typical profit-oriented capitalist. Indeed, Buffett has made being beyond reputational reproach a mandate for his managers -- in fact, their No. 1 priority. Some analysts argue there is even a premium in shares of Berkshire Hathaway related to the company "culture."
"Cultures self-propagate," Buffett wrote in his most recent biennial letter to Berkshire managers. "Winston Churchill once said, 'You shape your houses and then they shape you,'" Buffett noted, and continued, "That wisdom applies to businesses as well."
Buffett noted, almost as if it were scientific law in the most recent biennial letter to managers, "As long as Charlie and I treat your money as if it were our own, Berkshire's managers are likely to be careful with it as well."
The Sokol situation has certainly had an impact of Berkshire shares, down 3% since the announcement of Sokol's resignation and the trading disclosures. Berkshire shares are trading away from the broader equity markets since last week, as opposed to serving their typical trading role as a proxy for the U.S. equities market.
>>Berkshire Hathaway: Buy or Sell on Sokol Resignation?
And Buffett's commandment to his managers in the latest biennial letter couldn't have been any clearer, and has been quoted as many times in the past few days as every Sokol action during his tenure at Berkshire will now be autopsied:
"The priority is that all of us continue to zealously guard Berkshire's reputation. We can't be perfect but we can try to be. As I've said in these memos for more than 25 years: 'We can afford to lose money -- even a lot of money. But we can't afford to lose reputation -- even a shred of reputation.' We must continue to measure every act against not only what is legal but also what we would be happy to have written about on the front page of a national newspaper in an article written by an unfriendly but intelligent reporter.
Buffett continued in his missive to Berkshire managers, "Sometimes your associates will say 'Everybody else is doing it.' This rationale is almost always a bad one if it is the main justification for a business action. It is totally unacceptable when evaluating a moral decision. Whenever somebody offers that phrase as a rationale, in effect they are saying that they can't come up with a good reason. If anyone gives this explanation, tell them to try using it with a reporter or a judge and see how far it gets them."
These words from Buffett make mincemeat of the 32 minutes of rationalization provided by Sokol on
CNBC
on Thursday morning, as well as Buffett's statement that Sokol did nothing unlawful. The statement might be a legal fact, but it's not a legal fact that Buffett would want serving as a foundation for the house he built.
Ultimately, a review of all of the statements made by Sokol and Buffett in defending the Lubrizol trades may pass the courtroom test, but they would fall far short of Buffett's mandate that Berkshire's reputation be more zealously guarded than its money.
Sokol said if he had to do it all over again, he would not have recommended that Warren Buffett take a look at Lubrizol.
Sokol said rarely in the past has Buffett followed through on an acquisition that he had suggested.
Buffett said Sokol's purchases were made before he had discussed Lubrizol with Buffett and with no knowledge of how Buffett might react to the idea.
Buffett said Sokol did not know what Lubrizol's reaction would be if Buffett developed an interest.
Buffett said Sokol knew he would have no voice in Berkshire's decision once he suggested the idea; it would be up to Buffett and Charlie Munger, subject to ratification.
Sokol said the deal went through so quickly it was unusual as far as Berkshire acquisition process.
Buffett made it clear in the Sokol resignation release that he will not be elaborating on the matter, writing, "I have held back nothing in this statement. Therefore, if questioned about this matter in the future, I will simply refer the questioner back to this release." In any event, Buffett's biennial letter to Berkshire managers made it clear: Sokol walked too close to a line that should have been avoided.
"It's very likely that if a given course of action evokes such hesitation, it's too close to the line and should be abandoned. There's plenty of money to be made in the center of the court. If it's questionable whether some action is close to the line, just assume it is outside and forget it."
Even if Buffett and Sokol positioned his resignation as a final capitulation by Buffett to Sokol's long-held desire to move on and run his own mini-Berkshire, given the commandments in the Buffett biennial letter to managers, it's hard to see how Sokol could have stayed at Berkshire Hathaway.
Buffett may have said he has nothing more to say when it comes to the Sokol drama, a drama that's not likely to end just because he wants it that way, and with the Berkshire Hathaway annual shareholder meeting less than a month away, there is going to be a different set of questionable financial practices on the minds of the legions that descend on Omaha this year, and it won't be enough for Buffett to wave around some Goldman Sachs mortgage product deal sheets and say "looks OK to me."
Ultimately, at least for Berkshire Hathaway, it's not Sokol's trade confirmation statements from his Lubrizol broker that make the difference here.
To err is human, while to prove insider trading or dig up the kind of dirt that shows a history of dubious trades made by Sokol or other Berkshire managers could require divine intervention. Proving that Buffett gave Sokol too long a leash, more generally, might prove an easier task, though even with a court case or two dug up by the press, it's not an open and shut case. The problem here is that neither Buffett nor Sokol was willing to even admit that an error had been made. We live in a forgiving culture, but the culture demands contrition as the price of forgiveness (think Michael Milken), and when the contrition is not forthcoming, the allegedly guilty do themselves no favors.
You build your house and then the house shapes you, Buffett said. Buffett built a house on a very publicly expressed higher standard of ethics. Yet now that the siding needs to be redone, he seems to be playing a role that doesn't suit his rhetoric -- and it's not the apologist, it's not the hypocrite, it's not the incompetent corporate manager or look-the-other-way enabler of ill-doing. It is simply the role of a negligent landlord refusing to accept that some repair work needs to be done, regardless of the bill that the landlord will face.
-- Written by Eric Rosenbaum from New York.
RELATED STORIES:
>>Warren Buffett Quiz: Test Your Buffett Knowledge
>>Should Sokol Drama Linger for Berkshire Hathaway Shares: Video (Part 1)
>>Should Sokol Drama Linger for Berkshire Hathaway Shares: Video (Part 2)
>To contact the writer of this article, click here:
Eric Rosenbaum
.
>To follow the writer on Twitter, go to
.
>To submit a news tip, send an email to:
.