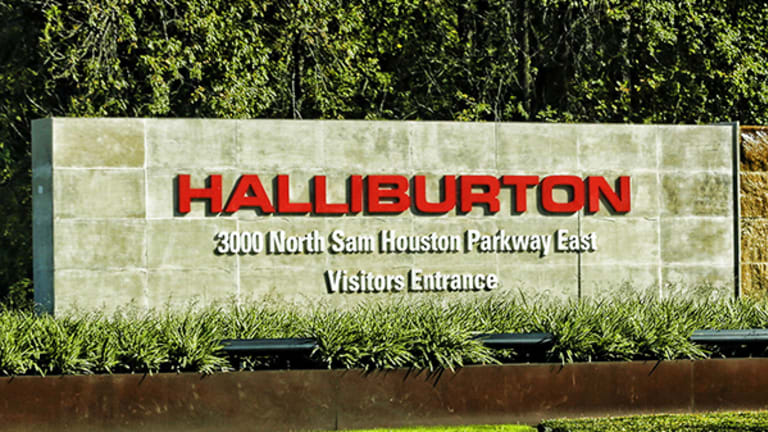 Will the Halliburton-Baker Hughes Merger Survive a Government Challenge?
A $35 billion dollar deal that would change the oil and gas industry forever hangs in the balance as an aggressive DOJ takes action. Will the Halliburton-Baker Hughes deal survive?
UPDATE: This story has been updated with results and analysis from first quarter earnings from Baker Hughes.
When Halliburton (HAL) - Get Halliburton Company (HAL) Report announced in November of 2014 that it had agreed to acquire Baker Hughes (BHI) for $35 billion, the oil and gas sector gasped. The merger involved the second- and third-largest companies in the oilfield services industry and would likely face strong pushback from U.S. regulators concerned it would create a monopoly. But Halliburton chairman and CEO Dave Lesar was sanguine, saying the companies' financial advisers -- including Credit Suisse, Bank of America Merrill Lynch and Goldman Sachs -- had evaluated the likely actions needed to win regulatory approval, including the sale of assets that generated $7.5 billion in revenue. "We wouldn't have done this deal if we didn't think it was achievable," he said on a conference call with analysts and investors. "Let's just let the process work."
Nearly 18 months later, the deal appears to be doomed.
Earlier this month the Department of Justice filed a civil antitrust lawsuit in the U.S. District Court in Delaware seeking to the block the purchase, claiming that it threatens to eliminate competition, raise prices and reduce innovation in the oilfield services sector. The complaint alleged that the acquisition would eliminate important head-to-head competition in markets for 23 products or services used for on- and off-shore oil exploration and production in the U.S.
The move is part of a larger pattern of increased regulatory scrutiny by the federal government over mergers and acquisitions. Using data from the Federal Trade Commission andThe Deal, a subsidiary of TheStreet.com, TheStreet has discovered a pattern of increased regulatory actions challenging mergers that dates back to the Reagan administration. Under President Obama, the FTC, DOJ and other regulatory bodies have challenged and blocked a higher proportion of U.S. deals than ever before. At the same time, deals are getting bigger and more complicated. Call it "Big Business vs. Big Government."
Meanwhile, Baker Hughes has reported its first quarter earnings and they didn't meet expectations. First quarter sales were $2.67 billion, 21% less than the last quarter, 42% less than the same period last year and 7% less than Wall Street expected. North American revenue declined 28% and international sales slid 19% over the fourth quarter. The company also shed little light on the status of its merger with Halliburton. 
"Baker Hughes cannot predict when, or if, the pending merger will be completed," it said.
U.S. antitrust division chief Bill Bauer said the Halliburton-Baker Hughes deal was so anti-competitive, it "never should have made it out of the board room." U.S. attorney general Loretta Lynch didn't hold out hope that the companies could offer more in the way of asset sales to gain approval. "It's not fixable," she said.
Halliburton and Baker Hughes fired back, saying the merger was actually "pro-competitive," allowing the companies' customers to benefit from a more flexible, innovative and efficient oilfield services provider. They claimed that their most recent divestiture proposal in January -- the third since the deal was announced -- was "more than sufficient" to address the DOJ's specific competitor concerns and that they would challenge its decision.
"The companies intend to demonstrate that the DOJ has underestimated the highly competitive nature of the oilfield services industry, the many benefits of the proposed combination and the sufficiency of the divestitures," they said. "Once completed, the transaction will allow customers to operate more cost effectively, which is especially important now due to the state of the energy industry and oil and gas prices."
If the judicial review extends beyond the April 30 deadline for the merger, the companies said they may continue to seek regulatory approvals or either of the parties may terminate the merger agreement. On Friday Halliburton said in a surprise announcement that it was postponing its first-quarter earnings release and conference call until May 3, a move that analysts think portends a deal break; it could also be a delay tactic to finalize divestitures that would appease regulators.
Is the DOJ's lawsuit one last dig by the outgoing Obama administration against the oil and gas industry? Or is it a legitimate case against an oilfield services giant whose ambitions to get bigger at a tumultuous time in the industry got the best of it?
There's a lot at stake: A sweetly priced buyout for Baker Hughes shareholders; the reputation of Halliburton CEO Dave Lesar for pulling off the biggest oilfield services acquisition in history; the remaking of the industry around new, stronger players; the continued dominance of top oil services provider Schlumberger (SLB) - Get Schlumberger NV Report ; and the competitiveness of U.S. oil and gas producers.
And standing between Halliburton, Baker Hughes and destiny? The U.S. government.
Can the Deal Get Done?
"If they're going to get it over the line, they're going to have to find a buyer and put together something that is arguably a new third in the big three," said Bruce Sokler, a Washington, D.C.-based attorney who deals with antitrust matters at Mintz Levin Cohn Ferris Glovsky and Popeo PC.
However, it might be difficult to find a buyer beyond General Electric (GE) - Get General Electric Company (GE) Report , given the weakened state of other oilfield services companies due to lack of activity after the oil price swoon. (GE has been thought to be eyeing Baker Hughes' oil well completions business or Halliburton's drill bit and directional drilling business; if it bought both, that would make it the third largest player after Schlumberger and Halliburton/Baker Hughes.) 
Weatherford International (WFT) - Get Weatherford International plc Report essentially took itself out of the running for picking up Halliburton's Sperry drilling unit because of its precarious finances (in September it cancelled $1 billion worth of common and hybrid equity offerings that analysts thought could be used to pay for it). And Siemens AG and National Oilwell Varco (NOV) - Get National Oilwell Varco, Inc. (NOV) Report have backed off as well from buying parts and pieces of the merged companies, industry sources say. Rumors have swirled that private equity firm the Carlyle Group (CG) - Get Carlyle Group L.P. Report may step in and pick up some of the assets.
Should one of these plans play out, it could hurt the government's case against the merger. 
Ken Sill, who follows oilfield services companies at Seaport Global Securities, said the DOJ will have a tough time in court asserting that a company like GE, which is large and well capitalized with a distinguished 124-year history of innovation, will not be a viable competitor. "This will be a more difficult point for BHI/HAL to win if the buyer is a private equity investor such as the Carlyle Group, but the strength of the argument will depend on the buyer and its plans for the assets being acquired," he said. "Closing the merger still faces tough obstacles, but the deal is not dead."
An investment banker who also works in the industry believes Halliburton will figure out a way to get the deal done with more extensive divestitures. "I am sure that they are hoping for Carlyle or GE to show up with a checkbook," the banker said.
The DOJ has been burned by accepting divestiture packages as part of merger deals that don't really replace the lost competition, Sokler said. He gave as an example the forced sale of 180 supermarkets as part of the Albertson's-Safeway hook-up to an entity that later filed for bankruptcy, which led Albertsons to end up buying back some of the stores. "That wasn't a good narrative," he said.
One antitrust attorney who asked not to be identified thinks the DOJ has been unfair to Halliburton and Baker-Hughes, treating their offer to sell assets almost as an admission that the deal was anti-competitive. But the lawyer doesn't think the DOJ's move is political but rather borne out of a string of recently successful cases, including the challenge of Electrolux's $3.3 billion purchase of GE's appliance business and the failures of Comcast's $45 billion purchase of Time-Warner and Bazaarvoice's $168 million acquisition of PowerReviews before it. Deep Dive: Antitrust Regulators Are Getting Smarter and More Aggressive
"This is an action that protects major oil producers," the attorney said. "And this is an enforcement-minded administration that's gained greater confidence."
Sokler agrees. "They [Halliburton and Baker Hughes] got caught up with an increasingly aggressive anti-trust push at the end of the Obama administration," he said. "If they made a misperception, it was that the state of the oil and gas and services industry would make it a more sympathetic story. And they missed with the package [of divestitures]."
Another option is that Halliburton and Baker Hughes could extend the merger deadline to give them more time to find the right mix of divestitures to satisfy regulators.
Why Halliburton Is Desperate to Make It Work
Anti-trust attorneys say Halliburton is in a difficult spot, as it signed a contract that it would do its best to get the deal done. Walking away would open it up to lawsuit from Baker Hughes, whose stock would most certainly drop on the news. "As long as Baker Hughes is in, they can't back out," one attorney said. Commented another: "Halliburton is probably willing to pursue it until it's impossible. It's not suffering as much [as Baker Hughes] while the deal is uncertain."
So that leaves Baker Hughes, whose stock has jumped up and down based on the sentiment about the deal on any given day. The company could agree to terminate the deal now, accept the pain of a stock drop and use the $3.5 billion break-up fee to make an acquisition of its own (possibly of Weatherford or Franks International) or pay down its debt. Or the company could wait until after a DOJ trial, which could take six-to-eight months. It would still get the $3.5 billion if Halliburton loses. Oil prices might be better by then and its stock wouldn't drop as much, but it will be more expensive to do its own deal with the cancellation money if the environment has improved. Deep Dive: Are Activist Hedge Fund Managers to Blame for Mega-Deal Failures?
Seaport's Sill doesn't see Baker Hughes backing out now, because if Halliburton fights the DOJ and wins, Baker Hughes shareholders will get the equivalent of around $62 per share in the buyout versus its recent price of around $46 -- "too much upside, in our view, to walk away from the merger before seeing how the hearings are playing out in court over the next few months," Sill said.
Darren Gacicia, an oilfield services analyst at the KLR Group, thinks Halliburton will prolong the litigation as a defensive strategy to ward off other potential suitors, who may "reinvigorate" Baker Hughes as a stronger competitor and see depressed industry valuations as attractive.
Why the Deal Is Probably Dead
"Here's a deal that had no business even being considered by these two companies," said TheStreet's Jim Cramer. "The government can be arrogant -- as we saw in the Allergan-Pfizer blockage -- but merging the number two and number three oil service companies? The lawyers who blessed this should be fired and be forced to give their fees back. I said it here and I said it on air, this aborted merger was blatantly anti-competitive and shocking in its hubris." 
Gacicia and others see a limited chance of the deal going through.
Bill Herbert, a longtime oilfield services follower at Piper Jaffray unit Simmons & Co. International, also thinks the companies will continue to contest the DOJ's opposition. And while he previously thought the deal had a 50/50 chance of going through, he recently gave longer odds to the "union being fulfilled" given the government's "hostile response."
If the two decide to go through the litigation process, then moving the trial in Texas -- which the two have requested from a Delaware judge -- might have a more favorable outcome. But even that's uncertain: While it used to be that a lot of Houston judges previously worked for large energy law firms in town that did work for Halliburton and Baker Hughes, there are more prosecutors on the bench, regulatory attorneys say. "It's a mixed bag now," one said. "It will all depend on which judge they get."
There's also the time factor, with the government in no hurry to move things along, and the cost factor, which some say could reach $30 million. "It may be that Halliburton finds the game is not worth the candle," Sokler said. Deep Dive: Government Oversight on Mergers Is Taking Longer Than Ever, Delaying Deals
The deal is also still under review in Europe, Brazil and Australia, and none of those countries is going to want to act definitively until the situation is cleared up in the U.S. (although there are reports that European Union regulators plan to file a so-called "statement of objections," indicating they may block the deal unless the companies make concessions). "So the slower that they all go, the more likely it's going to get abandoned," one antitrust attorney said. 
Time tends to be the enemy of deals. Consider Lockheed Martin's attempted purchase of Northrup-Grumman in the late 1990s for $8.3 billion. Nearly eight months after the deal was announced, the DOJ, supported by the Department of Defense, sued to block the acquisition, contending that it threatened the nation's defense by limiting competition. 
After months of negotiations between the two companies and the DOJ to avoid a court fight, including Lockheed's offer to sell the crown jewel -- Northrup's electronics business -- that the government rejected, Lockheed ended up cancelling it. Said one attorney: "More often than not, one of the parties will abandon the deal as the commercial matter becomes untenable given the length of time to get it done." That may become the case with Halliburton-Baker Hughes.
-- For Banks, Era of 'Too Big to Fail' Is Also Era of 'Too Small to Succeed'
-- Will the Halliburton-Baker Hughes Deal Survive Government Opposition?
-- Obamacare Has Big Government Fighting Itself Over Hospital Mergers -- And Winning
-- Will the Next President Be as Tough on Mergers and Acquisitions as Obama?
-- Antitrust Regulators Are Getting Smarter and More Aggressive
-- Top Antitrust Regulator Debbie Feinstein Q&A
-- Tax Inversions: Explaining What They Are, How We Got Here and What's Next
-- Are Activist Hedge Fund Managers to Blame for Mega-Deal Failures?
-- Government Oversight on Mergers Is Taking Longer Than Ever, Delaying Deals
-- With New Treasury Department Rules, Is This the End of Tax Inversion Deals?
-- Treasury Department Was 'Targeting' Pfizer-Allergan Deal