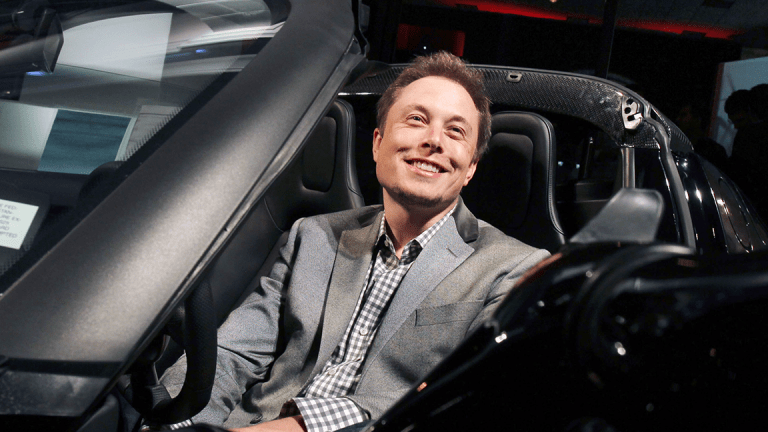 Will Tesla Reveal This Key Model 3 Data When It Reports Earnings? If Not, Why?
Tesla's earnings later this week will be must-watch theater for many on Wall Street. Here's a snappy take of the struggling electric car maker ahead of the big day.
It's time for some disclosure.
Tesla's (TSLA) - Get Tesla Inc Report "narrative" among the media and its shareholders is that nothing is more important to its success than its alleged "mass-market" Model 3. The fact that the only Model 3 Tesla is so far willing to make starts at $49,000 and thus isn't "mass-market"-- and even at that price it won't be EBIT (earnings before interest and taxes) positive and thus will just add to the company's losses-- are topics for a different article.
Yet, despite the media's focus on the alleged desirability of the Model 3 as evidenced by its reservation count, Tesla has refused to provide an updated net figure since CEO Elon Musk quoted 455,000 in August 2017 (after initially claiming a higher figure which turned out to be "gross"). This is despite the fact that in the days leading up to Tesla's 2016 financing-- shortly after beginning to accept Model 3 reservations-- Musk tweeted updated (and increasingly larger) figures as often as every few hours in a blatant effort to pump Tesla's stock in order to improve its financing terms.
However, now that it has been revealed that...
Model 3 production is going far slower than planned
The $35,000 version won't appear until late 2018 at the earliest (and I-- and others-- believe it will never appear in more than mere token volume)
The touchscreen-only interface is considered by many to be both awkward and dangerous, and
There are widespread reports on Tesla forums (and in long-term reviews) that despite favorable initial driving impressions, the severely under-tested car is quite a lemon...
I believe that the true Model 3 net reservation number is far below the August 2017 figure of 455,000 that's still widely quoted in the media. So here's the question I put to Tesla, and if it won't answer it it's clear that it's afraid you (investors and the media) can't (to quote A Few Good Men) "handle the truth"...
TheStreet will no doubt be talking Tesla at its May 5 "Investor Boot-Camp conference on May 5. Learn more here.
Watch Below TheStreet's Morning Jolt: Tesla Looks Like One Hot Mess:
What's the exact current number of net paid Model 3 reservations (and by "current" I mean as of now, not five weeks ago in March), and by "net" I mean net of those that have received OR requested refunds (as once a refund is requested it seems to take at least a month to get it), and by "paid" I mean excluding any reservations allowed to remain after a refund was requested, and (in line with Tesla's self-proclaimed policy) without crediting more than two reservations to any one person or entity?
Tesla never fails to reveal a statistic it deems favorable to itself (for instance, its specious Autopilot safety claims). So after so heavily promoting the Model 3 reservation figure in the past, if Tesla refuses to answer this question on Wednesday as defined above, shouldn't investors and the media wonder why, and press the company unrelentingly for the answer until it's provided? Will any of the normally obsequious sell-side analysts or journalists on the call do this?
Stay tuned, but don't hold your breath!
Written by Mark B. Spiegel of Stanphyl Capital. Follow Spiegel on Twitter @markbspiegel.
Disclosure: Mark Spiegel/his firm are short Tesla.