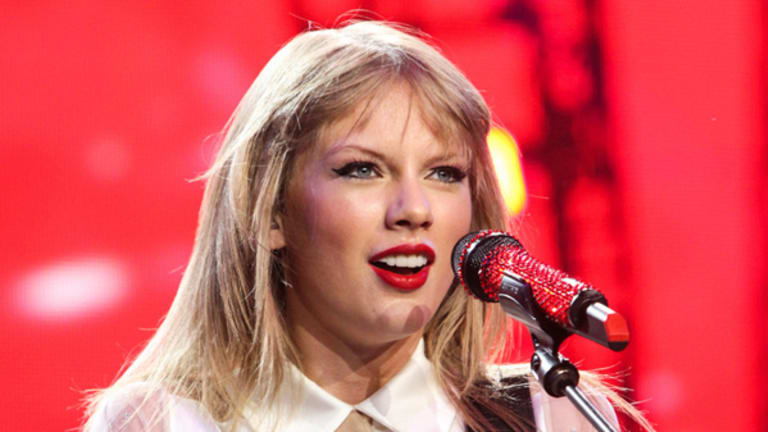 Will Taylor Swift Follow in Bruce Springsteen's Footsteps?
At the height of her success, Taylor Swift must confront the question of how to move forward.
I think the goal for the next album is to continue to change, and never change in the same way twice. How do I write these figurative diary entries in ways that I've never written them before and to a sonic backdrop that I've never explored before?
-- Taylor Swift to AP, viaRolling Stone
NEW YORK (
) -- When I work, I set up outside the front door of my apartment, firing up either
Pandora
(P)
Internet Radio or the excellent on-demand service
Rdio
from the adjacent living room.
My neighbors love it.
More often than not these days, my go-to playlist is a shuffle of Taylor Swift's last three studio albums (
Fearless
,
Speak Now
and the out of this world
Red
).
As Swift's songs come up in seemingly random order, I sometimes think back on a piece I wrote a couple months ago,
I Have Seen the Next Bruce Springsteen and Her Name is Taylor Swift
:
If you suspend personal circumstances, I'm not sure how you can watch Swift perform and not walk away claiming you have seen the modern-day iteration of Springsteen, the performer, the show(wo)man, the songwriter ...
If she stripped everything down to bare bones -- using the nondescript black and drab set The E Street Band uses -- Swift would instantly trigger comparisons to Bruce's hard-driving, no-nonsense, four-hour rock shows.
She could and, I believe, eventually will dedicate herself to the sweaty marathon sessions The Boss has become known for. She'll drop much of the pizazz and bring the power.
That piece turned some heads. And not just from the peanut gallery that likes to chide Swift and her fans. It garnered attention in Swift's camp and elsewhere in the music industry.
That's because Taylor Swift finds herself at a pivotal -- and, in some ways, critical -- juncture. At the height of her success (the almost-ready-to-resume
Red Tour
will likely end the year as 2013's top grossing tour), Swift will have to decide the proper next direction for her career.
The Red Tour pulled out all the stops.
Smoke. Fireworks. Elaborately choreographed preludes to songs that pulled together video bits, lighting, dance and music. There were elevators, several clothing changes and the pomp and circumstance of special guests, particularly during an epic sold-out four-show stand at Los Angeles's Staples Center. Nightly, Swift was carried out to a second stage about one-third of the way through the set by a crew of dancers. After a few songs she made it back to the main stage, airborne, on a floating terrace pulleyed above dozens of rows of floor seating.
I'm not sure it's possible to top what was a worthwhile spectacle without looking foolish in the process. If anybody can it's Swift and her team, but, at this point, I wonder if she (and they) even sees the need to bother.
How do you top performances of that size and scale?
While it's possible, it's hardly necessary.
As Swift's catalog expands and she vows to "never change in the same way twice," the 23-year old must be asking herself the same question. That leads to a dichotomy. But not necessarily one that's all that difficult to make sense of.
Swift can try to top The Red Tour.
But where's the value in that?
She already has more money than she'll ever need. At this point, it's probably more important -- personally and from a larger pop cultural perspective -- to take her incredible musical talents to the next level. Flesh them out. Test them. Push them to the limit.
That's where the other fork in the dichotomy comes in. Does Taylor Swift change course and follow in Bruce Springsteen's footsteps?
Similar to how Springsteen has done it on recent tours (though The Boss has thrown anything resembling a playbook out the window over the last couple of years), I could see Swift scripting the first four or five songs on the tour that supports her next record. And then ripping through another 20 or so hits -- new and "old" -- with little, if any, interruption save a stop down for a slow number or two and several chances to talk to the crowd.
Swift's talents, her desire to challenge herself musically, her growing list of songs and, maybe most importantly, a crowd she connects with as much as Bruce does with his makes this strategic shift almost obvious.
This isn't Dylan going electric in 1965; it's the natural evolution of a superstar singer-songwriter, musician and performer who can, if she makes the tough choices, stand the test of time. We could be watching Taylor Swift
the way Springsteen did last month 40 years from now.
There's no doubt in my mind. She's just that good.
But how does the massive Swift touring apparatus continue to monetize her superstardom if they take things down a notch?
They step further into the 21st Century, embracing the digital age and new revenue-generating techniques in ways we have never seen before.
It's another natural progression from Swift's relatively tasteful commercialization of her brand (she "sells" Diet Coke, Keds and perfume, not to mention loads of expensive merchandise at her shows) to a somewhat more subtle, fan-centric way of making money. Because, after all, making money isn't all about Swift; she has to produce for her label as well as the hundreds of people who work on every aspect of her tour.
But, in the end, the tour will probably make more money than it does now. On the recently completed North American leg, The Red Tour grossed more than $115 million, that's approximately $1.7 million per performance. That's not going to change. And, while it might clash with a more stripped-down set, Swift could continue to commercialize the night (as much as I would hope she doesn't).
However, in addition, she could not only embrace, but put live streaming of concerts on the map. We're talking about
a multi-billion dollar industry
most of the big names in the music industrial complex -- particularly the major labels -- continue to ignore. Instead they have allowed bootleggers and reputable startups such as
LoveLive
,
iRocke
and
Concert Window
to grind it out as they take ownership of the space.
Swift could serve as
the
model for taking what is already a top-grossing tour and, quite possibly, doubling or tripling the money it makes.
Crack down on the bootleggers (yes, I am talking about people like
YouTube
phenomenon "The Real Concert King"). Cut a deal with one of these startups or seek a partnership with Pandora and/or
Google
(GOOG)
to not only live stream the next tour, but make each show available on-demand. Forever.
I explain how that might look in the above-linked article, but there's no question some diehard fans would pay a monthly fee or a few bucks a night to watch every single Taylor Swift performance they can't attend. As somebody who has been to 15 or so Springsteen shows, I would pay simply to relive the memories in HD.
You can package this approach and make a legitimate killing off of it in any number of ways.
At this point, fans, myself included, are stealing bootlegged concerts constantly. It's happening right now. And Google, for its part, is doing very little about it, at least if you gauge the company's efforts on the basis of currently available concert bootlegs at YouTube.
Here's where the artist needs to step in and incite change. Plus, opening up live streaming as a revenue generator takes the focus off of a royalty battle that's not going anywhere and likely won't for quite some time.
This isn't only about an obvious way forward for the sustainability and vitality of Taylor Swift's career, it's about a star of her caliber taking matters into her own hands as the music industry fails to fully leverage the power of technology.
--
Written by Rocco Pendola in Santa Monica, Calif.
Rocco Pendola is a columnist and
TheStreet's
Director of Social Media. Pendola makes frequent appearances on national television networks such as
CNN
and
CNBC
as well as
TheStreet TV
. Whenever possible, Pendola uses hockey, Springsteen or Southern California references in his work. He lives in Santa Monica.