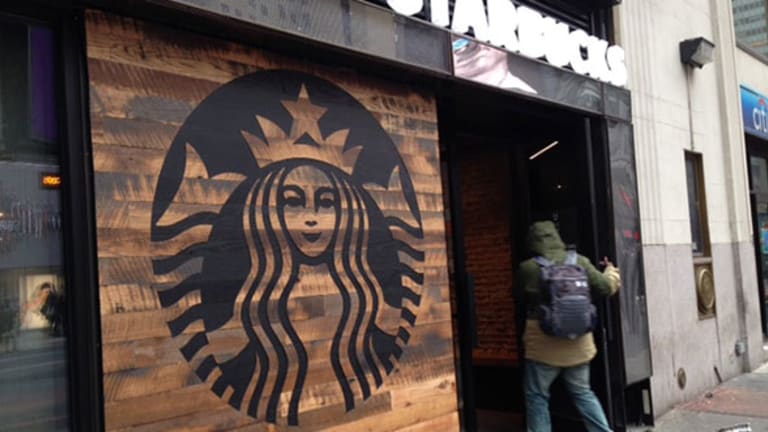 Publish date:
Will Starbucks Customer Loyalty Program Changes Sink Stock?
In a controversial move this week, Starbucks revamped its loyalty program. How the move impacts the stock price remains to be seen.
In a controversial move this week, Starbucks revamped its loyalty program. How the move impacts the stock price remains to be seen.
Thousands of angry coffee drinkers this week are taking to the virtual streets of Facebook and Twitter. They're raging at Starbucks' (SBUX) - Get Report  for changes that the coffee chain announced on Feb. 22 to its customer loyalty program. However, some marketing analysts are hailing the new system as a smart business move. Will Starbuck be a top stock for 2016? Or will the new rewards program prove too bitter for the coffee giant?
Currently, Starbucks customers earned one point (or "star") for every purchase made, no matter the price or quantity of items. After accruing 30 stars, customers received Gold level status, and after 12 stars, Gold members would receive a prize such as a free drink or snack item.
Starbucks announced Monday a new system that will begin on April 1. Under the revamped program, customers will qualify for Gold level after spending $300 and then earn two stars for every dollar spent. These can be redeemed for prizes when 125 are collected.
The free prize will now cost $62.50, whereas previously it took 12 visits. To reach $62,50, customers would have had to spend an average of $5.21 upon each visit. That's a good bit more than a regular-sized cup of black coffee. And it comes on top of the $150 that must be spent to reach Gold level (versus only 30 visits).
Obviously, the new program will reward high spenders who purchase large, fancy lattes and food items on a regular basis. According to a research note from Mark Kalinowski of Nomura, the plan will provide "a greater incentive for customers to spend more money." Kalinowski also wrote that the new program plays a big hand in why the company is forecasting significant sales growth in the coming year.
Starbucks has a lot of loyal followers: more than 11.1 million active rewards program members as of January. And the Starbucks mobile ordering app is now responsible for about 6 million orders every month. They've been lighting up Facebook and Twitter feeds with such sentiments as "The new rewards program doesn't help the customers who come in and just buy a coffee... that's the majority of your customers."
Starbucks stock is currently priced at $58.46, having dipped below $58 this week. Overall, the stock is down 8.66% from its 52-week high of $64 back in October. 

SBUX data by YCharts

The move follows a furor over Amazon (AMZN) - Get Report when the online retailer announced that new members would receive 25% off a one-year Prime subscription. Loyal customers who had previously joined were not eligible for the discount. It felt like a blow to the 80 million existing Prime subscribers. Following the announcement, Amazon stock dipped by nearly 4% in one day.
But the new Starbucks rewards program mimics those recently begun by airlines, including Delta, United, and American. These new frequent flier programs give rewards based on dollars spent, rather than miles flown.
It remains to be seen if the new program will hurt Starbucks' bottom line, but we doubt it. The coffee chain has a dedicated base of regular customers who can't forego their daily dose. And in the meantime, the thrifty customers who order simple cups of coffee and snub Starbucks might benefit other, more value-minded coffee-and-donut chains such as Dunkin' Brands.
If you're looking for new ideas, I've found a small company that has the potential to surge at least 100% in 2016. This is a growth story with major momentum, so it's important to learn the full details as soon as possible inside my free report. The stock is trading under $8 a share, and its long-term prospects have never been better, making it a great value at today's price. Make sure you click here now to learn more.
This article is commentary by an independent contributor. At the time of publication, the author held no positions in the stocks mentioned.