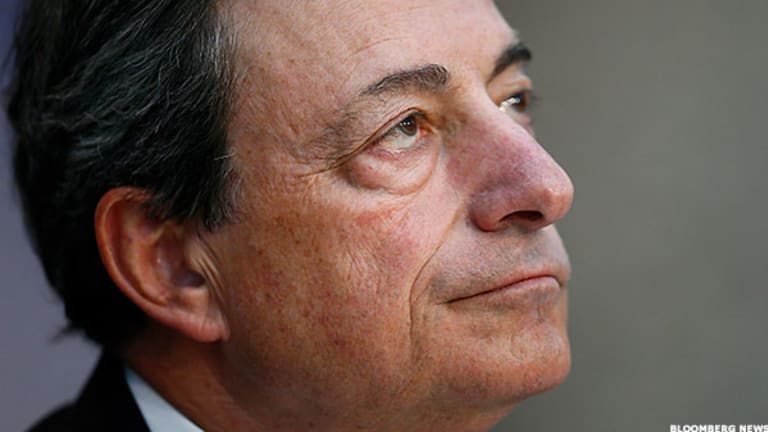 Will Quantitative Easing in the Eurozone Work?
With current inflation well below target rate, low growth and trouble brewing in emerging markets like China and Russia, the ECB may expand its Quantitative Easing program for the eurozone.
On 22nd January 2015, European Central Bank (ECB) announced its plan to revive Eurozone's stagnant economy by agreeing to buy bonds worth €60 billion ($69 billion) per month. The 19-month plan proposes to inject €1.1 trillion euros into the ailing eurozone economy until September 2016 or "until the Governing Council sees a sustained adjustment in the path of inflation that is consistent with its aim of achieving inflation rates below, but close to, 2% over the medium term."
But the unexpected slowdown in China and other emerging markets, lower oil prices, below target inflation in the eurozone and overall slow growth may require the ECB to resort to additional steps to achieve its inflation and economic growth targets in its December meeting.
On October 22 2015, ECB president Mario Draghi hinted that there could be changes in the stimulus program. The QE decision in December may come in two ways:
More monetary stimulus for the eurozone in December (by buying more than scheduled) or
Extending the stimulus program beyond the stipulated period (September 2016).
How Does Quantitative Easing Affect an Ailing Economy?
Quantitative Easing is an expansionary monetary policy where the central bank prints more money (electronically) and buys long-term government and private bonds (sometimes from banks). This increases the cash circulation in the system and lowers the cost of borrowing (long-term interest rates).
Once the interest rates are reduced, businesses are encouraged to borrow and invest in projects (building factories, buying raw materials, hiring manpower etc.), which in turn boosts economic growth. The situation encourages consumer spending breathing life into an otherwise sleeping economy by increasing investment, employment and consumption.
Eurozone's QE in 2015
In 2012, ECB President Draghi had expressed that he would do "whatever it takes" to preserve the euro. But after years of trying to fix the economy, interest rates were moved to as low as 0.05% in 2014. ECB tried to boost lending by offering cheap loans to banks, but when inflation turned negative for the first time in more than six years in December 2014, Draghi decided to use Quantitative Easing (pumping a total of €1.1 trillion) until 2016.
The first negative inflation the common monetary union faced was in June 2009. Inflation in September 2015 was -0.1% well below the target of about 2%. If the zone is stuck at such levels for too long, then it could delay spending decisions, leading to stagnation and falling prices. Currently, the money in the eurozone seems to be stuck in the banks, which are reluctant to lend to uncertain markets.
Debates about QE in Eurozone
Eurozone comprises of economically diverse countries tied to one common currency. A debate could arise on the ECB's decision on which assets to buy and from which country. One major drawback could be that each country may hold a different perspective towards Quantitative Easing; Germany is a fine example. According to The Economist, Germans hate QE. 
Germany worries that if heavily indebted economies of Italy, Portugal and Greece default, it may put a pressure on German taxpayers. National central banks will be liable for losses on 80% of the bonds bought. That way, Germany wouldn't have to pick up the whole bill for any losses. Besides, Greece and Cyprus are excluded due to their debt not being of "investment grade."
According to Forbes, around €275 billion, will be flowing into Germany -- a country that is perhaps the strongest in the Eurozone and needs liquidity the least. 
Tough Times for Euro/Dollar Exchange Rates
European stocks surged upwards in the immediate aftermath of the ECB's indication towards more stimulus speculation with the Dow Jones Industrial Average gaining 20.55 points and the S&P 500 index advancing 33.57 points.
But while stock markets rose on Thursday, the Euro fell against the U.S. Dollar on the speculations of further monetary expansion.The monetary stimulus speculation weighed down the Euro as it fell more than 1.5% against the dollar. The dollar got stronger, hitting a three-week high against the euro after ECB provided hints to lower deposit rates below zero. 
A weaker Euro means that imports for the zone will get expensive, pushing up inflation rates; and exports from the eurozone will also experience a tailwind, resulting in trade surpluses.
In a press conference in January 2015, Draghi clarified that the exchange rate is "important for price stability, for growth, but it's not a policy target." But any monetary stimulus weighs down the domestic currency, making the comparative foreign currency stronger. The strong dollar in the long run may already be a worry for the U.S. economy. 
As of now, a December meeting of the ECB will be preceded by the Federal Reserve's meeting in October and any hints towards a rise in the Fed's December meeting may give rise to more uncertainty and speculation in both stock and foreign exchange markets.
So far, the ECB has been very cautious in announcing monetary stimulus. According to the Wall Street Journal, the Eurozone data has already shown much improvement in the second quarter of 2015.
This article is commentary by an independent contributor. At the time of publication, the author held no positions in the stocks mentioned.