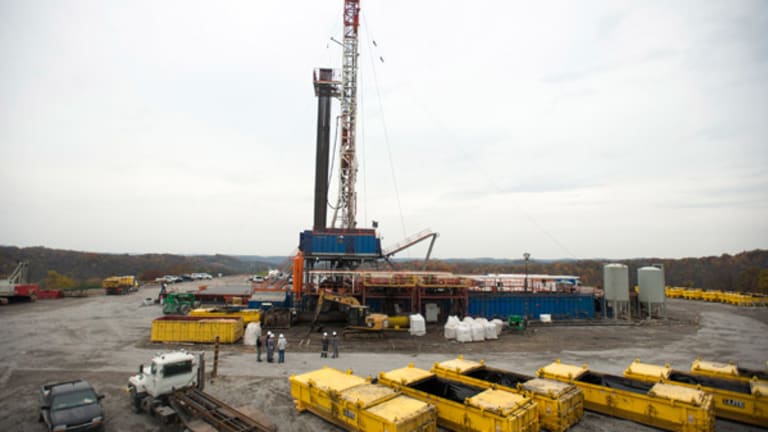 Will Polar Vortex Push Gas Prices Higher or Even Stall Production?
Record onshore gas production makes freezing temperatures a massive issue for oil exploration and production companies -- and for oil prices.
NEW YORK (TheStreet) -- It's nearly Thanksgiving, yet parts of the U.S. have already experienced deep-freeze temperatures more typical of the heart of winter. That raises some very big questions in an already volatile energy market.
Record onshore natural gas production is going on in the U.S., and a massive early-season cold front has blasted much of the northern U.S. Those should both serve as a reminder that production growth for some exploration and production companies may actually get worse before it gets better.
And that makes for a bullish scenario this winter for natural gas prices and the United States Natural Gas ETF (UNG) . But that doesn't mean it's good for E&P companies.
Natural gas freeze-offs -- the crystallization of water that comes out of the ground at the wellhead along with the gas -- can block upstream gas flow across a much wider geographic footprint during freezing temperatures than any hurricane could.
And a lot of wellheads are not made to withstand freeze-offs. That can lead to outright delays of planned natural gas production output when temperatures fall below freezing in producing fields.
Consider this: in the winter of 2011, freeze-offs took over 7 billion cubic feet per day of natural gas offline. That was more than the supply disruption taken offline during Hurricane Dennis (6.1 Bcf/d) and just under lost output seen during Hurricanes Gustav and Ike (9.5 Bcf/d).
For reference, over 12.2 Bcf/d of natural gas supply was disrupted during Hurricanes Katrina and Rita, according to the EIA.
Another factor that makes freeze-offs even more of an issue today are the increased closure of coal plants. Areas like the San Juan Basin, which runs from southern Colorado to northern New Mexico, and the Permian Basin, which spans the western part of Texas to the southeastern part of New Mexico, may also see increased delays in onshore drilling and increased freeze-offs due to increased water produced in those regions.
Keep in mind that freeze-offs can further delay drilling projects that have recently been shelved due to less attractive return on investment related to weaker energy prices.
While energy prices may appear priced for nirvana, we must not forget that severe cold weather could create pipeline problems.
Freeze-offs could further weigh on cash flows for less-diversified E&P players which can't afford any production hiccups this winter.
The Atlantic hurricane season typically runs from June 1 through Nov. 30, but investors need to realize that even more production damage can actually occur in the winter. That was already evident last week when natural gas markets jumped 8%, the biggest one-day move since February.
Production damage coupled with a prolonged deep freeze could even cause natural gas prices to rise above $5 per million BTUs this winter.
At the time of publication, the author held no positions in any of the stocks mentioned.
Follow @bluephoenixinc
This article is commentary by an independent contributor, separate from TheStreet's regular news coverage.