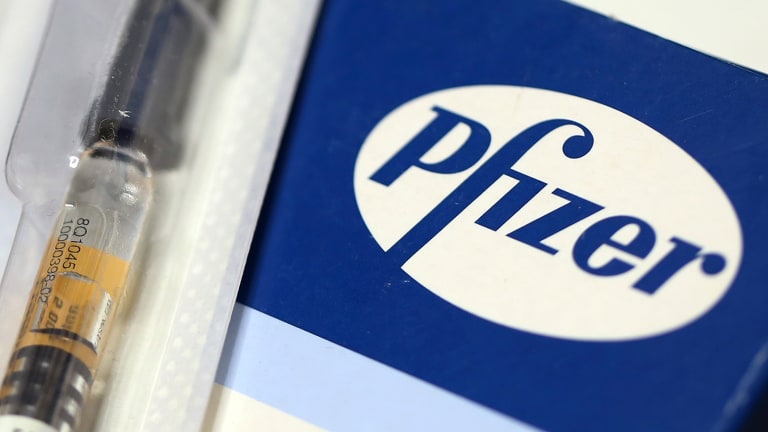 Will Pfizer Book Another Healthy Quarter?
Pfizer shares are up 13% year to date, and the company reports earnings on Aug. 2. Here's what to expect.
Pfizer (PFE) - Get Pfizer Inc. Report shares are up 13% year to date, and the company reports its second-quarter earnings on Aug. 2. Expect a strong second quarter, as Pfizer is executing exceptionally well.
Pfizer reported its first quarter on May 3 and beat the consensus estimate by 12 cents per share. Earnings were 67 cents a share and revenue rose 19.3% to $13.01 billion vs. the $12 billion Street estimate.
The better-than-expected quarter came from sales of Ibrance and Prevnar 13, as well as extra selling days in the quarter. The results would have been even better if not for the strong U.S. dollar, which took as much as 7 cents a share (or $729 million) out the company's results.
Ibrance, which was approved last February, is the company's latest drug for breast cancer. When taken in combination with letrozole, Ibrance delayed disease progression twice as long as letrozole alone. Ibrance generated $435 million in revenue. Critics, however, have complained about the drug's cost of $9,850 per month.
Strong sales of Xeijanz ($195 million), Prevnar/Prevnar 13 ($1.5 billion) and Lyrica ($1 billion) also helped drive the quarter.
Management is trying to decide whether to split the company into innovative and established product lines. Pfizer has a lot of legacy drugs that are growing slowly or not at all. For example, in the first quarter, Viagra sales were down 17% and Celebrex was down 16%.
The split, if implemented, is expected to be effective sometime toward the end of 2017.
During the quarter, the company received FDA approval for Inflectra, which is a bio similar drug to Remicade. The FDA also approved Xeljanz extended-release tablets for the once-daily treatment of moderate to severe rheumatoid arthritis.
Management raised fiscal 2016 guidance by $2 billion. The company expects sales of $52 billion and adjusted diluted earnings between $2.38 and $2.48 per share. Earnings estimates were adjusted 18 cents higher because of the strong operational performance and improved sales.
For the second quarter, analysts are expecting sales of $13 billion, up 12%, and earnings of 65 cents per share.
Management may provide an update on the acquisition of Anacor (ANAC) . Back in May, Pfizer announced it would spend $5 billion to acquire Anacor for $99.25 per share, a 55% premium to where the stock was trading the day before.
Due to Pfizer's strong performance, it's easy to see the shares getting to $40. If you assume Pfizer earns the midpoint of guidance ($2.43), the stock is only trading at only 14 times this year's earnings and around 13.5 times next year's estimate of $2.65. The second quarter should be another healthy quarter.
This article is commentary by an independent contributor. At the time of publication, the author held no positions in the stocks mentioned.