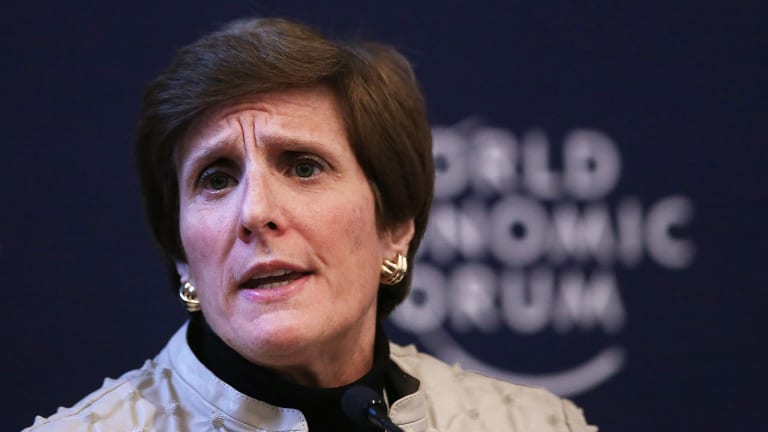 Will Pepsi, Kraft Bid for Mondelez With Ackman Backing? Cramer's View
With a takeover defense in place, Bill Ackman may have to forgo a proxy fight at the food maker. Mondelez CEO Irene Rosenfeld may need to take action before yearend.
NEW YORK (The Deal) -- As Bill Ackman and his hedge fund Pershing Square Capital Management LP revealed a 7.5% stake in Mondelez International Inc. (MDLZ) - Get Report late Wednesday, saying he plans to talk to management about strategic plans that could include a sale, investors should eye the end of the year as the time when the investor may have to swing into action if the snack foods maker resists.
The deadline for nominating directors to Mondelez's board is coming up toward the end of the year. According to Mondelez's 2015 proxy card, shareholders seeking to nominate dissident director nominees for the company's 2016 annual meeting are required to submit their candidates between Dec. 22 and Jan. 21.
One thing going for Ackman's potential campaign for a sale of the maker of Ritz crackers, Trident gum and Oreo cookies is that there has been a wave of mergers in the food sector. 
Another thing may be that there is already an activist on Mondelez's board-Trian Fund Management LP's Nelson Peltz. Peltz has been quoted as saying he believes Ackman is "very bright" and that he "recognizes value when he sees it."
Peltz and Ackman "are old friends," TheStreet's Jim Cramer, portfolio manager of the Action Alerts PLUS Charitable Trust Portfolio, told TheStreet Thursday. "Ackman will probably want something to happen. Will he want something to happen with Kraft Heinz (KHC) - Get Report? That's my bet."
Peltz has previously pushed, unsuccessfully, for a deal between Mondelez and PepsiCo Inc. (PEP) - Get Report.
Andrew Freedman, partner at Olshan Frome Wolosky LLP in New York, argues that Ackman's effort gives Peltz additional firepower from his position on the board. "If Peltz is looking for certain alternatives to be reviewed and the company is opposed to them then now they are going to think long and hard about those alternatives," he said.
He added that while a proxy contest by Ackman doesn't appear likely, one could gain traction with institutional investors if it is run solely around an effort to sell Mondelez or spinoff of a unit. 
"If the campaign is about a shift in strategy, I think it is more likely they would view one activist on the board as being enough to express the point of view of shareholders," Freedman said. "But if he seeks a sale or exploration of alternatives such as a spinoff, I think Ackman could get traction from institutions if they view that as being the right move for the company and Peltz is supportive of it.
"The timing of the annual meeting sets up perfectly for Ackman if he wants to escalate his campaign," he added.
Ackman would need to convince the big three institutional investors -- BlackRock, Vanguard and State Street -- to back a potential campaign. They have a mixed record at best when it comes to supporting activists.
"There are some very long-term oriented shareholders in Mondelez, including Vanguard, Fidelity, Wellington Management and Blackrock, so speaking to them in the right way will be important," said Bruce Goldfarb, chief at proxy solicitor Okapi Partners LLC.
Though Pershing Square officials declined to comment, the activist is prone to launch proxy contests to install dissident directors, even at large cap companies. With its nearly $75 billion market cap, Mondelez would be among the largest companies to be targeted by a proxy contest, if that were to happen, according to FactSet. 
Ackman has had mixed success with proxy contests at very large cap companies. In 2009, Pershing Square engaged in an unsuccessful proxy contest at Target Corp. (TGT) - Get Report, which at the time had a $60 billion market cap. 
However, in 2012, he waged a successful activist campaign against Canadian Pacific Railway Ltd. (CP) - Get Report, an iconic company that had a $11 billion market cap at the time the campaign was launched. Canadian Pacific now has a $25 billion market capitalization and Pershing still has a large 14 million share stake in the railroad company valued at roughly $2.6 billion, according to a May securities filing.
If a proxy fight becomes the only path to get Ackman's recommendations before shareholders, it will probably have to wait for the 2016 annual meeting, likely to be held sometime in May, based on this year's May 20 date. 
Freedman noted that the company has "hefty" mechanisms in place for calling a special shareholder meeting. Mondelez requires 20% of shareholders to vote for a special meeting, while another has "material restrictions" on shareholders' rights to call special meetings, according to an ISS QuickScore report obtained by The Deal.
Pershing Square could also point to certain governance weaknesses highlighted in the ISS QuickScore report, including that Mondelez had a "material weakness" in its internal controls for two consecutive years. That earned the company a 10 out of 10 (the lowest score) in the area of audit and risk oversight.
Another governance issue for ISS is that Irene Rosenfeld occupies both the role of chairman and CEO.
Mondelez said in a statement that it "welcomes" Pershing Square as an investor. "We'll continue to focus on executing our strategy and on delivering value for all our shareholders," it said.
Pershing Square said in a statement Wednesday that its 7.5% stake includes common shares, forward purchase contracts and call options. 
The stake is worth about $5.6 billion, based on Wednesday's closing price of $46.29 per share. 
Read more from: