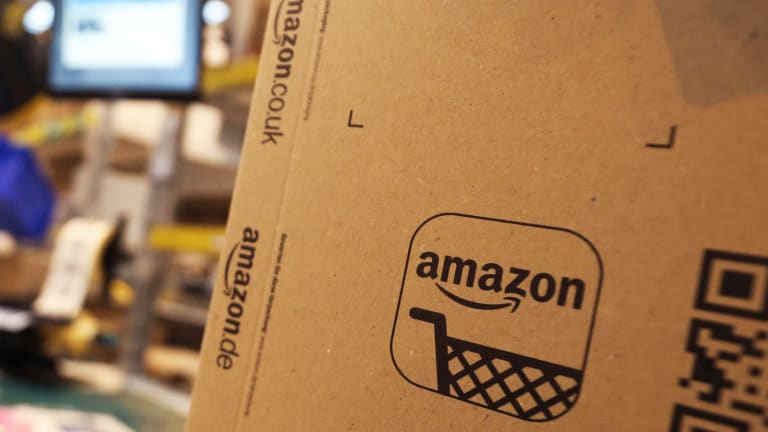 Will New 'Dash Buttons' Deliver Profits to Amazon Investors?
The e-commerce giant is adding 'Dash button ' re-order program this week. But what impact will this have on Amazon's stock?
The e-commerce giant is adding 'Dash button ' re-order program this week. But what impact will this have on Amazon's stock?
They started out as what some analysts thought was an April Fool's Day prank. Then they became serious business. And now they're starting to seem just downright weird. With a plethora of new products from the ridiculous to the sublime on the roster, do Amazon's (AMZN) - Get Report  "Dash buttons" have what it takes to give the e-commerce giant's stock an extra boost?
Amazon unveiled these gadgets in the spring of 2015, and the concept was certainly novel from the start. For $5 (on top of the $99 annual membership fee), Prime customers can purchase an adhesive-backed bit of plastic, stars in the galaxy of the Internet of Things. Each "button" communicates via wifi with Amazon's distribution system. Consumers buy buttons for particular items, and when they need to replenish those items, all they have to do is hit the button and - voila! - Amazon's lightning-fast logistics team has the product out of the warehouse and on the consumer's doorstep. The initial $5 investment is refunded with the first purchase.
It seemed like a joke at first. This ordering system seemed truly over the top. But the novelty paled in comparison to the implications that this technology could have: Amazon has since revealed that it's working on pre-emptively preparing packages for consumers based on the algorithms of what and when they order.
The Dash buttons are certainly useful for items that consumers purchase repeatedly but wouldn't necessarily think to pop in their Amazon "carts" -- and, indeed, among the earliest Dash buttons were products from consumer staples brands such as Procter & Gamble and Kimberly-Clark. Amazon then expanded its portfolio of buttons to cover the "bare necessities" of at least someone's life: Doritos and condoms.
Procter & Gamble is a holding in Jim Cramer's Action Alerts PLUS Charitable Trust Portfolio. See how Cramer rates the stock here. Want to be alerted before Cramer buys or sells PG? Learn more now.
And this week, Amazon has unleashed 50 new buttons, bringing the number of available items up to 150. The list is curious. While it contains pantry staples like Campbell Soup, it also includes toys, such as those made by Nerf. (Who needs foam darts so badly?)
The Wall Street Journal released a critical article this week, claiming that the Dash program hasn't been as successful as Amazon had anticipated. Statistics as to Dash usage is tricky to pin down. Amazon is tight-lipped about numbers; Slice Intelligence arrived at its estimates by tracking receipt emails. Slice calculates that fewer than half of the buttons purchased are regularly used.
But Amazon insists that the program is a success and a moneymaker. According to Dash director Daniel Rausch, "Three months ago, we were excited to see orders were occurring once a minute. Now that rate has doubled. [Dash] is resonating with Prime members and has become an innovative way for brands to stay connected with their customers, keeping them supplied with products they count on with the simple press of a button."
Amazon is clearly on a mission to make shopping as easy and convenient as possible. The Amazon experience is indeed quickly overtaking that of brick-and-mortar stores, causing what could be irreparable damage to longtime retailers such as Sears and Macy's.
Whether or not Dash is the be-all and end-all of shopping is irrelevant. Amazon also has methods for product subscription services and ordering through its personal assistant devices in place.
What is relevant is Amazon itself - the company that is redefining consumer culture. The e-commerce stock is up already by more than 2% today. Amazon remains a profit powerhouse and a strong growth opportunity.
---
Amazon is one of the most innovative companies around, and its stock is set for even more gains. But what if I told you there is a way to make $67,548 per year - or more - without stocks, just by following this simple step-by-step process? The trader who is sharing this secret has been right more than 8 out of 10 times, turning $5,000 into more than $5 million for himself. Click here to see how easy it is to follow his lead and collect thousands of dollars in "Free Money" every month.
This article is commentary by an independent contributor. At the time of publication, the author held no positions in the stocks mentioned.