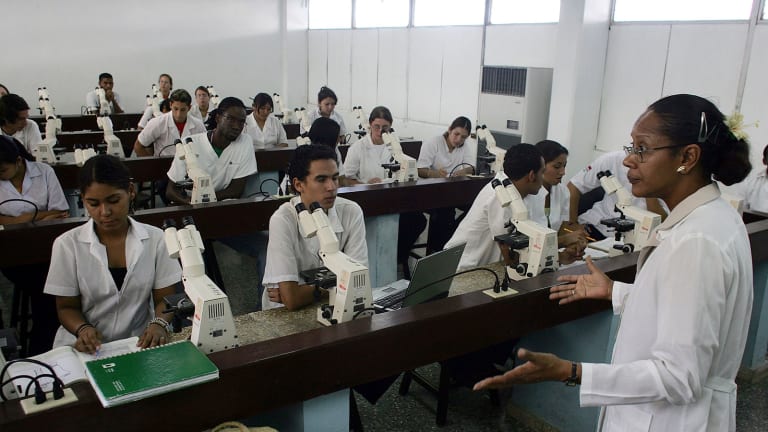 Will Health Care Help Bridge the Divide Between Cuba and the U.S.?
Science is usually one step ahead of politics, ideologies and politicians, even more when the area in question is public health.
NEW YORK (TheStreet) -- As the cold war between Cuba and the U.S. continues to thaw, health care could lead the way in bringing the two nations closer together.
"There is enormous interest regarding medical suppliers," said Peter Quinter, chair of the customs and international trade law group of Florida Board of Bar Examiners. "U.S. companies have an interest to sell and Cuba certainly has the need."
While emphasis on preventive medicine and vaccination programs has been very effective at keeping the Cuban population healthy, lack of basic medicines and equipment has significantly affected the quality of medical services. And in order to keep the free health care system working on acceptable levels, Cuba needs money.
Cuban hospitals will likely need grants or other kinds of financial aid to afford U.S. medical supplies, Quinter said. In June 2015, Quinter anticipates new directives from the White House that will further expand business relations between the U.S. and Cuba. 
Going in the other direction, Cuban doctors, with their experience providing urgent care in far-flung places, could have a lot to teach those in the U.S.
For decades, Cuba has been sending doctors to the poorest areas of Africa and Latin America, and provided care for Chernobyl victims. Cuban doctors were already in Haiti when a devastating earthquake shook the island in 2010.
"Cuban doctors...have considerable experience providing crisis assistance in several poor counties, for example helping Ebola patients in Africa and those injured during the earthquake in Haiti," said Dr. Hy Levitsky, professor of oncology, medicine and urology at John Hopkins University. "Considering the respective sizes of the populations, it could even be said that the Cuban contributions have been larger than that of U.S."
While some in the U.S. might bristle at the notion of doctors here learning from doctors there, the doctors themselves likely won't give it a second thought.
"It does not matter where a good idea, or compelling data comes from," said Dr. Levitsky. "Scientists like to engage in scientific discussions more than politics."
Cuba has also been a world leader in medicine through its Latin American School of Medicine, established in 1999. It has provided free medical education to 20,000 foreign students from Africa, Latin America, Asia and the Caribbean. Even 100 Americans have graduated from the school and 150 more are currently enrolled. 
"We can learn a lot from Cuba and Cuba can learn a lot from us," said Peter Agre, a Nobel Prize winner in chemistry, who has been to Cuba in several occasions since 2011 and most recently, in February 2015.
Opponents of the Cuban policy can point to the economic benefits that Cuba derives from the assistance it provides to Venezuela, Brazil and Qatar, saying that Cuba engages in this aid to win allies. Doctors may not care about such political points. 
"Cuba provides unique services to the developing world via its health care providers. The world owes Cuba a debt of gratitude," said Dr. Agre, who is the Bloomberg Distinguished Professor and Director Johns Hopkins Malaria Research Institute.
Perhaps the desire by doctors and health care concerns on both sides of the channel to work more closely together will hasten improved U.S.-Cuba relations. 
This article is commentary by an independent contributor. At the time of publication, the author held no positions in the stocks mentioned.