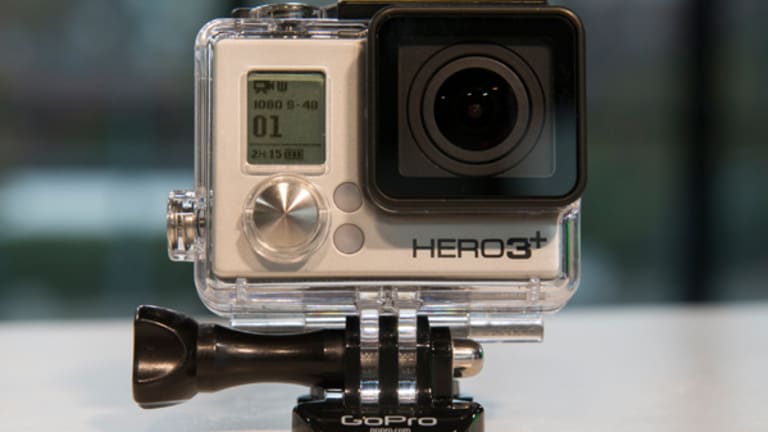 GoPro Surges on Opening as Cool Camera Hype Carries Stock Higher
GoPro went public on the Nasdaq Thursday in an offering that values the video camera maker at $3 billion.
NEW YORK (TheStreet) -- GoPro Inc. (GPRO) - Get Free Report was jumping on Thursday, rising as much as 31% to $31.43, as investors scrambled to get a piece of the video-camera maker popular with zealots of surfing, skiiing and other sports.
Shares of the San Mateo, California-based company rose 28% to $30.73 after shares were prices at $24 and opened at $28. GoPro raised roughly $427 million in an offering that values the company at $3 billion.
GoPro is expected to use the proceeds from its initial public offering to cash out some existing investors and pay off its $120 million debt.
Founder Nick Woodman created the first GoPro from a point-and-shoot camera, a broken surfboard leash and a couple of rubber bands. Now GoPro is a $2.25 billion company and has sold 8.5 million cameras since introducing its first high-definition camera 2009. It sold 3.8 million cameras in 2013 alone, according to a government filing. 

WATCH: More market update videos on TheStreet TV
"To compete with GoPro [competitors] have to have millions of people capturing and sharing their experiences and giving you credit for it," Woodman said in an interview with Bloomberg News. "And that is why our competitors have not made any in roads."
In 2013, there were 50 million hours of video watched with the word "GoPro" in the title, according to the filing.
Despite selling different mounts and accessories from its Web site, a vast majority of GoPro's $985.7 million in revenue for 2013 comes from camera sales. As camera sales growth numbers begin to decline, GoPro has begun looking to other sources of revenue. In the first quarter of 2014, GoPro partnered with Microsoft (MSFT) - Get Free Report to create a GoPro channel on Xbox which will provide ad revenue and fees from third-party sponsorship. However, the advertising and sponsorship revenues GoPro is expecting to receive from its YouTube and Virgin America channels beginning in the second quarter of 2014 will not be material.
"GoPro helps people capture and share their lives' most meaningful experiences with others -- to celebrate them together," says the GoPro Web site, and GoPro has been celebrating like crazy on every major social media platform.
Along with its huge presence on Facebook (FB) - Get Free Report, Instagram, and Twitter (TWTR) - Get Free Report, GoPro ranked No. 1 on the YouTube brand channel leaderboard from January to March 2014, meaning that GoPro has the most actively engaged fan base of any company sharing content on YouTube.
In 2013, there were 50 million hours of video watched with the word "GoPro" in the title. GoPro has branched out beyond its action sports roots to being used in the production of Discovery Channel TV shows, to record surgeries for teaching purposes, and for military training and combat uses.
The introduction of the GoPro app and editing software made sharing across multiple platforms even easier. The app allows users to control their GoPro cameras from their phones and see what is currently being filmed, and it also provides seamless uploading of video or stills without a computer. The GoPro editor caters to both beginners and experienced filmmakers. Both the app and editing software can be downloaded for free.
However, GoPro is currently operating at the mercy of its supplier, Ambarella (AMBA) - Get Free Report, which supplies the video, image, and audio systems-on-a-chip that make the cameras. According to the S-1 filing, GoPro has no alternate supplier that it could use if relations with Ambarella went sour or demand exceeded the supplier's capacity.
-- Written by Whalen MacHale in New York.