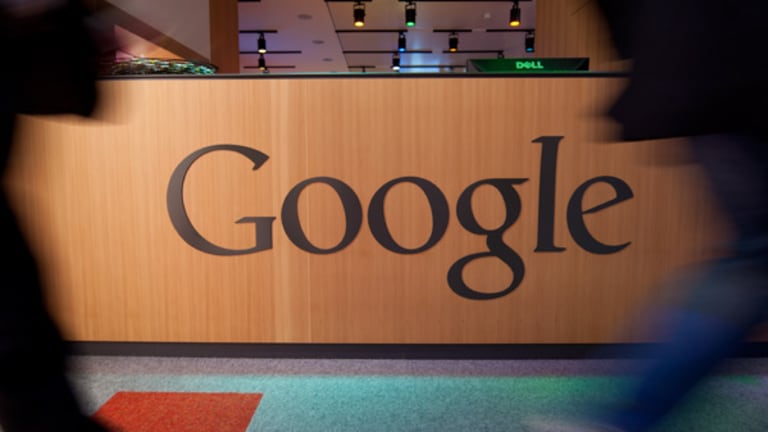 Will Google Retail Suck as Bad as Microsoft Stores?
Is Google finally ready to take on Apple and make Microsoft's life even more miserable?
NEW YORK (TheStreet) -- ICYMI (That's Twitter lingo for 'In Case You Missed It'): Google (GOOG) - Get Free Report not only plans to open brick-and-mortar retail stores this year, it's reportedly already building them.
So what does it mean? What's the potential impact?
First, it could mean better-focused, in-the-flesh competition for
Apple
(AAPL) - Get Free Report
that gets Steve Ballmer fired at
Microsoft
(MSFT) - Get Free Report
once and for all. A well-done Google retail presence could elevate the excitement level in tech several notches this year.
Some thoughts on the pro, con and relatively random sides.
PROS
Simply put, Google is not Microsoft. It knows how to create a spectacle.
Last week, I visited Google's Manhattan offices in the old Port Authority building. Just incredible. Google covers so many square feet that it puts maps on the walls (and in employee laptops) just to help guests (
and
Google staffers) navigate the maze of conference rooms.
Visiting Google is an experience. Put another way -- Google knows how to create an experience. It can do likewise in the retail space.
The people who work for this company get it. They're smart.
For all of the criticisms I have vis-à-vis Google
, I would never bet against this company.
Google has the potential, assuming it stops giving everything away for free, to nurture meaningful complements to its primary (roughly 98% of sales every quarter) advertising revenue line through the sale of hardware, software and services.
And, of course, Google needs to get its products in the hands of potential consumers. It's not like Chromebooks and Nexus smartphones and tablets are as ubiquitous as Windows-based products, let alone MacBooks, iPhones and iPads.
Plus, when Google Glass hits the market, it requires a hands-on experience, at least in major markets such as New York, the San Francisco Bay Area and Southern California. And it can't hurt to have Google "geniuses" offer live tutorials on how to make the most of Google's growing suite of services as well as
.
CONS
Right off the bat, I must correct myself -- these products Google would display in physical retail stores are not, by and large, Google products per se. Like Microsoft, Google farms out the build on its hardware to "partners." If it cannot control what these hardware makers do with a Chromebook or how they present Android, Google retail could end up providing the same type of uninspiring environments as Microsoft.
Do people really want to touch, feel and buy Chromebooks, for instance, in the first place? Because that's really a big part of the push -- to realize
of a computer for everybody who wants one. The computer for the hotel lobby or out-of-town guests in your home.
If there's scant demand, no matter how much of a spectacle, Google stores end up little more than another cheap knock-off of Apple's retail concept (because I bet they'll look a lot alike).
Relatively Random
Here in Santa Monica, Apple recently moved to a new location.
The old one just got too small
. The new location sits about two to three blocks from the old one, which is still listed as "For Lease." It would be sort of cool -- this is a random thought -- if Google took up that location, outgrew it and moved elsewhere.
Anyway, few rumors in tech excite me these days, primarily because nearly every single one involves Apple. And, undoubtedly, they're all pretty much poorly-chased, often-fabricated garbage. I bet this one's for real though. And it does excite me. Google might finally be ready to up the ante.
--
Written by Rocco Pendola in Santa Monica, Calif.
Rocco Pendola is
TheStreet's
Director of Social Media. Pendola's daily contributions to
TheStreet
frequently appear on
CNBC
and at various top online properties, such as
Forbes
.