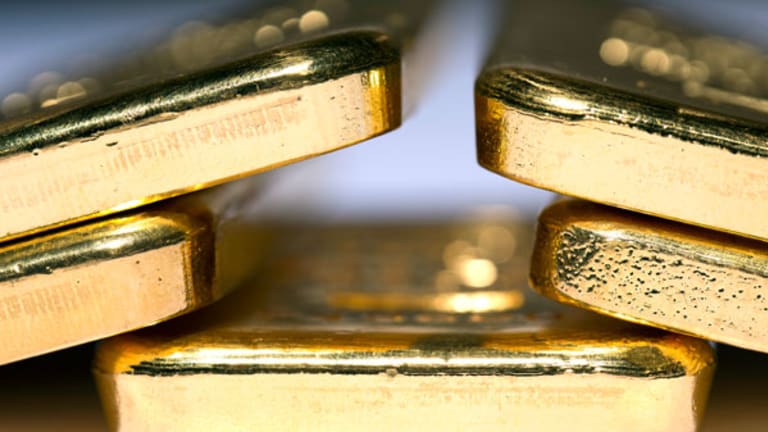 Will Gold, Silver, Precious Metals Melt Lower for the Foreseable Future?
Gold is continuing its meltdown with no sign of a bounce. Will it stay this way? And what should investors do?
Gold is continuing its meltdown with no sign of a bounce. Will it stay this way? And what should investors do?
NEW YORK (TheStreet) -- Precious metals remained under pressure last week with little hope in sight as equities continue to advance.
Gold (GLD) - Get Report dropped another 2.98% this week as it breaks major support with increasing volume. This is not a good sign.
It appears likely that gold will test lows back at the $1,180 level. New shorts are coming in as we break a major support level. Some would argue those short positions are a good sign. When gold strengthens, those shorts will have to cover, causing a pop. But that's not likely anytime soon.
Silver (SLV) - Get Report lost some 3.12% for the week and is also accelerating lower on increasing volume. Silver remains in a solidly defined downtrend channel and is showing no real sign of stopping yet.
Silver is still leading gold lower, even though it did briefly flash a more bullish signal this past week -- which was quickly annulled.
A major support remains at $18. We would see a ton of selling at that level, as that's where many people got in. People will not let silver show them a loss, so expect a flood of physical silver onto the market shortly.
We need that, a so-called "blood in the streets" moment, and a break below $18 would bring that on.
Platinum (PPLT) - Get Report was smashed, falling every day this past week to end down 2.9% on balance. This white metal has no chance at all with gold and silver so weak.
The $1,320 area is the next major support level to look for if $1,350 can't hold -- and I see no reason why it would hold. Under that, $1,200 is the next major support level, and that is a very likely target to be hit before all is said and done. Look at the strong and increasing volume pushing it lower. That is a strong indicator the current direction will continue. 
Palladium (PALL) - Get Report was hit very hard and lost 5.87% for the week. I mentioned last week that palladium really has no chance of moving higher with the other metals so weak. That remains true.
The triple top I talked about last weekend came to fruition a bit earlier than I'd thought, but the huge increase in volume and push below the 50-day moving average confirmed the triple top was in.
The next major support level is $800, with $840 now acting as major resistance.
We could see a pop back to $850, but that should be short-lived.
Thank you very much for reading and you can find out more about what I do for members at wizzentrading.com.
At the time of publications, the author had no positions in any of the investments mentioned.
This article is by an outside contributor separate from TheStreet's news coverage.