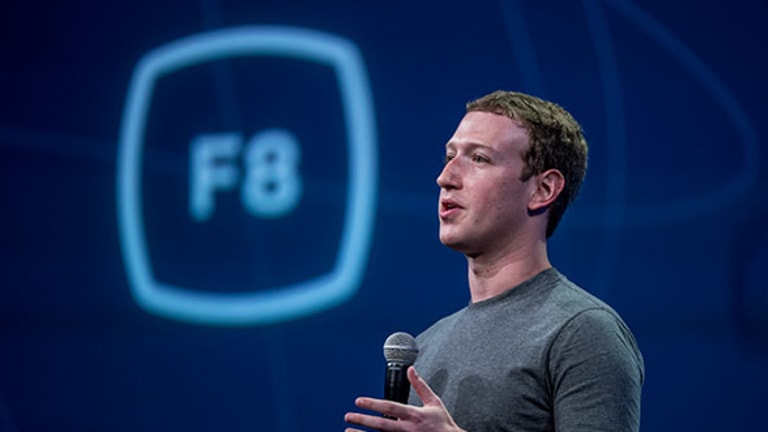 Will Facebook Overtake Apple and Alphabet as the Innovation Leader?
CEO Mark Zuckerberg has made several bold moves lately, indicating that he wants his company to be much more than just a social media venue.
Mark Zuckerberg's Facebook (FB) may just topple Apple (AAPL) and Alphabet (GOOGL)  when it comes to most innovative tech companies. 
Facebook's F8 developers conference showed that 12-year-old Facebook is readying its army of offerings to deliver a heavy blow to rivals over the next 10 years, to become one of the tech sector's most promising multi-year growth stocks.
Facebook, Apple and Alphabet are holdings in Jim Cramer's Action Alerts PLUS Charitable Trust Portfolio. See how Cramer rates the stock here. Want to be alerted before Cramer buys or sells FB, AAPL or GOOGL? Learn more now.
From virtual reality to artificial intelligence, Facebook is at the forefront of bringing cutting edge applications to the table. Let's take a look at why FB is poised to be a growth stock winner.
Facebook is bringing chatbots to its Messenger service. These mini-apps could virtually challenge Google's dominance in search and Apple faces the risk that bots could cut into the usefulness of its App Store.
Bots work inside a platform like Facebook Messenger and bot makers are not required to make different versions for different operating systems such as iOS and Android. They are designed to help with small tasks -- like search and apps. The company is already working with KLM Royal Dutch Airlines on a system that will allow users to book a flight through the app. 
Facebook is turning into a platform where users see as much, if not more, video content as on YouTube, Google's prized social media asset.
Facebook already has live video. Now, with the Surround 360 video camera, a whopping 17 synchronized cameras will capture spherical 3D video from all angles. This innovation can practically change the traditional video viewing experience.
Further, Facebook's Profile Expression Kit allows you to set a video you created in another app as your profile video. Profile videos themselves are the next big thing and shows how Facebook wants to change how people view profiles.
Vine and Boomerang are already incorporating this feature. While Google and Apple and others have only managed to match expectations, Facebook is setting new standards with its technological innovations.
How Apple and Google have Fallen Behind
The two tech moguls may be trying hard to convince people that they are innovating, but are they really?
Apple's SE phone, for instance, touted to be the most powerful 4-inch iPhone ever by the company, is actually just a smaller version of the existing phones. Moreover, it is not even attractively priced in India, a market that's recording the fastest smartphone growth rate. The much-hyped Apple Watch too is more fashionable than functional.
The company has had its own share of misses. The Apple Pippin, the U2 iPod, Apple Music, Newton and the G4 Cube have all made it to its list of flops.
Google has its own list of follies. Google Answers was a big failure along with Google Video, iGoogle, Google Web Accelerator, Google Reader, Dodgeball, Google Page Creator, Jaiku (a bad buy), Google Lively, Google Health, and Google Wave.
True, Alphabet was created to focus on Google's other ambitious ventures like self-driven cars or cycles, which can prove to be unprecedented innovations and money-makers. However, there is a looming fear that these projects are exactly what the company calls them: moonshots.
Google has invested millions into research and development for these projects, but the fact remains that investors will need to see some returns soon. And that is where Facebook will also need to prove its mettle.
Facebook is currently spending more on R&D per dollar of operating expense than any other large technology company. While Apple spends much less in R&D per dollar of expense than its peers, Google is behindOracle and LinkedIn.
For years, Microsoft, Yahoo!, Google and Apple have been synonymous with innovation. It now remains to be seen if Facebook can maintain its lead over its peers, and for how long.
The Best Tech Stock Under $8: There's a battle raging in the fast-moving world of Silicon Valley. Just as VHS tapes snuffed out Betamax and CDs killed cassettes, the winner of a new "gold standard" for data is about to be crowned. We've discovered a small company that figured out a way to corner this new $10 billion market, no matter who comes out the winner. Click here to learn more.
This article is commentary by an independent contributor. At the time of publication, the author held no positions in the stocks mentioned.