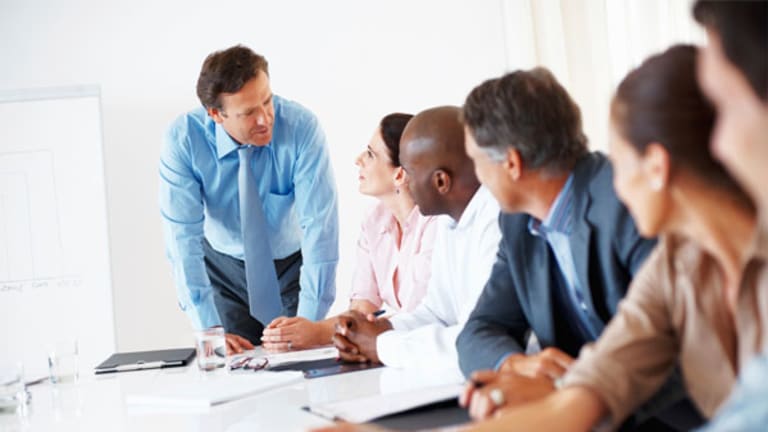 Will Facebook Buy Nokia?
Note to condescending Facebook haters: Zuckerberg will spend his allowance wisely.
NEW YORK (TheStreet) -- Tim Cook is correct. Facebook (FB) is "the one company that is closest to being like Apple (AAPL) ."
Leading up to Cook's decision to issue a dividend and buyback, everybody had an opinion on how his company should spend its money. Most wanted Apple to make an indiscriminate purchase of another firm. Thankfully, that talk died off quickly because, say what you want about Cook, Apple knows how to best handle its cash hoard. It will spend wisely. It will not go on a shallow M&A shopping spree.
Contrary to what the critical mass of
Facebook
(FB)
hate might lead you to believe, Mark Zuckerberg has a plan. While I have my ideas, I do not know what it is. Neither do you. And it's quite clear that Paul Amsellem, a managing director for a mobile marketing company out of Paris, has even less of a clue than you and I.
More on Facebook: The Real Tragedy of the IPO >>
In typical
let's see if I can get my name on CNBC
form, Amsellem
the
bold
prediction that Facebook will buy
Nokia
(NOK)
to make its rumored smartphone happen. He even included a price to make it easy for the companies' bankers -- $10 billion. And, if that deal does not work out, Amsellem claims Facebook can just buy
Research in Motion
(RIMM)
for the bargain price of $6 billion.
It really doesn't have to be quite so complicated. Facebook should work a take-two-they're-small discount and buy both turnaround plays for $15 billion. Hopefully, any future austerity packages from France will include disconnecting Amsellem's Internet connection.
Zuckerberg: The Smartest Person in the Room?
In the same
Computerworld
article that broke the Amsellem non-story, another analyst, Rob Enderle, chimes in:
We have a young company, Facebook, flush with cash, led by a young, inexperienced CEO, who treats this cash as if it were something he won in a game show. So I expect this to end badly.
I feel dirty even including a quote filled with such tripe, but, in conjunction with the Nokia "rumor," it warrants treatment.
There's some irony in Enderle's statement. And it suggests that he, not Zuckerberg, is the green one.
More on Facebook: The Instagram Deal >>
Maybe I am nitpicking, but I actually listen to (or read closely) the words people speak. I attempt to find meaning in them. Granted, occasionally this approach places too much significance on what were meant merely as passing statements. That said, I think we can read into Enderle's shot at Zuck, as he refers to Facebook's cash as something Zuckerberg treats like "he won in a game show."
Enderle seems to think found money is something that, naturally, we might just mindlessly throw away. And he equates this spending cash to the Facebook IPO proceeds Zuckerberg now controls. And, of course, Zuckerberg is little more than a snot-nosed punk who will just buy the complete set of baseball cards, rather than tirelessly search through pack after pack, placing a recurring stream of commons in between his 10-speed's spokes.
What a horribly unfair and unsophisticated analysis (assuming Enderle didn't mean something else entirely). Of course, if I am on the right track, it's likely safe to predict that Enderle would hold up the
Instagram
purchase as verbal specimen A. As I explained in
on
TheStreet
, that's just a product of Facebook hate and misunderstanding.
Because Zuckerberg is young and inexperienced (two characteristics beyond his control), people like Enderle brand him automatically irresponsible with money. And, heck, when it's somebody else's money,
damn the torpedoes
!
Just as Apple bulls downplay the difficulty of maintaining greatness in a post-Steve Jobs world, we have a person discounting the significance of Zuckerberg's past and present accomplishments. Sure, he was probably rubbing nickels together when he built Facebook out of his freaking dorm room, but that's in the past. Because his company is now a multi-billion dollar global force, he's little more than a bumbling idiot with Bob Barker's money.
It does not get much more condescending than Enderle's take. He expects Facebook to "end badly" because Mark Zuckerberg -- a 20-something who has
out-accomplished
every single one of us -- is, suddenly, inept.
No Dumb Phone
I do not think Facebook needs a smartphone. However, if Zuck decides to put one out, he does not need to spend billions to acquire somebody else's problem. As bullish as I am on
, I would not vote to buy the company if I were on a board (even Facebook's token board!). It's just a dumb move. So is buying RIM.
If Facebook wants a smartphone, all Zuck needs to do is schedule a call with executives at Nokia and
Microsoft
(MSFT)
. He'll have a tentative agreement to get one built in about 15 minutes. From there, he'll hand things over to the bean counters to iron out the details.
Situations exist when M&A -- even at seemingly inflated prices -- makes sense.
Instagram
, for example. As another example, Microsoft's purchase of
Skype
is starting to make sense, as the company begins to tightly integrate the service with Windows.
At other times, partnerships prove far more prudent. Zuckerberg is not naïve. He understands this. If we see a Facebook smartphone, it will result from smart collaboration, not an unnecessary buyout.
At the time of publication, the author was long FB, MSFT and NOK.