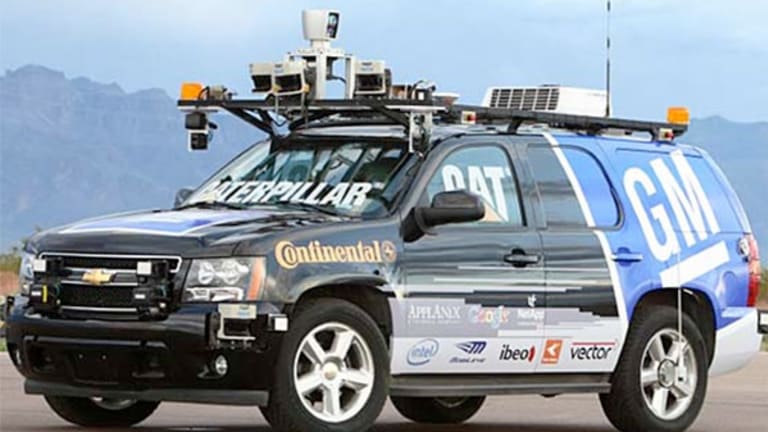 Will Driverless Cars Cut Deeply Into Automakers' Sales?
The costs of sharing rides and vehicles could cause some to give up vehicle ownership.
Motorists might be understandably nervous -- if not downright worried -- about cars that drive themselves. Likewise, car manufacturers could be lying awake wondering how badly the technology might hurt vehicle sales and production. 
The automakers' anxiety unfolds like this: Once digitally enabled cars drive themselves, the concept of sharing cars and rides with others must accelerate. After all, why own a car when a few keystrokes on a smartphone can bring one to your doorstep, provide transport at a reasonable cost and then go about its business?
Consumers should benefit from lower-cost rides compared to the outlay of owning, insuring and maintaining a vehicle that sits idle more than 90% of the time. Parking costs and hassles go away.
Brian Johnson, an analyst at Barclays, estimated that vehicle ownership rates among families might fall by as much as one-half by getting rid of a car. 
Large-volume automakers "would need to shrink dramatically to survive," Johnson said in his report. "General Motors Co. (GM) and Ford Motor Co. (F) would need to reduce North American production by up to 68% and 58%, respectively." 
Johnson argued that when most vehicles are driverless -- perhaps in a decade or so -- annual U.S. auto sales will fall about 40% to 9.5 million, while the number of cars on American roads will decline by 60% to fewer than 100 million. 
Naturally, the impact of Johnson's perspective -- which is shared by others on Wall Street -- could take some years to play out. And any falloff in passenger car sales would be mitigated by the fact that GM, Ford and Fiat Chrysler Automobiles (FCAU) make a disproportionate amount of their profit from pickups and other commercial vehicles, which are less affected by driverless technology. 
Ford and GM aren't explicitly responding to dire predictions about their business. Yet Ford's increasing focus on "mobility" and GM's investments in ride-sharing and vehicle-sharing ventures can be understood as a changing mindset that will let automakers participate in a growing digital revenue stream. 
Jack Nerad, an analyst for Kbb.com, said "driverless/autonomous technology vehicles will supplement the current on-road fleet; and its primary effect will be to replace a portion of the taxi/Uber/Lyft portion of the industry." People will continue to own and operate cars, he argued, "because they want to and because cars offer unparalleled personal transportation options at a reasonable cost."
Rod Lache, an analyst for Deutsche Bank, noted that while density in urban areas could lead to car- and ride-sharing and displacement of private ownership, those driverless cars would need to be replaced more often.
"U.S. sales nonetheless increase under every scenario we've examined because vehicle scrappage is determined by miles driven," according to a Deutsche Bank study. "Each on-demand vehicle will travel more miles (10 to 20% more) than the cumulative six to nine privately owned vehicles that it replaces." 
On-demand vehicles would have to travel a considerable number of miles between assignments, thereby adding to wear and tear and earlier scrappage. 
Deutsche Bank raised another optimistic point for automakers: lots of pedestrians in cities may choose to ride simply because technology will make it easier, cheaper and more efficient to do so.
Doron Levin is the host of "In the Driver Seat," broadcast on SiriusXM Insight 121, Saturday at noon, encore Sunday at 9 a.m.
This article is commentary by an independent contributor. At the time of publication, the author held no positions in the stocks mentioned.