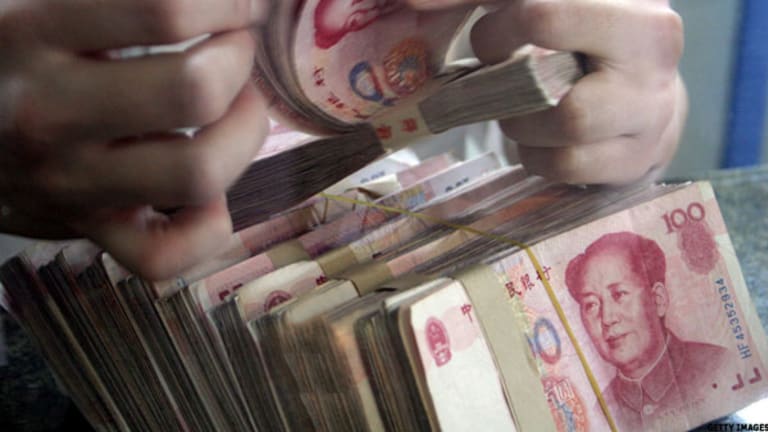 Will Chinese Investors March with the People's Liberation Army?
The Chinese government wants its state-run military suppliers to grow their civilian divisions after raising money on capital markets.
BEIJING (TheStreet) -- China's armed forces are looking for a few good investors.
The government says it plans to recruit more private investment to finance air, land and sea defense suppliers through a project that combines "civilian-military integration" and a "structural readjustment" of the country's military industrial complex.
A framework for the fund-raising campaign is expected to be worked out this coming weekend at a conference of high-level government and business leaders in the backwater city of Zaozhuang, about 350 miles north of Shanghai, according to state-run media.
Headline attendees are expected to include Shenzhen Stock Exchange chief Song Liping, China Aviation Industry Vice Chairman Zhuang Xin, AVIC Capital General Manager Yang Shengjun,and Shandong Province Governor Guo Shuqing, according to China's Bloomberg-like financial data provider Wind Information.
Guo's participation suggests a strong government commitment to more market funding of state companies that equip the People's Liberation Army. Before transferring to Shandong, he led a 2011-2013 stock market reform campaign as head of the China Securities and Exchange Commission. He has also served as chairman of China Construction Bank (CICHF) , director of the State Administration of Foreign Exchange, and vice governor of the central bank.
The government plans to raise "quality private capital" through the nation's capital markets to finance publicly listed but government-controlled military suppliers of all stripes, the China Securities Journal reported. Funds could be used to help these companies branch into or expand their current positions in markets for civilian goods and services, at home and abroad.
"Asset-backed securitization is one of the priorities" of a military reform movement that started in 2011, the report said. The movement got a fresh jolt in March when President Xi Jinping highlighted his support in a speech. Xi also serves as chairman of the Central Military Commission and general secretary of the Communist Party.
Also in March, the government said it would boost national defense spending 12.2% in 2014 year-on-year to about $132 billion.

Companies recently mentioned by Chinese stock analysts as possible candidates for fresh fundraisers in the near future include radar-microwave systems manufacturer Glarun Technology, satellite and rocket maker China Aerospace Science and Technology and naval defense electronics supplier Highland Digital Technology.
Many Chinese military suppliers are already strong players in civilian sectors. They're also reaching out for business overseas.
Glarun, for example, supplements weaponry with food irradiation and traffic-control products. Guangtai, which makes a wide range of airliner fueling and service vehicles for airports, is a military supplier that last fall started negotiating for U.S. airport contracts. Marketing departments for China's state-run satellite, rocket and space-related companies offer their wares globally.
Analysts this week were recommending defense stocks in anticipation of the Zaozhuang confab. Yet, investors who take their advice would be going against the grain because overall stock prices for these companies have been falling since the beginning of the year.
A defense industry index of 50 leading military supply companies listed on the Shenzhen exchange, for example, has declined 11% since January. The exchange's 100-company defense index has lost about 9%.
On Thursday in Shenzhen, Guangtai gained 0.05% to close at 14.78 yuan a share and Highlander rose 3.5% to 15.01 yuan. Shanghai-listed Glarun ended the day at 48.50 yuan a share, up 0.7%.
At the time of publication, the author held no positions in any of the stocks mentioned.
This article represents the opinion of a contributor and not necessarily that of TheStreet or its editorial staff.