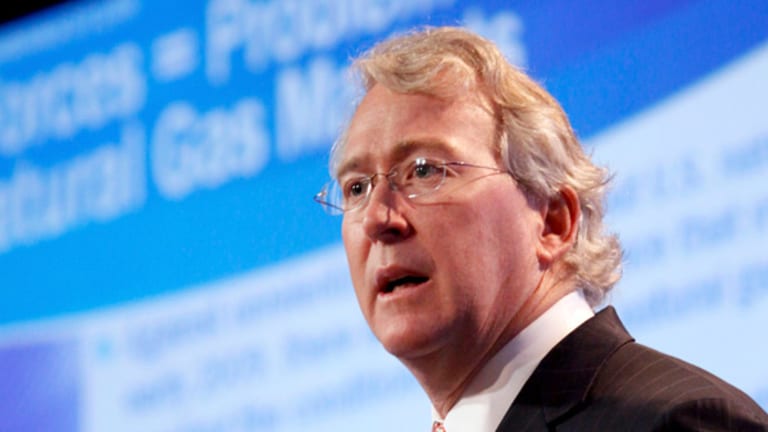 Will Chesapeake Energy Profit From Tragedy?
The beleaguered oil and natural gas giant is up today following the death of its controversial ex-CEO. But is this stock still truly a value play?
The beleaguered oil and natural gas giant is up today following the death of its controversial ex-CEO. But is this stock still truly a value play?
"The vehicle just exploded," said the caller on the line with the 911 dispatcher.
And with that, the controversial life of Aubrey McClendon ended. Barely 24 hours after a federal grand jury in Oklahoma City indicted him on conspiracy charges, McClendon, the former CEO who had presided over one of the most dangerous stocks on the market, slammed his 2013 Chevy Tahoe directly into a highway overpass.
Motive? McClendon certainly had one: From 1989 until 2013 he was the CEO of Chesapeake Energy (CHK) - Get Report , the massive oil and natural gas company he co-founded with partner Tom Ward. From 1994 until 1997, CHK was among the most successful stocks on the U.S. market, gaining 274.9% in value. In 2008, McClendon became the highest-paid CEO among all S&P 500 companies, with a compensation package totaling $112 million.
When McClendon stepped down as CEO of Chesapeake in 2013, the company was the second-largest producer of natural gas in the U.S., behind Exxon Mobil.
Then things began to change for McClendon -- and for Chesapeake. The press began labeling him as "reckless." In 2015, the company filed a lawsuit against the former CEO, accusing him of misappropriating company data relating to available land for his new venture, American Energy Partners. A settlement was reached.
On Tuesday, a federal grand jury indicted McClendon for allegedly conspiring to rig the bidding process for oil and natural gas leases from 2007 until 2012, during his tenure with Chesapeake. On Wednesday, he was dead.
Along with its former executive's tumultuous final days, Chesapeake has been on a roller coaster of its own.
Although the entire oil and gas sector has been severely punished by plummeting energy prices during the past year, Chesapeake's stock has been teetering on the edge of collapse. From highs near $40 in 2014, the stock hit $1.59 in February. Last month, the stock fell by as much as 50% in one day when the company announced it had hired a law firm to help it restructure the more than $9.5 billion in debt that McClendon left the company with.
Today prosecutors moved to drop charges against McClendon. In return for its assistance in the indictment, Chesapeake is unlikely to face further investigation from the Justice Department. On the news, CHK shares are rocketing back up, by more than 26% at the time of writing.
However, this doesn't mean that Chesapeake is currently a bargain-basement value play back on its way up. The company's fundamentals are still just as rotten as ever. Its debt-to-capital ratio sits above 81%, compared with the collective ratio of its competitors, at 48.21%. Reflecting on this high level of debt, today analysts at Morningstar slapped a "CCC," or "high default risk," rating on the company.
Chesapeake has a net margin of nearly -130% compared with the industry average of -110%. Demand for oil and gas is still expected to be extremely weak this year, and Chesapeake's sales are projected to plunge by a further 23%. Things for this toxic stock aren't going to be getting any better anytime soon. The dire situation is faced by several other energy stocks, notably LinnEnergy.
We may never know what really caused McClendon to swerve across the highway and into the underpass. Suicides among high-profile executives are certainly not unique (remember the sad fate of J. Clifford Baxter, disgraced Enron executive). Although his beleaguered company, Chesapeake Energy might look like a buy right now, but it appears to be subject to as much dooming volatility as the man who founded it, and for that reason should be avoided.

If you want to see a list of the absolute worst stocks you can own right now, I urge you to take a look at this report called 29 Dangerous Stocks: Sell Now! Inside, you'll see a full list of the market's most overvalued stocks, and learn the process you can use to keep avoiding them in the future. Click here now for a copy.
This article is commentary by an independent contributor. At the time of publication, the author held no positions in the stocks mentioned.