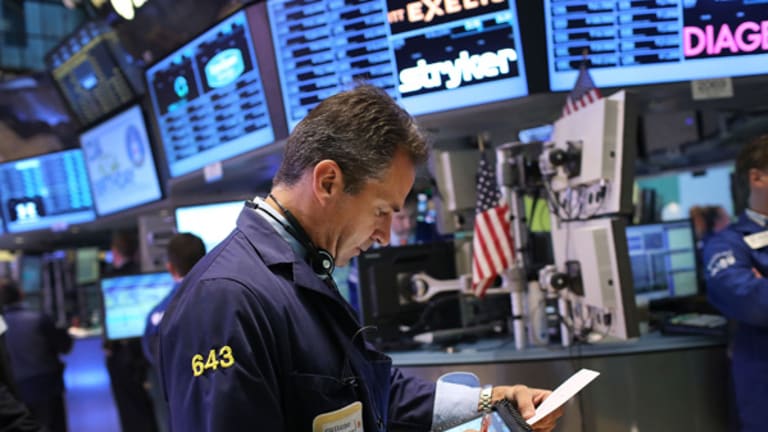 Will Chaos Spread Across Global Markets?
There is a specter of intense price volatility across major asset classes in markets around the world. The U.S. could be in for a rough ride ahead.
NEW YORK (TheStreet) -- There is a specter haunting U.S. markets, the specter of intense price volatility across major asset classes in markets around the world. The U.S. could be in for a rough ride ahead.
What causes me to say this? Let's start in Japan.
Last Thursday's troubles in Japan started when the nation's 10-year bond yield reached 0.88% on Wednesday.
As recently as April 5, the nation's 10-year bond yield was just over 0.31%. At that point, the Bank of Japan revved-up the printing press for the latest phase in the quantitative easing program at the core of Prime Minister Shinzo Abe's "Abenomics" agenda.
The jump in Japan's 10-year bond yield prompted a wave of jawboning from top Japanese officials including Bank of Japan Governor Haruhiko Kuroda, who attempted to reassure markets that JGB (Japanese government bond) yields were under the bank's control, adding that he did not believe that the recent rise in JGB yields was having a big impact on the economy.
He was joined by Chief Cabinet Secretary Yoshihide Suga, who attempted to blame the stock market swoon on China's weakening economy, which caused Chinese stock indices to sink on Thursday because the HSBC Flash Manufacturing PMI report for May fell into contractionary territory at 49.6 (a seven-month low) from 50.4 in April.
A third top official, Akira Amari, Japan's Minister of State for Economic Revitalization, insisted that there was "no need to be perturbed" because the Japanese economy has been "recovering soundly."
>>Also see: Google Likely to Replace Android With Chrome >>
In spite of the official reassurances, Japanese investors expressed a different opinion during the final three hours of Thursday's trading session on the Tokyo Stock Exchange. Within a period of less than 200 minutes, the Nikkei 225 Stock Average took a 7.32% nosedive to 14,483 while the yen strengthened to approximately 101.7 per dollar from 103.57 earlier in the session. The action continued this week on Monday with further losses before a slight recovery on Tuesday.
On our side of the Pacific, Chairman Ben Bernanke's testimony brought the chaos closer to home as markets reacted in a most negative way to the suggestion the
Federal Reserve's
punchbowl might be pulled away in the near future.
Even with last week's mild losses, U.S. markets remain in overbought territory and overextended as the
stands 11% above its 200-day moving average and current price, a level often associated with major stock market tops, and margin interest for April reached a record high of more than $380 billion. The previous record was set in July 2007.
However, in spite of this week's euphoric environment, short-term technical weakness has set in with MACD crossing into negative territory and RSI dropping just out of overbought levels.
Should we all be listening to Warren Buffett, the crafty old "Oracle of Omaha," and his well-known adage to buy when others are fearful and sell when others are greedy? In today's overheated environment, greed is certainly in control.
The chaos that started with gold last month has now spread to other asset classes as volatility and the smell of fear seems to be traveling across major asset classes including gold, real estate, Japan and the U.S. bond market as seen in the charts below:
This kind of price volatility across multiple asset classes demonstrates the global financial market's dependence on quantitative easing and how fragile the current situation really is. It also demonstrates the predicament in which the Federal Reserve finds itself: how to "taper" its quantitative easing programs without inserting major instability and the potential for severe declines across the multiple asset classes that have depended upon its easy money programs over the past several years.
>>Also see: Home Price Gains to Slow Down >>
However, with the VIX still below its long-term average, consumer confidence running at multi-year highs and the real estate market roaring back, investors across global financial markets still seem to be in denial over the possibility of a reduction to quantitative easing and continue to believe that the Fed "has their back."
Bottom line:
Expect intense price volatility to continue across major asset classes as Fed-induced bubbles grow increasingly vulnerable and uncertain. Should Japanese-style chaos reach our shores, the results could be unpredictable and violent, indeed. Wall Street Sector Selector remains in
, expecting a high-risk environment ahead.
Follow @WSSectorSelect
This article was written by an independent contributor, separate from TheStreet's regular news coverage.
John Nyaradi is Publisher of
, a financial media site focused on news, analysis, and information about Exchange Traded Funds (ETFs) and global financial and economic developments. John's investment articles have appeared in many online publications and he is a frequent guest on numerous financial media outlets. His book,
Super Sectors
, is published by John Wiley and Sons and included among the "Year's Top Investment Books" in the
2011 Stock Trader's Almanac
.