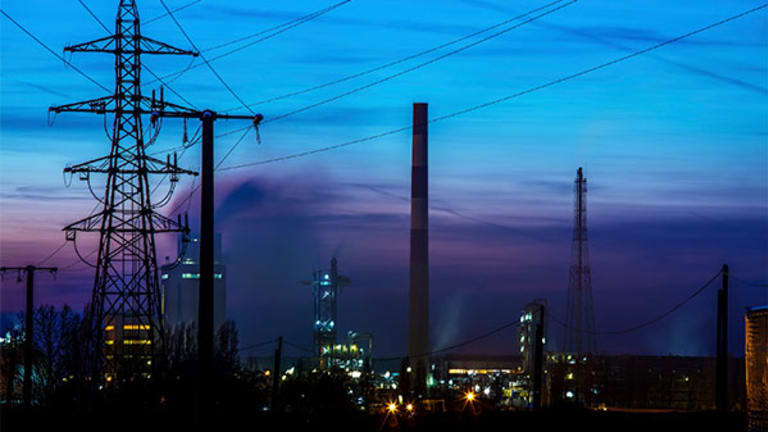 Will CenterPoint Become a Real Estate Investment Trust? Should It?
CenterPoint going REIT would have rewards but also carry some expensive risks, experts say. But with shareholders and activists looking at a sideways stock price, the pressure is on.
It's decision time for CenterPoint Energy Inc. (CNP) - Get CenterPoint Energy, Inc. (CNP) Stock Price, News, Buy or Sell Rating Report -- and the options aren't great.
The Houston-based electric utility could muddle along as it does now, with the stock not doing much; or, as an activist investor may want, it could try one or several risky financial maneuvers that could boost the stock price but come with their own set of complicated issues.
On December 11, activist investor Paul Singer and his Elliott Management Corp. revealed that it had bought an undisclosed stake in the company, implying that he wanted to effect change. CenterPoint said in February that it was considering a real estate investment trust for its electric utility Houston Electric and "strategic alternatives" for its half interest in natural gas pipeline business Enable Midstream Partners LP (OGE Energy Corp. owns the other half).
"The REIT structure has recently received significant attention in the regulated utility industry in Texas and could have substantial potential for CenterPoint," CEO Scott Prochazka said in the statement. "We will continue to study the possibilities and monitor developments, including related regulatory proceedings, and will present any findings to our shareholders at the appropriate time."
If the company could pull off one or either of these moves, shareholders could face a tax bill in the present but lowered taxes and potentially higher dividends in the future. But they both come with risks.
More commonly known as REITs, real estate investment trusts typically hold businesses that own rent-producing real estate, including apartment buildings, shopping centers and office space. REITs don't pay taxes because they dole out 90% of their taxable income to shareholders in the form of dividends, which are often high.
In a report out this week, CreditSights analysts Andy DeVries and Greg Jones calculate a 29% upside for CenterPoint's shares following Oncor into a REIT structure. But there are several potential issues with the approach.
The first problem is, utilities don't usually become REITs.
But last month, when the Public Utility Commission of Texas (PUCT) approved the $18 billion sale of bankrupt Energy Future Holdings Corp.'s Oncor Electric Delivery Co. LLC to a group of investors led by the billionaire Ray Hunt's Hunt Consolidated Inc., it gave further encouragement to CenterPoint to go REIT.
The Internal Revenue Service still needs to sign off on Oncor's use of a REIT structure and the PUCT said a REIT-ed Oncor will have to share some of its tax savings with ratepayers, which will be dealt with at the company's next rate case at the end of this year.
In other words, the risk here for CenterPoint is that regulators could decide to take away the REIT distinction for utilities, or that the benefit to shareholders won't be as large.
Tax expert Robert Willens said CenterPoint will have a more difficult time than Oncor if it converts to a REIT, as federal law enacted in December prohibited companies from doing a tax-free spin-off to create an "opco/propco" pairing (Oncor was grandfathered in). "That would be a major deterrent, you would think, to CenterPoint's REIT aspirations," he said. "CenterPoint's REIT aspirations would be more costly than Oncor's."
Another flaw with the strategy, said Philip Adams, an analyst at bond research firm Gimme Credit LLC, is that with REITs, distribution rates make them reliant on external capital sources to finance growth, much like master limited partnerships (MLPs).
"While this works fine when the debt and equity markets are cooperating, the structure becomes a problem when either market is less receptive," he said. "I would view the bonds of a 'growth REIT' utility less favorably than those of a C-corp. subsidiary, all other factors equal."

Another issue: CenterPoint shareholders have a pretty good proxy for how the market might react, given all these factors, and it hasn't looked good so far.
InfraReit Inc. (HIFR) - Get InfraREIT, Inc. Report -- part of Hunt Consolidated -- was the first-ever initial public offering of a REIT in the utility sector. It boasts 10,500 miles of electricity distribution lines and related assets in Texas and a high dividend yield of 4.5%. It went public in January of 2015 at $23 per share, above its expected range of $19 to $21 per share, raising around $530 million.
But InfraReit's stock hasn't performed so well since then, partly from being tarred with the same brush as other oil and gas and utility companies during the industry downturn as well as regulatory uncertainty over REIT structures for utilities. On Thursday its stock closed at $16.59, nearly 52% below its 52-week high of $34.47 and almost 28% off its offering price. Last month its shares were downgraded by Macquarie to neutral from outperform and the investment bank lowered its price target to $14 per share from $21.
That's not a road CenterPoint shareholders would want to go down. One last problem for the maneuver is that its bondholders might not like it either. In the CreditSights report cited above, the authors warn the move would pose some risk for parent-level bondholders, which make up $1.4 billion, or 23%, of the company's $6 billion in debt, excluding amortizing securitization bonds. 
Moving on to the Enable spinoff, the second big option for CenterPoint to unlock value, the authors of the CreditSights report think this move is highly unlikely because CenterPoint is a corporation, whose dividends are 1099 income for tax purposes, while Enable is an MLP, where dividends are much more complex K1 income for tax purposes. "We have never seen an MLP spun off to holders of common stock in a corporation," they said.
The analysts also think a sale of Enable is unlikely, as it has significant exposure to commodity prices, which most MLP's or private equity firms aren't looking to take on.
Gimme Credit's Adams said he's not a fan of utilities converting to REITs, despite the "tax avoidance" appeal and the desire to take more dividends out of a utility than bondholders "and maybe regulators" should like. The exception is if the utility has minimal growth prospects -- i.e., is in parts of the country with the slowest overall economic rates (he resisted naming any such companies).
However, he perceives Texas "wires" utilities as having above-average growth prospects, so he doesn't believe a REIT is an appropriate structure for CenterPoint. "I hope CNP [CenterPoint] decides against conversion and that no other utilities are contemplating this move," he said.
Whatever CenterPoint does -- or doesn't do -- the options are complicated, risky and may not pay off. Activist investors and other shareholders alike, however, may, in the end, be happier with some action to try to push the stock higher, rather than none.