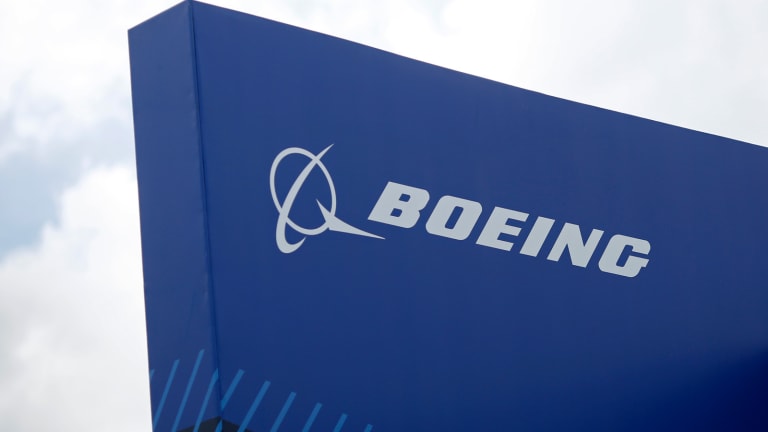 Publish date:
Will Boeing Suffer From New Foreign Competition? Don't Bet on It
A Russian company just jumped into the airliner business. Here's what it means for the Chicago-based aerospace giant.
A Russian company just jumped into the airliner business. Here's what it means for the Chicago-based aerospace giant.
When you're on the hunt for winning investments, it always pays to keep an eye on what the greats are up to.
That includes one Warren Buffett, who is well known for investing in companies with economic moats, or advantages that are tough for competitors to match.
Boeing (BA) - Get Boeing Company Report is a good example. Buffett's Berkshire Hathaway doesn't hold the stock, but Boeing's airliner business, which supplies most of its revenue, certainly lays claim to a strong moat, based on its 45% share of the global market and 100 years of expertise.
Could new competitors be about to drop a bridge over Boeing's moat? If what we saw earlier this week in Russia is any indication, the answer seems to be yes. But a careful analysis shows that it would be foolish for investors to overstate this threat to the American-based blue-chip.
In a flashy ceremony in Siberia, Russia's Irkutrolled out its newest entry in the fast-growing single-aisle aircraft market, the MC-21. Made of lightweight composite materials, the plane comes in two variants, one that seats 132 to 165 passengers, and one designed for 165 to 211. Deliveries are slated to start in 2018.
That puts it in direct competition with Boeing's new single-aisle 737 MAX and the A320neo, from Airbus. Irkut has also said it will undercut the two market leaders by 15% to 20% on price.
And Irkut isn't the only new player: Canada's Bombardier plansto deliver its first plane in the 100- to 160-passenger category, the CSeries, in about one month. Before the CSeries, Bombardier had focused on smaller jets.
For Boeing, the timing is hardly auspicious. In March, the Chicago-based aerospace giant announced that it would eliminate 4,000 jobs to better compete with Airbus on price.
But don't impulsively sell your Boeing shares, because both of these competitors still have a long way to go to close in on their American rival. Indeed, Bombardier is in the midst of a financial crisis and Russian aerospace manufacturers are notorious for inefficiencies and safety shortcomings.
Their order books illustrate just how wide that gap is. Irkut says it now has 175 firm commitments for the MC-21, but most come from in and around Russia. Bombardier's doing better, with roughly 288 firm commitments for the CSeries, including a 75-plane order from Delta Air Lines.
Now consider Boeing, which is sitting on 3,100 firm orders for the 737 MAX alone. The plane will also be out at least a year before the MC-21 and hot on the heels of the CSeries, with the company set to start deliveries with its launch customer, Southwest Airlines, in early 2017.
Even if the new competitors do gain traction, there's plenty of room for them: Thanks to rising passenger demand and the need to replace old gas guzzlers, Boeing projects 38,000 new aircraft will be needed by 2034, with the vast majority (26,500) being single-aisle planes such as the MAX, A320, CSeries and MC-21.
Meantime, the real battle remains between Boeing and Airbus, and Boeing is turning the tables on its European competitor: Last year, Airbus outsold Boeing by a significant margin, winning 1,036 firm orders to 768 (though Boeing topped Airbus in deliveries).
But momentum has shifted, with Boeing winning 268 new orders from January to May, compared with 162 for Airbus. And the company is eyeing two other opportunities to pad its lead over the European plane maker before the year is out.
One comes from a surprising place. That's Iran, where the recent nuclear deal has handed national carrier IranAir a chance to rebuild its geriatric fleet after years of sanctions. IranAir has already signed a $27 billion, 118-plane deal with Airbus and seems keen to do the same with Boeing.
Plenty of political roadblocks will need to be cleared before any deal gets done, but the Iranian opportunity is significant. According to the country's minister of roads and urban development, Iran needs 400 midrange aircraft and 100 short-range planes.
The other opportunity comes at Airbus's expense, as Qatar Airways recently decided to cancel the first jet in its 50-plane order for the A320neo out of frustration over delivery delays. The airline has threatened to cancel more orders and could buy 737s instead, The Wall Street Journalreported.
So don't let the competition scare you off. Boeing is more than holding its own and would make a solid addition to any portfolio.
The stock boasts a reasonable price-to-earnings ratio of 15.7, based on estimated earnings for this year. That's a discount to its industry, which has a P/E of 16.8. Boeing's 3.3% dividend yield is also well above the S&P 500 average. To top it off, analysts see strong gains ahead: the average 12-month price target on the stock is $148.00, 12% higher than current levels.
---
As we've just shown, Boeing is a great buy for big gains and steady income, but we've found a way for you to make even bigger and more consistent profits with much less risk. In fact, you can make a guaranteed $67,548 a year using this simple, proven method, and it will only take you nine minutes a week! Click here to get the full story now.
This article is commentary by an independent contributor. At the time of publication, the author held no positions in the stocks mentioned.