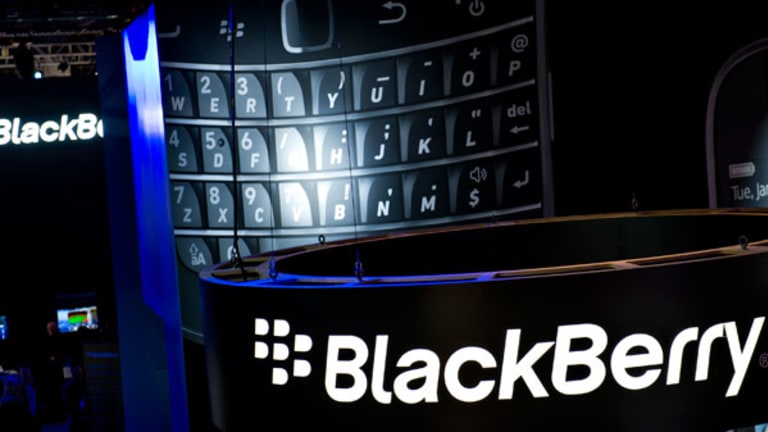 Will BlackBerry Ripen in 2014?
BlackBerry's fundamentals still appear bleak and shares were hammered in 2013. But that doesn't mean it can't rebound in 2014.
NEW YORK (TheStreet) -- After a disastrous 2013, where shares of BlackBerry undefined lost nearly 40%, do investors stand a chance with the stock in the coming year? 
All throughout last year, I was completely bearish on the stock. Even the most recent earnings report didn't do much to change my mind. BlackBerry reported a loss of 67 cents per share for the third quarter, 24 cents worse than analysts had expected. Sales of $1.2 billion also missed estimates, with analysts looking for $1.58 billion. 
CEO John Chen -- a much better leader than former CEO Thorsten Heins -- said he doesn't expect the company to be profitable until 2016. 
2016?  That sounds terrible! Average analysts estimates expect BlackBerry stock to lose $1.82 in fiscal 2014 and $1.37 in fiscal 2015, so I'm not exactly convinced that the company will be out of the red by 2016. 
On this report, I expected shares to once again open the trading session lower. And they did, at first. But it wasn't long before the stock was trading higher by double digit percentage points, ultimately ending the session 14% higher than its opening price of $6.34.
2016 is far too long a wait for me to be optimistic about a turnaround. Think about it. It's Jan. 6, 2014. BlackBerry investors have to wait all through 2014 and 2015, before having a chance -- not a guarantee -- that this Chen fellow can turn the company profitable by fiscal 2016, which doesn't begin until March.
So no thanks. I get that the company has solid penetration in emerging markets. But that edge is slowly dulling from the flurry of cheap Android phones. And don't even get me started on the monetization of BlackBerry Messenger. If that's what you're buying the stock for, then cancel your order tickets. 
BBM, as it's called, will not be what carries BlackBerry out of the market's "shunned stocks" drawer. I honestly don't know how BlackBerry will emerge and regain profitability. There will likely be a lot of efficiency improvements and cost cutting involved though. 
Nonetheless, the whole question circles back to one question. Does BlackBerry have any life in 2014? Surprisingly, the answer isn't no. 

Fundamentally, there doesn't seem to be a reason for it to do well. Perhaps this recent rally in the stock price is just another opportunity for shorts to reload and drive it back into the ground. 
But because of the "crowd" -- more formally known as market participants -- shares of BlackBerry could enjoy a solid 2014 based on renewed optimism about the company's chance of survival.
As of Dec. 13, there were 143.82 million shares sold short. That has likely decreased since the rapid price rise following the third-quarter earnings results on Dec. 20. 
But if the number of shorts has remained high, it actually increases the likelihood that shares could continue higher. This forces more and more short-sellers to cover their positions by buying back stock, adding to the upward pressure. 
On Dec. 20, when third quarter earnings were reported, over 139 million shares of BlackBerry traded hands. That is the third highest total for the stock in 2013. The stock posted a huge reversal and the volume could be a sign of a unified change in opinion. 
That day felt like the tides had turned. It felt like longs reasserted themselves and decided that Chen had finally said what they have been waiting to hear. While the real turnaround might be a while, it feels like investors are ready to wait.
Presently, the stock has filled its gap from November and is currently finding resistance around the $7.70 level. Above that, $10.50 could be a target sometime in 2014. Take a look at the chart, courtesy of Stockcharts.com: 

It doesn't matter whether the fundamentals look any brighter. The same argument can be made when looking at a stock that continues to go higher and higher, despite the company's inability to produce a profit. 
It all boils down to the question, What do investors think? How does the market feel? Because if they suddenly change their minds and decide that it's time to buy, it doesn't matter if it makes fundamental sense. 
I think BlackBerry deserves to be a $6 stock, based on its business operations. 
But when investor's emotions are involved, I think it could hit $9 or higher. This is based on investor sentiment, with suddenly bullish investors adding to, or creating new, positions. 
At the time of publication, the author held no positions in any of the stocks mentioned.
-- Written by Bret Kenwell in Petoskey, Mich.
Bret Kenwell currently writes, blogs and also contributes to Robert Weinstein's Weekly Options Newsletter. Focuses on short-to-intermediate-term trading opportunities that can be exposed via options. He prefers to use debit trades on momentum setups and credit trades on support/resistance setups. He also focuses on building long-term wealth by searching for consistent, quality dividend paying companies and long-term growth companies. He considers himself the surfer, not the wave, in relation to the market and himself. He has no allegiance to either the bull side or the bear side.