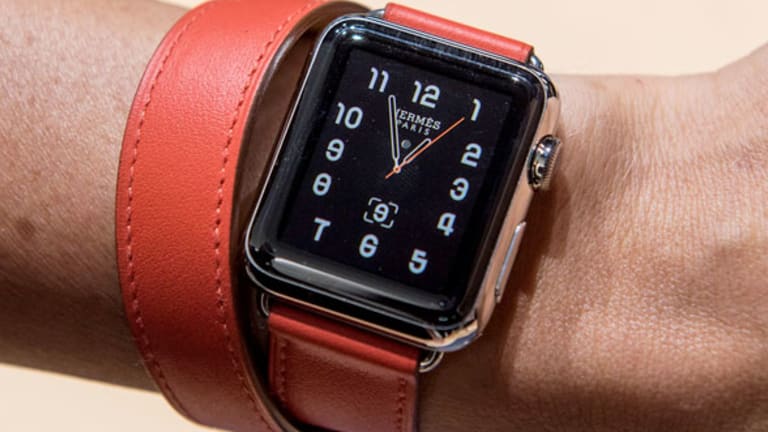 Publish date:
Apple Looks to Emerging Markets, India, China for Growth
Apple Released Record profits of 18.4 Billion Tuesday. Q1 saw the best ever conversion rate from Android to iPhone - There are now over 1 billion active Apple Devices.
Apple Released Record profits of 18.4 Billion Tuesday. Q1 saw the best ever conversion rate from Android to iPhone - There are now over 1 billion active Apple Devices.
After solid if unspectacular earnings from Apple this week, where does the company go for growth? 
Apple (AAPL) - Get Report reported its first-quarter earnings after market close Tuesday. The company had earnings of $18.4 billion on $75.9 billion revenue, beating consensus projections of $18.22 billion in profit but falling short of a projected $76.67 billion in revenue, according to analysts polled by Thomson Reuters.
There was lots of good news to go around:
Apple saw its best quarterly iPhone sales ever with 74.78 Million Units sold. There are now over 1 billion active Apple devices in use. The first quarter also saw the best ever conversion rate from Android to iPhone. Apple also had its best quarter for Apple Watch and Apple TV Sales. Apple TV expects to expand its streaming capabilities with its own app store, that offers over 3,600 applications from games to entertainment. 
Apple Pay is  gaining significant traction and has announced its launch in Canada and Australia. Apple Pay has seen 10-times higher growth rate in the second half of 2015, and has partnered with Exxon Mobile to deliver its services to over five million gas stations. Apple Music has also recorded 10 million paying subscribers in the four months after Apple Music's inaugural three month free trial had lapsed.
What's more, Apple possesses the an extremely solid balance sheet with over $216 Billion in cash and equivalents. This equates to $39 per diluted share and the company plans to be very active in U.S. and International debt markets in order to deliver capital return activities. Apple's Buyback Spending Was 29.6% of Net Income in 3Q15. 
Yet, the stock was down several points in after-hours trading. What gives? Investors are wondering where growth will come from. 
data by
Currency headwinds remain a major concern for the company as about two-thirds of all revenue now originates outside of the U.S. Some 93% of the company's assets are held overseas. Apple expects a 400 basis point decline in the second quarter due to currency factors.  
Emerging Markets continue to be a key focus for the company. India and China present big growth opportunities, according to the company. Despite the turmoil in China, Apple is not wavering from its investment strategy in the region.
"Apple continues to invest without pause, we very much believe in investing in downturns, much like the one we are going through. We are fortunately strong enough to continue investing and we believe its in Apple's best interest to do so," said Apple CEO Tim Cook.
There are currently 28 Apple stores in China, and expects open 12 new stores in 2016. "We remain very bullish on China and don't subscribe to the doom and gloom predictions" that we are seeing recently, said Cook.
The company is seeing a huge opportunity in these emerging markets that still have little to no LTE connectivity. In China, LTE penetration was less than a quarter of devices as of last October, meaning there is a massive amount of users still using 3G devices. This presents a big upgrade opportunity for Apple in the future.
India is currently the third-largest smartphone market and has a very young demographic, with half the population under the age of 25. "The demographics are incredibly great for a consumer brand," according to Cook.
That's what you can expect from the long-term outlook. As for the near future, Apple offered light guidance for the second quarter, as many consumers are preparing for the iPhone 7 launch, expected in the fall. 
"We do think iPhone units will decline in the upcoming quarter. Second quarter is the toughest compare, plus we are in an environment that is dramatically different from a macro economic view," said Cook.
You see Jim Cramer on TV. Now, see where he invests his money and why Apple stock is a core holding of his multi-million dollar portfolio. Want to be alerted before Jim Cramer buys or sells AAPL? Learn more now.
This article is commentary by an independent contributor. At the time of publication, the author held no positions in the stocks mentioned.