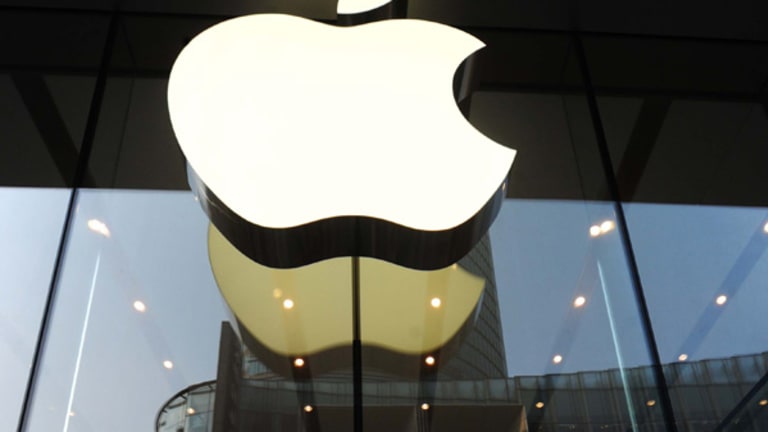 Will Apple or Microsoft Be Under More Pressure?
The weekend and Sandy-inspired halt would seem to leave both Apple and Microsoft under pressure. Which is in more trouble?
The weekend and Sandy-inspired halt would seem to leave both Apple and Microsoft under pressure. Which is in more trouble?
NEW YORK (TheStreet) -- Owing to events over the weekend and while markets were closed, two big tech bellwethers will be under pressure when trading opens as expected Wednesday: Apple (AAPL) - Get Report and Microsoft (MSFT) - Get Report.
What investors, as opposed to traders, should be asking is whether each company deserves the punishment.
First, let's set the scene.
Microsoft's problem is the Windows 8 launch. The words
John Carter
come to mind. If you're if a certain age, think
Ishtar
. The company was laughed at -- not with, at -- over the weekend.
CEO Steve Ballmer's impassioned speech in defense of his company's creation played to a mostly silent hall, and when it turned out many "in line" at Microsoft stores were employees, as
Geekwire
reported, the story line was set.
Apple seems to be in turmoil. Senior Vice President for iOS Scott Forstall was shown the door,
Gigaom.com
writes, as was John Browett, head of retail, adds the blog
Cult of Mac
.
Forstall took the fall for Siri and Apple Maps,
"a huge disaster" writes Gdgt. He was also considered abrasive, an empire builder.
The Guardian
writes that Browett had
lost the confidence of his troops at the Apple Stores.
In the short run, I think Microsoft will fall harder. Remember, $1 off a $28 stock is $8.4 billion, while $1 off Apple's $604 stock is less than $1 billion. Microsoft's rise came in the 1990s when stock splitting was in vogue, while Apple's came in the last decade when it was not.
Because it has been better for investors over the last decade, Apple has more fans in the trading pits than Microsoft. There is more sentiment to catch dips. But I honestly think that, right now, Apple has a bigger problem.
While Apple dominates devices and is taking bigger shares of what was the desktop market, there's not much beyond that niche. Sure, its iTunes store is
Wal-Mart
(WMT) - Get Report
to everyone else's
Family Dollar
(FDO)
, but at best that's mildly accretive to earnings.
How quickly will fans of the iPhone, iPad or even iPod upgrade? These are sturdy devices, running the latest software Apple can push to them. Apple can expect more volume sales in education and the enterprise, but is it staffed up to handle those kinds of contracts? No, it's not.
Still, Apple has enough cash to buy
Amazon.com
(AMZN) - Get Report
outright. Its current dividend comes to over $10 per share, per year. How bad can things be?
On the surface, Microsoft's problems look more serious. Its consumer brand is weak. This is hurting its software developers and hardware makers. Even
Intel
(INTC) - Get Report
is down 15% in value over the last five years because of its close Microsoft ties, while rival
ARM Holdings
(ARMH)
, whose designs are used by Apple and other device makers, has doubled.
Still, Microsoft has areas of strength. Its Windows Server is
the Apple of the server world not least because of past investments in security,
eWeek
writes. Its Azure cloud is quietly moving ahead, adding new clients
as
Daily Finance
notes, and buying new capabilities like StorSimple,
as
Cloud Times
writes.
Microsoft has also built strong brands in XBox and Skype, which are being fully integrated in Windows 8, and the Bing search engine (which
Yahoo!
(YHOO)
uses) will be embedded in both the operating system and Internet Explorer 10, which remains a contender in the browser wars.
Microsoft, in short, is a more diverse company than Apple, with a lot more interesting things going on for an ambitious young executive, as opposed to the top-down nature of Apple, where fewer people give orders and more people just take them.
Over the longer run, I think Microsoft grows faster from here than Apple because there are more directions in which it can grow. I think it finds a new generation of leadership and a year from now will be seen to be on the right path.
There's a reason why Microsoft still trades at an earnings multiple of 15.24 while Apple is at 13.68 as trading opens. Investment, as a long game, favors the diversified.
At the time of publication, the author had positions in INTC, ARMH, MSFT and AAPL.
This article is commentary by an independent contributor, separate from TheStreet's regular news coverage.