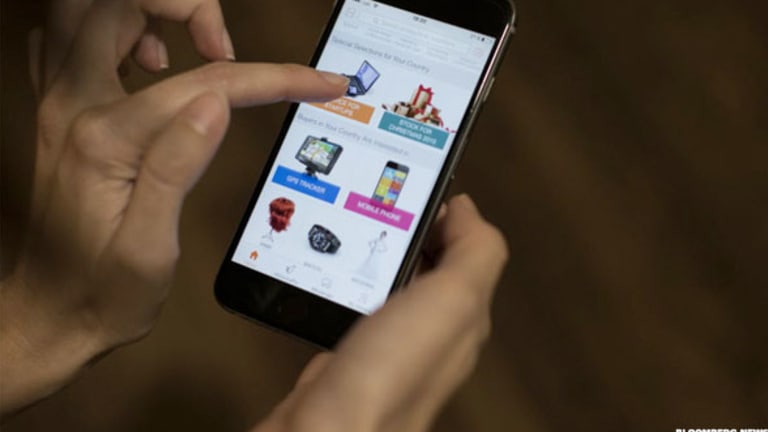 Will Alibaba and Other Online Retailer Earnings Deliver? Here Are 4 Stocks to Watch
A number of online retailers report earnings on May 5th including Chinese e-commerce giant Alibaba. Will these companies deliver this earnings season?
Online retail earnings season is upon us and a number of companies in the EQM Online Retail Index (IBUY) - Get Amplify Online Retail ETF Report are reporting on Thursday, May 5, including Chinese e-commerce giant Alibaba Group Holdings (BABA) - Get Alibaba Group Holding Ltd. Report . The Index is tracked as an ETF by Amplify ETFs.
While growth has remained challenging for traditional brick and mortar retailers, online commerce should continue to gain market share and expand globally. Competitive pricing, shopping convenience, greater product selection, and rapid delivery have made online commerce a disruptive technology that is here to stay.
One of the key drivers contributing to e-commerce growth is expanding Internet and mobile penetration, enabling more consumers to shop online anywhere and anytime. Beyond this earnings quarter, future technological advancements in electronic payment, delivery, and virtual reality are expected to further enhance the online shopping experience, driving greater even expansion and growth of this investment theme.
Further, these earnings results may hold important clues about the overall health of the global consumer and the resilience and pace of online commerce growth. Mobile growth in particular is becoming an ever increasing component of online retail sales as tablets, larger smartphones, and secure payment processing are driving more m-commerce (mobile commercie) transactions.
Based on data from eMarketer, U.S. retail m-commerce sales have grown to nearly a quarter of retail e-commerce sales. In China, that percentage is even more significant, representing half of all retail e-commerce. We'll learn a lot more tomorrow when the following four companies report earnings. 
1. Alibaba Group Holdings
Alibaba reports on May 5, before the market opens. Increased rural demand and mobile shopping expected to be key growth drivers this quarter.
Alibaba is China's biggest online commerce company, dominating 80% of the Chinese online shopping market, and is the fastest growing e-commerce company in the world. Its three main sites: Taobao, Tmall, and Alibaba.com have millions of users and host millions of merchants and businesses.
Alibaba is reporting its fourth quarter results and is expected to report earnings of $1.37 billion, an amount more than triple what it earned a year ago. Revenues are expected to have risen 33% on robust sales fueled by strong mobile growth. Obviously China's economic slowdown is a cause for concern, but online shopping has remained resilient in the first quarter, according to investment bank Nomura. Given that macro weakness earlier in the year clouded earnings visibility, guidance is likely conservative. The company's gross merchandise value or GMV, an important metric used to determine the growth of e-commerce companies, just hit record levels in March (3 trillion yuan, or $460 billion).
Investors will also be eyeing other potential areas of growth, such as rural and cross-border expansion. Online buyers in rural areas (rural GMV) is expected to grow 15% this year versus more muted growth of 6%-to-9% growth in urban areas. Alibaba is also ramping up its cross-border commerce efforts with Tmall Global. Its international brands now include Costco, Macy's, and Woolworth's.
Finally, investors will be interested in Alibaba's future acquisition plans. The company has been expanding in e-commerce, media and entertainment. Globalization continues to be an important component of the company's strategy for future growth.
Costco is a holding in Jim Cramer's Action Alerts PLUS Charitable Trust Portfolio. See how Cramer rates the stock here. Want to be alerted before Cramer buys or sells COST? Learn more now.
2. Blue Nile (NILE)
Blue Nile reports on May 5, before the market opens. The company is expecting less currency headwind and improved global jewelry demand.
Blue Nile is an online retailer of diamonds and jewelry. It products are offered in 40 countries and territories around the world. The company beat estimates by a penny last quarter, but missed revenues and guided down. Last quarter, the strong dollar negatively impacted the sales of higher ticket items. The stock tumbled on those results. Brick and mortar jewelry giant Tiffany's experienced similar issues last quarter. As currency headwind have abated recently, investors will be looking for signs of restored sales growth in the global jewelry market.
3. MercadoLibre (MELI) - Get MercadoLibre, Inc. Report
MercadoLibre reports on May 5, after the market closes. The company's stock has rebounded on better Brazil prospects, but foreign exchange remains an earnings headwind.
MercadoLibre has recently been trading in tandem with Brazil, where rebounding commodity prices and the likely impeachment of President Dilma Rousseff are fueling hopes of an economic turnaround. But foreign currency headwinds remain a heavy drag on USD results. In Q4 for example, YOY revenue growth of 69% only increased 12% in US dollar terms. Given that MercadoLibre transacts in a lot of different Latin American currencies, this is expected to remain an issue this quarter as well.
Ex-currency issues, MercadoLibre's core business continues to gain market share. E-commerce marketplace gorillas eBay (EBAY), who owns one-fifth of MercadoLibre, and Amazon (AMZN) still lack much of a market presence in Latin America given MercadoLibre's already dominant market position in the region. Investors will also be focused on MercadoLibre's growing payment processing business, MercadoPago, the Latin American version of PayPal (PYPL). This business has the potential to eventually grow even larger than its marketplace business.
4. FTD Companies (FTD)
FTD Companies reports on May 5, after the market closes. 
FTD Companies saw its stock rise 13% in March after posting stronger-than-expected earnings results last quarter. Although the company's core floral business has experienced lackluster growth, it recent acquisition of Provide Commerce is returning the company to profitability. Other growth initiatives include a new flower site called Roses.com and a strategic partnership with Hallmark Cards. This quarter will not only be a good measure of the health of the consumer, but also how well FTD's acquisition and new strategic directions are reaccelerating the company's growth. 
Disclosure: Alibaba, Blue Nile, MercadoLibre, FTD Companies, eBay, Amazon, and PayPal are all members of the EQM Online Retail Index (IBUYXT). The opinions expressed above should not be construed as investment advice. It is not possible to invest in an index. This article is not tailored to specific investment objectives. Reliance on this information for the purpose of buying the securities to which this information relates may expose a person to significant risk. The information contained in this article is not intended to make any offer, inducement, invitation or commitment to purchase, subscribe to, provide or sell any securities, service or product or to provide any recommendations on which one should rely for financial, securities, investment or other advice or to take any decision. Readers are encouraged to seek individual advice from their personal, financial, legal and other advisers before making any investment or financial decisions or purchasing any financial, securities or investment related service or product. Information provided, whether charts or any other statements regarding market, real estate or other financial information, is obtained from sources, which we and our suppliers believe reliable, but we do not warrant or guarantee the timeliness or accuracy of this information. Nothing in this post should be interpreted to state or imply that past results are an indication of future performance. The author is long IBUY.
Jane Edmondson is a registered investment advisor serving both private clients and other investment advisors. Her firm, EQM Capital LLC, is headquartered in San Diego, California. She has more than 20 years of financial experience in the investment industry and worked for more than 12 years as in Institutional Investment Analyst and Portfolio Manager before founding her own firm in 2013. She holds an MBA in Finance from San Diego State University and a BA degree in English from UC Irvine.