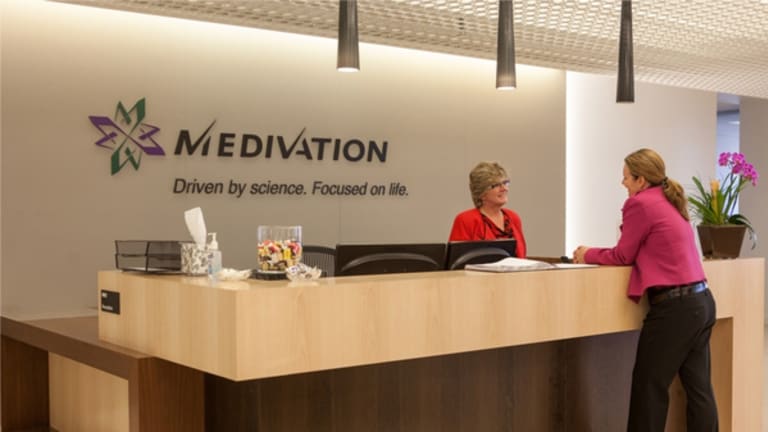 Will a Third Medivation Suitor Present Itself?
Pfizer reportedly made a bid for the cancer drug maker, rivaling Sanofi's $9.3 billion offer, but analysts say another company might be the best fit.
With a bidding war unfolding between Pfizer (PFE) - Get Pfizer Inc. Report and Sanofi (SNY) - Get Sanofi Report for cancer drug research company Medivation (MDVN) , analysts say that the company may be an even better fit with a lesser-known Japanese company that it already has a relationship with.
"I think even though Pfizer probably is putting a bit more emphasis on oncology lately, it's probably a better fit for Sanofi, but the best fit is with [Japanese pharmaceutical company] Astellas," David Nierengarten of Leerink Partners said. Astellas (ALPMY) already has a partnership with Medivation on Medivation's lead drug, Xtandi, which is used to treat prostate cancer. It is unclear though if they have the financial wherewithal to complete a $9 billion-plus deal.
According to Reuters News, San Francisco-based Medivation has yet to decide whether it will consider a new offer from Pfizer, which rivals Sanofi's $9.3 billion cash offer from Sanofi that was announced on April 28.
"Medivation's cancer drug Xtandi is a very well positioned drug," said Morningstar analyst Damien Conover. "I think it's a great asset that would work well within both Pfizer and Sanofi's current line up."
Medivation shares ticked up $1.42, or about 2.5%, midday Wednesday to $58.94 per share. The current trading price is about 4.2% above Sanofi's initial bid. The per share value of Pfizer's bid was not reported.
Nierengarten has a $59 per share price target on stock but said his numbers indicate that a fair value could be up to $63 per share. He said an auction could drive up the price even further.
"The asset fits really well with both of them... Both have a lot of cash and both need new products," Conover added.
Rumors were swirling prior to last week that Medivation could be scooped up. The Deal, a sister company of TheStreet, identified the company as a target for takeover earlier in April.
However, Nierengarten added, if Medivation begins trading above $65, the chances of an acquisition decrease.
According to Nierengarten, Medivation's current share price may be too high for traditional biotech investors, who typically hope to see a 10% return over six to 12 months. However, someone who is a merger arbitrage investor may be interested in buying following news of this second bid.
Analysts say the biotech sector is ripe for acquisition right now. Nierengarten noted that Anacor Pharmaceuticals (ANAC) could be a target similar to Medivation that is ripe for takeover because it only has one drug in its pipeline, making it a less risky buy.
On the other end of the spectrum, companies that could fit in more to a big pharmaceutical company's research and development team would likely be those that focus on antibodies, like Macrogenics (MGNX) - Get MacroGenics, Inc. Report and Xencor (XNCR) - Get Xencor, Inc. Report .
Astellas, which has a market cap of $28.71 billion, was trading at $13.36 Wednesday morning.
Pfizer declined comment on the bid, calling it speculation. Astellas Pharma also declined comment on whether it would be interested in potential bidding for Medivation.
Both Sanofi and Medivation could not be reached for comment Wednesday. Medivation will host a Q1 earnings web conference after market's close on May 5.