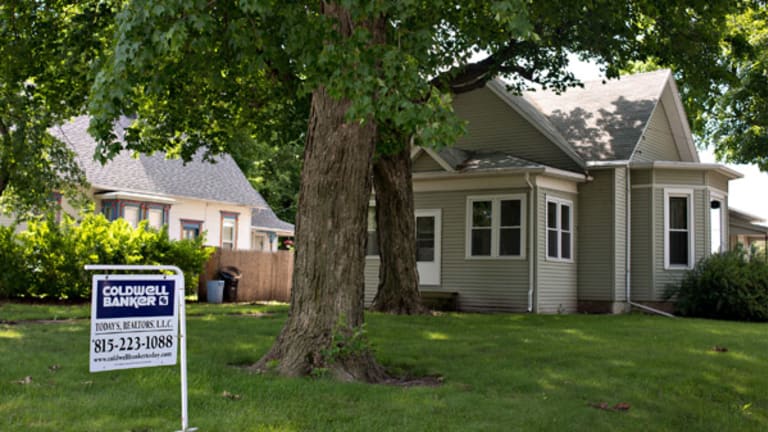 Will a Housing Slowdown Hurt Autos?
Fears over rising mortgage rates have weighed on mortgage applications and homebuilding stocks. Will the automakers be next?
NEW YORK (TheStreet) -- When housing was surging into 2013, it provided a much needed boost to the economy. As housing improved, jobs in the field increased, contractors expanded their crews, and consumer confidence grew brighter.
The spillover effect was also
, where households finally had enough money to justify a new car and workers were able to buy new trucks for their businesses. As automakers improved on the back of solid housing demand, will a slide in housing be their demise?
Some serious questions have been raised about whether the
Federal Reserve
would cripple the housing market, as a byproduct of reducing quantitative easing, as mortgage rates have been rising.
Now obviously the Fed won't intentionally crumble one of the few pillars holding up the still fragile economy. After all, the Fed put years of work and trillions of dollars into boosting the economy. It's not going to blow all of that now. But is there any way for the Fed to unwind the stimulus program,
without
shooting itself in the foot?
In early May, the 30-year mortgage rate was 3.35%. In July, it reached 4.51%. Though that rate would have been a godsend a few years ago, it was an unexpected and rapid move higher in today's market.
The housing market is finally starting to pull itself out of the hole, and we don't want to watch it fall again. We've already seen stocks like
PulteGroup
(PHM) - Get PulteGroup Inc. Report
and
D.R. Horton
(DHI) - Get D.R. Horton Inc. Report
fall 36.3% and 35.2% from their May highs.
Even more broadly, the
SPDR Homebuilders ETF
(XHB) - Get SPDR S&P Homebuilders ETF Report
has fallen 12.5% from its high in May. Assuming mortgage rates stay above 4.5%, will this be only a pause for housing demand, or will it actually crimp it? Also, when the Fed actually tapers, rather than simply talks about tapering, will rates shoot even higher? If so, by how much?
Although the current rates aren't unbearable from a historical context, the effect has been felt. New home sales tumbled to 394,000 in July, the lowest reading in nine months, missing estimates of 490,000.
Although indicators have been mixed, one is especially important: mortgage applications. That data point alone is like a consumer "buy-or-sell" barometer. When mortgage rates spike higher or swoon lower, it's the mortgage applications number that tells us where the demand is.
When rates go higher, demand would normally drop. At times, the drop may mean very little. But when mortgage rates rip higher like they have now, by over 100 basis points, the market has spoken. Rates are too high, and few potential homeowners are chasing the ship, so to say, before rates go higher yet again, like many "experts" had previously thought.
So how does this affect automakers? Well, the boost in auto sales lagged the housing market, before really playing catch up in the spring of this year. I'd expect for it to be the same coming down -- assuming the housing market fails to regain its upward momentum.
Maybe investors will be ahead of the ball, sell too early, wonder why companies like
Ford
(F) - Get Ford Motor Company Report
and
General Motors
(GM) - Get General Motors Company Report
haven't gone down yet, and end up buying back their soon-to-go-down-again shares.
Perhaps, investors won't even tie the two sectors together and get completely blindsided by a huge sales miss or earnings whiff. After all, it will likely take a few quarters for the effects to be felt. I'm not bearish by any means, especially on autos. In fact, I just wrote about
Ford and am long.
But housing is the backbone of the economic recovery. Its spillover effect is enormous. It's not just a few corporations that do good and pay well. It's millions of sales people, construction workers, tradesmen, mortgage brokers and so on, who feel the wealth effect.
Without them, there's no consumer confidence. There's no household spending. And there aren't as many new F-150s to go around for all of the contractors who suddenly lost the work they have grown accustomed to over the past six to 12 months.
At the time of publication, the author was long shares of Ford.
-- Written by Bret Kenwell in Petoskey, Mich.
Bret Kenwell currently writes, blogs and also contributes to Robert Weinstein's Weekly Options Newsletter. Focuses on short-to-intermediate-term trading opportunities that can be exposed via options. He prefers to use debit trades on momentum setups and credit trades on support/resistance setups. He also focuses on building long-term wealth by searching for consistent, quality dividend paying companies and long-term growth companies. He considers himself the surfer, not the wave, in relation to the market and himself. He has no allegiance to either the bull side or the bear side.