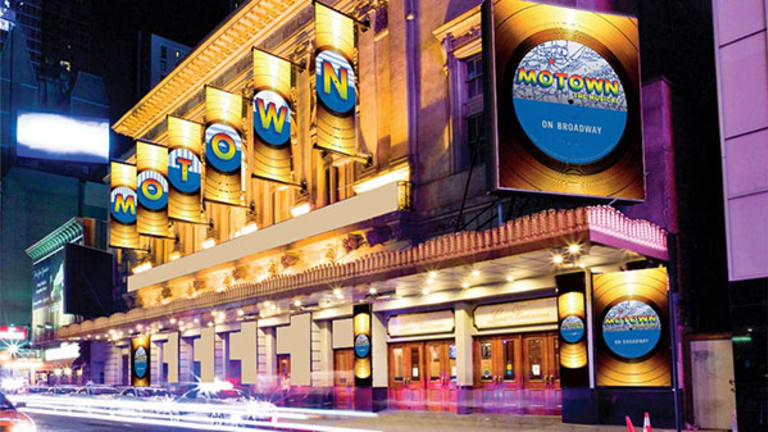 'Wicked' Good Witch Hosts Tonys; G7 Snubs Russia: 10 Things Happening Next Week
The G7 meets in Munich next week, William Blair and Morgan Stanley holds industry conferences and Broadway's biggest awards show will be hosted by actors Kristin Chenowith and Alan Cumming.
NEW YORK (TheStreet) -- A chicken-wing chain goes public and the Broadway actress who initiated the role of Glinda the Good in Wicked hosts the Tony awards. Here are 10 things happening in the coming week that you'll want to know about:
1. -- Kristin Chenoweth and Alan Cumming will host the 69th Annual Tony Awards at Radio City Music Hall on Sunday, June 7. Among the nominees are Helen Mirren for best leading actress in Audience, a play about Queen Elizabeth II, and Chenoweth, the former Glinda, in the same category for her role in On the Twentieth Century. Entire productions up for awards include The Curious Incident of the Dog in the Night-Time and the revival of An American in Paris. The ceremony will be broadcast live starting at 8 p.m. ET on CBS (CBS) . Despite the economic downturn in 2008 and 2009, total revenue from Broadway productions has steadily increased in the past seven years. For the 2014-15 season, productions collectively grossed about $1.3 billion, according to The Broadway League.
2. -- The members of the G7 will meet at luxury hotel Schloss Elmau, about 65 miles south of Munich, on Sunday, June 7, and Monday, June 8. Anticipated agenda items include ISIS's military advances in Iraq and Syria and setting sustainable development goals for discussion at a United Nations summit in September. Russia is likely to figure prominently into discussions, even though the other members of the bloc refused to invite President Vladimir Putin for the second year in a row because of his country's annexation of the Crimea. The continuing conflict in Ukraine, as well as recent gestures by Russia, are likely to keep the Federation in the conversation in Bavaria. G7 members expected to attend include France, Italy, Germany, Japan, Canada, the United Kingdom and the United States.
3. -- H&R Block (HRB) , Vail Resorts (MTN) and United Natural Foods (UNFI)  are scheduled to report earnings on Monday, June 8.
4. -- The Morgan Stanley (MS) Financials Conference, featuring 37 different companies, kicks off in New York on Tuesday, June 9. Among the presentations to watch are those by Morgan Stanley Executive Vice President and CFO Jonathan Pruzan at 12:40 p.m. ET, Bank of America (BAC) CFO Bruce Thompson at 2:25 p.m. ET, and U.S. Bancorp (USB) Chairman and CEO Richard Davis at 3 p.m. ET.
5. -- The 35th annual William Blair Growth Stock Conference begins Tuesday, June 9, in Chicago. The meeting features presentations by nine companies, including American Express's (AXP) Douglas E. Buckminster, president of global network and international, starting at 4:30 p.m. ET.
6. -- Burlington Stores  (BURL) , lululemon athletica (LULU)  and HD SupplyHoldings (HDS)  are scheduled to report earnings on Tuesday, June 9.
7. -- Online loan brokerage Lending Tree Inc. (TREE) will have its annual meeting in Charlotte, N.C., on Wednesday, June 10. The company had a strong first quarter but its stock trading volume tanked shortly afterward on concerns about its financial projections. The company is promoting Ascend Consumer Finance, a new tool that allows the company to better track risks among potential borrowers and adjust rates accordingly. The feature comes as auto sales are rising, along with the amount buyers are paying for cars and their monthly payments.
8. -- At 8:30 a.m. ET on Thursday, June 11, Scottish First Minister Nicola Sturgeon speaks to the Council of Foreign Relations in Washington, D.C., on the UK's most recent elections and the future of Scotland. The country-within-a-country rejected independence last September, but Sturgeon said in Brussels last week that Scotland may seek a second vote on the matter if the United Kingdom decides to leave the European Union. Sturgeon has cited the economic relationship between Scotland and other EU states, including more than 300,000 Scottish jobs that rely on the country's exports to other Union members, as a reason.
9. -- The University of Michigan releases data from its Consumer Sentiment Index at 10 a.m. ET on June 12. In May, the phone survey showed consumers were more cautious of economic conditions and more skeptical of the recovery than they were in April, with the indicator falling 5.4% between the two months. Still, consumers were more confident than they were a year ago, with sentiment rising 10.7% from May 2014.
10. -- Chicken wing restaurant chain Wingstop will make an IPO of 5.8 million shares when trading begins on June 12. Shares of the Dallas-based company are expected to trade between $12 and $14 as it looks to raise $86 million. Last year, Wingstop made $9 million in profit on revenues of $67.4 million.